The Tampa Bay Lightning are having the most impressive season of the salary cap era. There is no other way to describe it, really – their 61-16-4 record with one game remaining gives them the highest point total since the 1995/96 Red Wings, their goal difference sits at +100 (+95 in true difference, aka removing shootouts), and they lead the league in goals for by over 30.
It's a level of dominance we haven't seen in a long time. Nikita Kucherov is putting up a historic amount of points for a winger, particularly in this generation, Steven Stamkos is somewhat looking like his pre-injury self again, Brayden Point has been a revelation, and Andrei Vasilevskiy is probably having the Vezina Trophy year that so many expected out of him.
Those involved in the process deserve all sorts of credit, be it the players, the Jon Cooper-led coaching staff, the Steve Yzerman initiated and Julien Brisebois torch-carrying front office, owner Jeff Vinik, and everyone else under the umbrella. But let's talk a little about how the team got to here.
Ppl really don't want to give Tampa any credit for getting players to accept lower AAV bc of their tax situation. Nobody was doing that until TBL played chicken w. Stamkos. After that, the others guys fell in line. If Stamkos walks, nobody's talking about this tax loophole.

— Todd Leigh Offside (@Totally_Offside) April 5, 2019
This tweet piqued my interest this morning, because the core point has a lot of validity to it. Those looking for a way to call what the Lightning are doing a form of "cheating" are quick to point out the lack of a state tax for players in Florida. This, so they claim, is what allows the Lightning to build up a huge competitive advantage over the rest of the league, stacking up a dynastic core for pennies on the dollar.
There are a lot of factors that make this argument fall apart, though.
Without getting into the inner details, because Grade 11 Accounting did not teach me enough expertise to give them, the first and foremost point is that the tax gap isn't as much as you would be led to believe; it's about 17% from the most handicapped to the least handicapped team, the 7% benefit above the median, and an 8% benefit above the average. This matters, but when we're talking about $80,000 per million, it's not going to be the make or break difference between being a mediocre team and a 126+ point team.
This is especially the case when you factor in other quirks, such as a player's place of residence, the travelling ("jock") tax accrued through road games, and certain other benefits created through international agreements (Canadian teams, for example, can take advantage of a recent US/Canada tax treaty to soften the blow on signing bonuses, offsetting their high taxation on salary), and the fact that agreeing to lower terms based on taxation is a risk, as you become susceptible to being traded to a place with a higher rate. Much is made of the Lightning's love for trading with the New York Rangers, for example – New York has the highest tax rate of any American state with a team.
You also have to think that if this was such an obvious inefficiency, every team in a similar situation would take advantage of it. Presently, there are four other NHL teams with the same tax rates as the Lightning – the Florida Panthers, Dallas Stars, Vegas Golden Knights, and Nashville Predators. Those teams have a couple of solid contracts, but for the most part, they're coming from betting on the age curve, rather than signing prime-aged players to deeply discounted deals. You'd also think that it would have been something that Tampa Bay would have been taking advantage of throughout their history, but this was a team that didn't have much success in the pre-Cap era, and opened the cap era by signing two of the biggest contracts by cap percentage in NHL history (Brad Richards and Vincent Lecavalier, the former being the only league-max player in the cap era).
Tampa Bay's ability to get core players to sign these advantageous deals is a relatively recent phenomenon, and it goes beyond tax flexibility. It's more likely about two things – winning, and acknowledgement of leverage.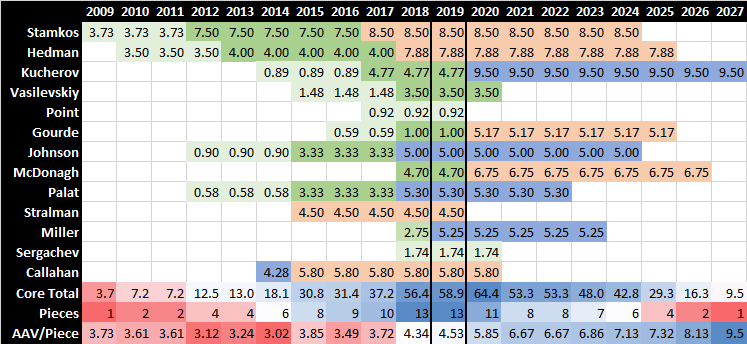 A look at Tampa's core baker's dozen or so players' contracts gives you a bit of perspective on how they got to this moment. This season, nearly half of the crew are still on their first or second contracts, and only four are on contracts that were signed with looming unrestricted free agency; the other three were signed on post-bridge RFA contracts.
That's a lot of leverage afforded to the team; especially in cases like Kucherov's, where they could take a back-to-back 65-point RFA to September in order to get him to sign a sweetheart bridge deal, which he is now about to win the Art Ross on with his second-consecutive 100+ point season.
What's important, though, is that the Lightning rarely put themselves in a place where they have to negotiate with multiple star players at once. Stamkos and Hedman had their three-year ELCs, five-year second-contracts, and eight-year UFA deals all initiated one year apart from each other. Hedman's haircut on his UFA contract came almost immediately after Stamkos set the bar, which made it easier for them to play chicken with Kucherov (of 130 points over the previous seasons) on his bridge contract in the summer of 2017.
Kucherov's UFA extension was worked out ahead of the 18/19 regular season, setting the bar for Point, and Kucherov's whole contract roadmap is a year ahead of Vasilevskiy's. Point's ELC starts a year ahead of Sergachev's. McDonagh's post-trade extension was signed with Hedman already available as a ceiling and with the knowledge that it would kick in as Stralman's UFA contract, in itself designed to take advantage of the slightly-prior group's window, expired.
In short, the Lightning still haven't gotten to, or are just starting "the big contract" with a lot of their players, they rarely let important pieces line up next to each other, and those guys are always pitted against everyone else's discounts – an expectation to take one for the team, because everyone else has and you know that the grass likely isn't greener on the other side.
The biggest risk of this, most obviously, was Stamkos – many believed his departure to the Maple Leafs was a sure thing in the Summer of 2016, Lightning management gave a "final" offer in January, and after the Toronto meetings didn't go as expected, Stamkos came back to it; probably realizing after negotiating that he already had a good thing going. It prevented the core from drifting apart, and it created a firm benchmark for the big deals.
But hold up.
This was a lot of words to essentially say "Flex your leverage against RFAs, spread their contracts out, guilt trip them with your talent and everyone else's discounts, and repeat for the next guy. Also, almost lose your captain in the process."
When you put it that way, it doesn't sound like this impressive, disruptive, innovative model – it sounds a lot like common sense. It sounds like what everyone's been doing in their EA Sports Career Mode for ages, plus a bit of social engineering. It sure beats the cosmic brain tax suggestion, but it doesn't sound revolutionary.
That's kind of a pattern with the Lightning, though.
Consider the talk about how the team approaches size. This is one thing that I – and most modern hockey analysts and younger fans – are all about. The Lightning, by and large, have disregarded height and weight as anchor points in their player evaluation. Sure enough, their core is full of undersized players – Kucherov, point, Gourde, Johnson, Stralman, and Callahan are all under six feet tall, none of the forwards are above 6'1, and even the taller defencemen like Hedman and Sergachev are touted more for their talent than their skeletal structure.
It's nice to see a team take advantage of a market inefficiency. But how much credit should we really give to "short people can play hockey too" as the answer? Nearly a third of the NHL's all-time 1000 point scorers were under 6'0, including Tampa's best player from the last core/beginning of this core (Martin St. Louis, 5'6), and the GM who built them (Steve Yzerman). The best player in the world when the rebuild started, and probably still the second best now (depending on where you rank a certain player /from this team/), is 5'11 (Sidney Crosby), as was the next big marketed thing in USA Hockey at the time (Patrick Kane).
In fact, most of the NHL's existence has been kind to all heights; the need to get big was largely an 80/90s phase inspired by the idea of beating up any team that you can't beat (prolonged afterwards by the occasional team that was both big and good, like the 2007 Ducks or 2011 Bruins). There are probably other legends of the game that were on the shorter side as well (go look up how many all-time greats just happened to be listed at 6'0, starting at Gretzky, Howe, and Orr).
"Acknowledge that short people can play hockey" isn't some magic secret; it's just a thing that you're supposed to do. So is the relative lack of a poison-pill contract; Dan Girardi and Braydon Coburn aren't good, but they're filling roster spots and their terms are short (both expire this year). Callahan's contract hasn't really worked out, but it was signed well ahead of Stamkos, Hedman, Kucherov's deals and will only run in total parallel with the core for two seasons, if they can't get out of it (by, let's say, returning him to the Rangers). Jason Garrison was a big whiff on their part, but they got out of that by shipping him to Vegas in the expansion draft.
If anything, the fact that they're not stuck with any colossally dumb deals is probably a better cap benefit to them than any of the discounts given by Stamkos, Hedman, or Kucherov. Look to the Oilers as an example; they're in a huge cap crunch with very little talent, but that's due more to the Milan Lucic's and Kris Russell's than it is the Connor McDavid mega-deal, which would've likely been fair at literally any price.
But again, how much credit are we really giving to "didn't do anything colossally stupid"?
How much credit do we giving to their draft history? "Oh, come on," you'll say, "They got all these steals. You can't take that away from them." It's absolutely true that they have drafted better than other teams, in large part due to that leaning towards skilled players in any build that we mentioned before. But like any other team, they didn't always know what they were getting – if they did, Kucherov doesn't wait until 58, Palat to 208, Point to 79. When they have two first rounders in 2012, they probably don't risk leaving Vasilevskiy with the later pick so they can take Slater Koekkoek a pick before Filip Forsberg.
How much credit do you give to the coaching staff? Jon Cooper seems very well liked, but there isn't anything particularly revolutionary about his actual tactics – in fact, the last guy in the NHL to try something radically different was the coach they fired to get this window started (Guy Boucher). You're pretty certain that he's not doing anything you overtly hate, but there's not a ton you can say that he does that changes hockey as we know it.
How much credit do you give the AHL programs in Norfolk and Syracuse for the revolutionary idea of giving lots of young players minutes? Isn't that the point of a development league, that only really gets glossed on as teams get tunnel vision either above (thinned out prospect pools) or below (coaches going into win-now to get better jobs)?
I suppose what I'm saying here is this – the Lightning are successful because they picked up early on an undervalued type of player and style of play before most of the league did. They amassed talent, they staggered their contracts in a way that let them pit their players' selflessness and courtesy for each other against each other as they got better. They used their minor league teams like they were supposed to, and they mostly avoided bad contracts. They got lucky a few times (winning the game of chicken with Stamkos, the right guys being available at the draft, Vegas doing the Garrison deal along the way).
What the Lightning have done isn't particularly revolutionary – they're simply operating like a modern hockey team should, for the most part. The reason why that's led to such a dominant team?
It's probably the same reason that the Vegas Golden Knights were able to build an instant contender by doing a B+ or so job in their first offseason with the playbook of "get whatever underused fast guys are on the list". The reality is, as much as we think that a team needs to revolutionize hockey to become a powerhouse, they simply need to avoid falling into the same traps that everyone else has for decades.
The key to ascension in this sport isn't a revolution – it's consistent competence. The Lightning have simply been the most frequently competent team, and that competence has led to dominance. But hey, only one team checks all the boxes right now, so for that, they deserve all the credit in the hockey world .