As we approach the end of the calendar year, one of Canada's most beloved hockey traditions is about to get underway. The 2018 World Junior Ice Hockey Championships, best known as the World Juniors for short, will be held in Buffalo, New York this year and as always, will feature many of the world's best Under-20 hockey players as they compete for their countries over the span of about two weeks.
The hockey world's fascination with this tournament comes in many different forms. Some simply watch for the fast-paced, high-skilled nature of hockey that the top nations display. Some watch to keep tabs on who the NHLers of the future might be, and some watch simply to cheer on their country.
I'ma combination of all of these; a true fan of the game, a Canadian at heart, and someone obsessed with learning about upcoming talent. But something else comes into play for me, and that's how the well the concept of sportsmanship ties into the tournament, and how we as fans, media, and observers react to the big moments in the instant, digital media age.
I was born in the early 90s (last being WJC-eligible in 2010; I clearly did not make it anywhere near a short list), so I missed this tournament's darkest moment – the 1987 "Punch Up in Piestany", which saw the Canadian and Soviet Union teams clear the benches to engage in one of the most violent brawls ever to occur at a notable level. Knowing that what had occurred had been a complete defiance of sportsmanship and discipline, the IIHF called off the game at its mid-way point and disqualified both teams from the tournament. In a twisted way, the coverage of incident put the tournament on the map back in Canada, gradually snowballing until hitting a tipping point in the mid-90s to the frenzy we know today.
The first moment I can remember being a bit thrown off at as a child was Ilya Kovalchuk's enthusiastic conclusion to the 2001 tournament. The projected (and eventual) #1 overall pick in that year's NHL entry draft found himself with all sorts of open space and a wide open net, as Canada had exhausted all available options while trying to tie the game in the final minutes. Kovalchuk was thrilled with the opportunity, pumped his firsts before even taking the shot, and celebrated his gimme goal emphatically.
Though the gesture is iconic today, it was widely panned at the time. For better or worse, "act like you've been there before" is a trait ingrained into hockey culture, and pre-celebrating an empty net goal in a round-robin game (neither team made it to the final; Canada won the Bronze and Russia finished 7th) was an act of pure defiance to that, a show of disrespect to his opponents and to the unwritten code of the game. Even as a nine-year-old watching the game from their television set, one who loved high-skill, high-excitement hockey, I felt it was a little too much.
But when you include the context of the tournament, you come to understand what's racing through his mind at that moment. Canada was still Russia's main hockey rival at the time, and that year's tournament was being played in Moscow. Pulling off the International upset on home ice is a big deal, and putting the game away is naturally going to be a massive adrenaline rush.
Especially when you're a big-name player with the weight of the nation on their shoulders, and when you consider one thing: Ilya Kovalchuk was 17 years old when that happened.
Seventeen. A national sweater on your chest, representing tens of millions of people vicariously in a high-stakes game, at seventeen. Now, do you still wish that he carried himself with a different demeanour at that moment? Absolutely; it's always great to see these games be played in a way where both sides work their tails off on the ice, but show respect for each other and what they're trying to accomplish for themselves and for their nation. But the contexts of age and pressure definitely dampen the frustration a little bit.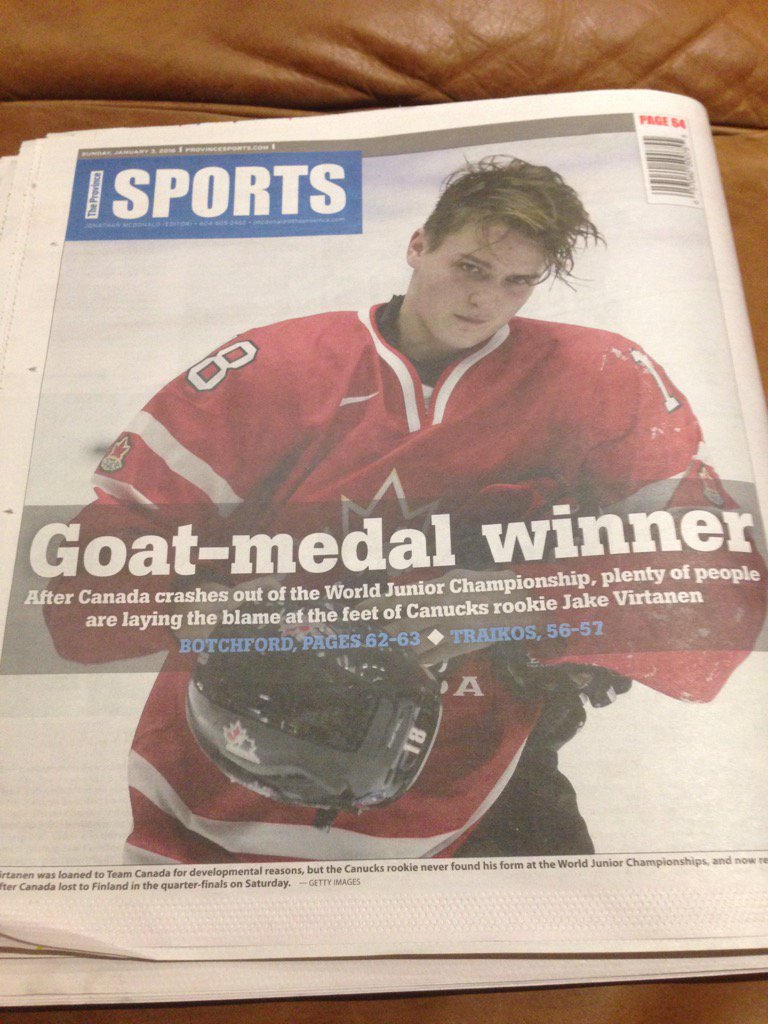 On the opposite side of the spectrum, you only have to look back two years to see an example of that national weight crumbling on one of our own. In the 2016 Quarterfinals against Finland, Vancouver Canucks prospect Jake Virtanen had a disastrous shift in the third period. Virtanen tripped up one of the Finns on one side of the ice, and while rushing back to try to prevent them from scoring on the delayed penalty call, slashed another. While trying to kill off the second of the two penalties Virtanen took, a tired Joe Hicketts cleared the puck over the defensive zone glass, which put Canada down two men and gave Finland the opportunity to score what ended up being the game-winning goal, eliminating Canada from the tournament.
National reaction was fierce. Losing that game meant that Canada would be without a medal for the third time in four years (just their second stretch ever of that length), and more shockingly, wouldn't even play in a medal round for the first time since 1998.
You could call that luck of the draw. You could praise the Finns for their effort (especially since they'd go on to win the Gold). You could even suggest that Canada may have had a let-down of a tournament, but there were many compounding factors that led to our nation not finding success.
But Virtanen's few seconds of non-discipline; their own, less intense form of poor sportsmanship in the sense that concrete rules were sacrificed in an effort to win at all costs, were seemingly the sole focus that day. Newspaper covers, talk radio, television broadcasts, you name it, centred their focus on the 19-year-old forward. Which, again, is a lot of weight to put on a teenager, particularly one whose cardinal sin was taking minor infractions in the heat of a high-stakes game, as the Helsinki crowd roared for the opponents.
Virtanen did have something to worry about that Kovalchuk didn't have fifteen years prior, and that other Canadians who have made mistakes in this tournament in key moments (Marc-Andre Fleury in 2004 comes to mind) never really had to focus on, and that's the digital bridge formed between the masses and the player.
Without digging through the archives to give credence and credibility to the angriest of the angry, Virtanen found himself directly accessible through social media after the incident, meaning that those frustrated with him, despite never crossing paths with him in the real world, were capable of venting those thoughts directly in his direction. That phenomenon is no longer a new one, with the advent of athletes and celebrities using the likes of Twitter, Facebook, Instagram, and the like to connect to their fans over the past decade, but in the context of this tournament, Virtanen was arguably the first singular scapegoat for the most emotionally invested nation in the social media era.
To his credit, he took the heat in stride at the time:
"Social media is not going to bother me," added Virtanen. "I was surprised that people were pretty hard on Team Canada, but people are so passionate and when they don't get what they want, they take it out on people, and I guess I was the guy. I learned that everybody has their own opinions and that's why we cancelled Twitter during the tournament as a team. But you can build off all the adversity."
Such a response was very well-measured, respectful, and a good show of sport from Virtanen despite having every right to be frustrated. But it's also a bit alarming that, even with the added public profile that these players have, that taking away social media privileges from the players during the tournament for the sake of their own state of mind was not just a move that found its way onto the table, but was probably a wise one to make. More importantly, it's a bit alarming that it a 19-year-old was in a situation where he had to accept being the "fall guy" that an entire country took aim at.
Ideally, this is something that we, as a populace, need to be more proactive in avoiding moving forward. While there's a disconnection from reality that social media applications; that typing towards a screen name is somehow different from talking to the person behind it, the reality is that, no matter how we feel about what happens on the ice, it's important for just as important for all of us to be good sports off of the ice as it is for the players to do.
That goes beyond the confines of this tournament, and even beyond the game as well. Telus, who have partnered with Hockey Canada and many of its athletes in many different ways and fashions, have been tireless in pointing out that cyberbullying goes beyond the fan/celebrity barrier, and something that many young Canadians have to deal with on a consistent basis. Even if the young players at this tournament weren't playing, there's a very real chance that they'd still be regular victims: according to Telus' Wise Program, a platform designed to educate about online safety and security with a particular focus on youth and digital harassment, over 40% of Canadian youth are cyberbullied in some way, shape, and form in any given month.
That's a pretty alarming number and one that doesn't shock me. I've had a relatively sizeable internet following since I was in my early teens, and as I've grown and as social media has grown, I've seen the way that feedback can manifest. Those who are irate in the moment can get vicious, and, particularly in situations where teenagers are in the crossfire, the cuts can get deep and personal. I see a lot of the same happening with my younger relatives, and do what I can to talk to them about brushing off what they receive and why it's important to not "fire back", but it's going to take a bigger effort than just one or two conversations. Whether it involves the hockey player that you might be frustrated at, the anonymous username that sees things differently than you, or the person you know in the real world that doesn't know your pseudonym, it's important to remember that while what happens online might be delivered differently, the impact of the words you say is nearly identical.
https://www.youtube.com/watch?v=zsYO1a-Vupo
All of this, of course, is not to say that the World Juniors are a cesspool of poor sportsmanship. Quite the opposite, really; players that are rivals in-season unite for a couple of weeks to form new friendships, often holding those presumably brief bonds for the rest of their lives. Fans take a break from picking sides to all cheer for the same flag. People of different countries use the experience to learn a little bit more about each other, and if you've ever travelled to watch a game in this tournament in another city or country, you've probably come back with a heart-warming story about how friendly the hosts were. Above all else, it's a tournament that unites us in excitement, hope and pride.
But, when the moments get tense and tough, it's important to remember the humans beneath the sweaters, and the stage of their lives that they're in. Tempers may flare, frustrations may form, but it's impossible to justify piling onto these young men if they can't deliver what you expect of them. With the tournament beginning today, I'd like you to keep that in the back of your mind; and, ideally, transfer that thought to how you interact with your peers.