If you are someone who reads this blog, there's a very good chance that you'll agree that the key storyline for the Toronto Maple Leafs this year has been player usage. Specifically, the fact that there appears to be preferential treatment given to the veteran, "good pro" type players, even when they don't have success. Roman Polak hasn't had a night off since December, and until earlier this week, Leo Komarov was well on his way to the least productive season for a Leafs forward in the past decade while still getting nearly twenty minutes of ice time per night. On the flip side, the younger trio of Travis Dermott, Connor Carrick, and Andreas Borgman was getting rotated on defence regardless of performance, Connor Brown's ice time rocketed back and forth faster than an unsafe roller coaster, and even William Nylander and Mitch Marner weren't safe from fourth line duty.
To Babcock's credit, we've seen some improvements over the past few games. If you'll remember, I posted a breakdown of Toronto's time-on-ice a few days ago, split into the Head Coach's famous "five-game segments". If you were paying attention, you probably noticed a few of those youth/veteran trends creeping into the graphs. But Segment 10 just finished, and you know what? Leo Komarov played 80.5 minutes, his lowest segment since late October/early November (Games 11-15). Polak dropped slightly, and last night, we even saw a rare occurrence of the coaches stapling him to the bench for most of the second half of the first period, after being beat repeatedly in the opening minutes. James van Riemsdyk and Tyler Bozak saw cuts. Zach Hyman saw a steep cut. Ron Hainsey played less, despite Morgan Rielly's injury. Instead, Connor Carrick and Travis Dermott took those minutes.
But there's something else that's flown under the radar. Matt Martin, for the second consecutive segment, played less than half an hour of hockey. This time, it included his second healthy scratch of his tenure in Toronto.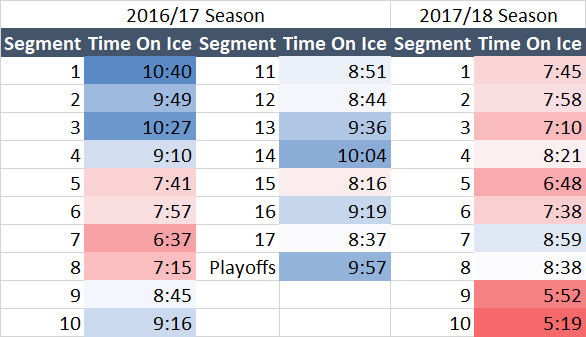 In fact, the last two segments were Martin's least played stretches in his tenure, and by a considerable margin. The 28-year-old left winger has played just under 56 minutes in Toronto's last ten games and hasn't crossed the seven and a half minute mark in January. By comparison, he averaged 8:54 per game, playing every single game, in 2016/17, and even that was still a dip from the usual 11-12 minutes that he played in New York with the Islanders.
In perhaps an odd twist of fate, this drop of minutes comes in a bit of a bounce-back season for him. His debut year with the team was a weird one, that to me felt like a watered-down version of David Clarkson's first season in Toronto. With an expectation of being the team's guardian angel with firsts of fury, both players appeared to sacrifice a lot of what they brought as actual hockey players to focus on the tough stuff. Clarkson's first-year woes were amplified due to a pre-season suspension, a higher expectation for the team at the start of the year, and a higher personal expectation due to his second-line spot in the lineup and his fringe first-line salary, which would end up proving to be one of the single worst contracts ever given to a player. Martin, on the other hand, signed a deal that data-inclined fans felt would be a detriment, but not a disaster, and that casual fans were willing to write off as a rounding error. The expectation the whole time was for him to play in the bottom six, and outside of a few of us crazies, it took months for people to believe that the Leafs were going to be much of anything. As such, Martin had much more public rope, and it seemed like most didn't notice or didn't care about the fact he finished the year with a career-low nine points, or that most of his fighting majors came from incidents where he was the aggressor.
https://twitter.com/JeffVeillette/status/936423861972848641
To those paying attention, it was a bad year. But this one has been better! Through 47 games, Martin is nearly doubling his career high in Points/60 minutes, his 1.31 primary points/60 is a number that looks genuinely good, his relative possession numbers are the second highest of his career, and he's been attempting to get himself more involved in the play. HIs individual shot rates are up, and as a result, he has two more points than he did last year while having played half the minutes.
So, with all of this in mind, why is he playing fewer minutes than ever? Doesn't that make the inverse of sense? Well, not exactly. The problem is two-fold.
https://twitter.com/JeffVeillette/status/932788673455775746
Firstly, the version of Matt Martin that is sold by his biggest supporters has to be dead at this point. Straight up, and that's not even his fault.
To those most supportive of him, Martin is closer to a social construct than he is a hockey player; an idea of what we believed hockey once was rather than what we know hockey to be now. The idea that a player in the lineup or on the ice will make another player second guess a dirty hit in the moment grossly over-estimates the amount of time that players get to think about their hits; no one is weighing their potential fight opponents in a half seconds notice, especially with the hyper-heavyweights mostly gone from the league. With pre-meditated attacks on players and long-term held grudges basically being ancient history at this level (fewer tough guys to hold those grudges and carry out those hits, and the games are too close to risk throwing them away), teams are rarely in situations where an enforcer would come handy.
Sure enough, teams and "flies" are still throwing sketchy hits on Leafs players in the moment, often with Martin being out on the ice with them. Rarely does he step in, because there isn't pre-meditation and he's not in a position to give up on the play; the correct call, but counter to his reputation and theoretical purpose. Most of Martin's fighting majors since joining the Leafs have started with a hit he's thrown rather than in reaction to ones that others have, and those fights have had dropped too: what was 13 majors last year is now a pace of 9, with just one since the beginning of December.
But again, that's not a Martin issue. That's a league-wide concern: fights-per-game have dropped by just under 25% this year over last year, which was already one of the quietest years on record. The year-over-year drop is the biggest by percentage since the 2005 lockout, and that's without a sudden change in the fundamentals of roster construction. Simply put, teams have moved on from the goon.
Martin isn't a goon by any means, but his added on-ice value, that separates him from a similarly skilled hockey player, is that he was there to get in the way if a goon stepped in. With them gone, he becomes a competent displacement forechecker.
https://twitter.com/JeffVeillette/status/949772228547305472
To me, that's a better compliment to him as a player than his supporters will give him credit for; rarely do you hear a Martin fan talk about his ability to use a hit to retrieve a puck off the boards, his willingness to try to help in all three zones, his surprisingly good passing hands, his decent straight-line speed, and his ability to keep things under control in a Line 4 vs Line 3/4 situation.
Matt Martin is a hockey player. Not just that, he's an NHL hockey player. But the Toronto Maple Leafs, for all of the question marks on defence, are a lot more than an NHL team up front, rivalled by very few in terms of their available skill in the forward position. If the opponents play just as hard with him or without him, and if they don't bother with fighting in the way that they used to, you have to treat his minutes and his games played like a normal player.
The question then becomes: Even if he can play, can he play better than Josh Leivo, Nikita Soshnikov, and Kasperi Kapanen? Down the line, better than Andreas Johnsson or Dmytro Timashov or maybe even Jeremy Bracco and Mason Marchment? Martin is still a player, but he's not a guy you put on either special team, which many of the above are capable of doing. The above group might not hit as much, but most of them are happy to work along the boards in other ways to get the puck. They can produce, they're cheaper, and they're all still at an age where they can add more to their games. You don't trust Martin to play against top competition, and maybe you don't trust these guys either, but who is more likely to be groomed for the moment? Who will treat the fourth line as a podium, and who will treat it as a ladder?
We've had that discussion online about a million times, but especially with Leivo and Kapanen clawing for minutes right now, you wonder if it's starting to set in for the coaching staff. Or even when those guys are out, you'll often see the right winger from his line get slotted into other spots along the lineup, giving the 1/2/3 lines the minutes that they don't believe the fourth can manage while still letting a skilled player get involved.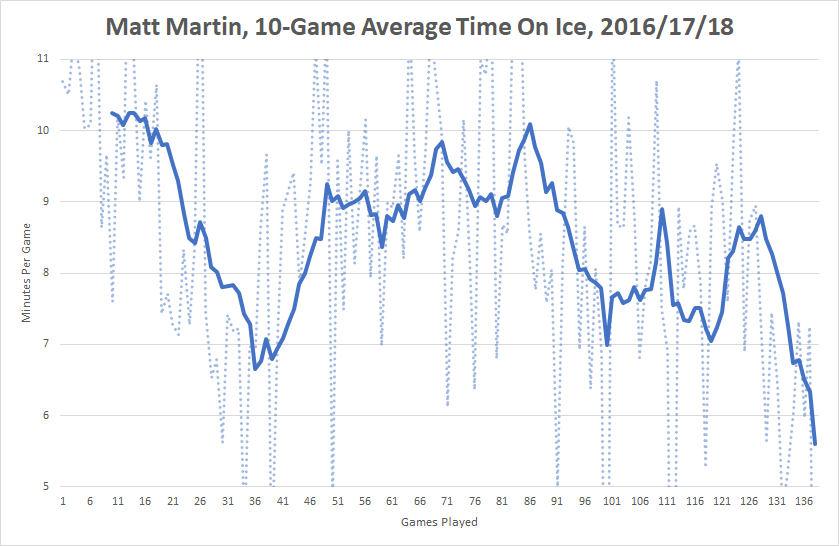 As backwards as it sounds, Martin's renaissance as a player might be what leads to the end of his tenure here. When a new player is clearly struggling to do certain things, you are more likely to take pride in what they've accomplished, defend the player, and work towards fixing them. But now? You've got a guy who is doing everything you've asked him to do, and it still just isn't quite enough. His ability is better than an enforcer, but still replacement level. His enforcing ability is enough to get you by, but there's very little left to enforce league-wide, no matter who is or isn't on the ice. He's not a guy you rely on for shutdown, powerplay, or penalty kill usage.
Of course, with two years remaining on his contract after this, and his known ability to be a positive presence on his teammates, you can't just pull the rug completely under him in the middle of January and attempt to move on. If you scratch him for the majority of games, you nerf his asset value, and if you trade him without a clear purpose mid-season, you do admittedly risk messing with the dynamic of the team.
But while he probably isn't the ideal option at #12, it's hard to say that a well-performing Martin is a significant, game-changing drop off from what these kids would do with fourth line minutes yet, and this year, it's not #1 on the priority list of moves you'd make to clean the lineup up. For now, I see them continuing to use him sparingly most nights, occasionally scratching him for an away game where the team needs some jump in their step, or the first game of a back-to-back so he can be 100% on a night where the pace of a game needs to be brought down (last night being an example of both). They'll continue to let him grab some extra points while playing with whichever skilled player ends up on 4RW and whichever depth centre Babcock is least angry at that week. He'll continue to be a player that doesn't really add or take away from the play in either way, both in terms of his ability and in terms of how much he's allowed to participate.
But come the summer? If things like the Ryan Reaves trade remind us of anything, it's that while the market is cooling on capable fists, there are teams that want them still. Martin is well respected league-wide and is all but guaranteed have an up-year on paper. With two years remaining at $2.5 million, I wouldn't be surprised if a team asks about him, and the Leafs listened. By then, they'll need that last roster spot and that cap space more than ever. They'd lose a personality in the room, but if you combine their veteran signings this summer with the fact the younger core has had time to settle in, that won't be as pressing of a concern as it may have been a year ago.
We'll have to see what happens, though. He might stick around for a while yet. But looking at how his minutes have dropped despite better play, and how the team (and the league itself) have evolved around him, I wouldn't be shocked if the clock is starting to tick.