Due to an incredible list of circumstances that have occurred over the past calendar year or so, the Ottawa Senators are, far and away, the joke franchise of the NHL. It's so bad at the moment that the most aggressive, deepest cuts are coming from within the fanbase itself, with outsiders making a point to show sympathy while also twisting their knives into Eugene Melnyk's bleeding hockey machine.
Today, Mark Stone and the Senators settled out of arbitration on a 1-year, $7.35 million contract, while Cody Ceci was awarded a 1-year, $4.3 million deal (I wrote about Ceci a few days ago, if you're interested in reading a perspective on that process). This settlement brings Stone into an unrestricted free agency in eleven months, leaving Ottawa in a race to either get a good extension planned for him in January, move him at or before the trade deadline, or risk losing him for nothing.
So with free agency on the brain, this tweet caught me by surprise:
The Sens organization has 25 contracts expiring next summer: 13 UFAs, 12 RFAs.

— Steve "Dangle" Glynn (@Steve_Dangle) August 3, 2018
Twenty-five free agents? That's like… a whole team. Actually, it's two more players than an NHL team is allowed to have on a daily roster at any given point, barring injuries. That's an absurd amount! Naturally, I joined everyone else in having a good laugh at it, making a supporting joke quote tweet, and all the usual stuff when it's "can you believe the Senators got into this mess now" day.
But a few hours later, I came to thinking… is 25 that high of a number, or does it sound high? After all, it's a 23-man NHL roster, but the contract limit is 50, and teams don't exactly lock up an entire NHL and AHL team's worth of players to multi-year deals at once.
Only one way to find out, right? I went through CapFriendly and looked up how many free agents every team had going into 2019/20 (not including current Restricted Free Agents, who might sign one-year deals). To try to gain some context, I broke them up into five tiers (based on what the players are today, not "upside"):
Tier 1: Obvious first line/pair skaters, starting goaltenders
Tier 2: Obvious second line/pair skaters, platoon (1A/B) goaltenders
Tier 3: Obvious third line/good third pair defencemen, backup goaltenders
Tier 4: Fourth line to replacement level forwards, bad third pair to replacement level defencemen, bubble goaltenders
Tier 5: Players that CapFriendly has in the "Non-Roster Players" section (projected to be in the AHL, ECHL, or Major Junior)
This is very subjective, as is the notable column (if your team's very good player isn't there, note that I was mostly going for "names everyone knows that we expect to get paid", not total talent).
Here's how this all lines up: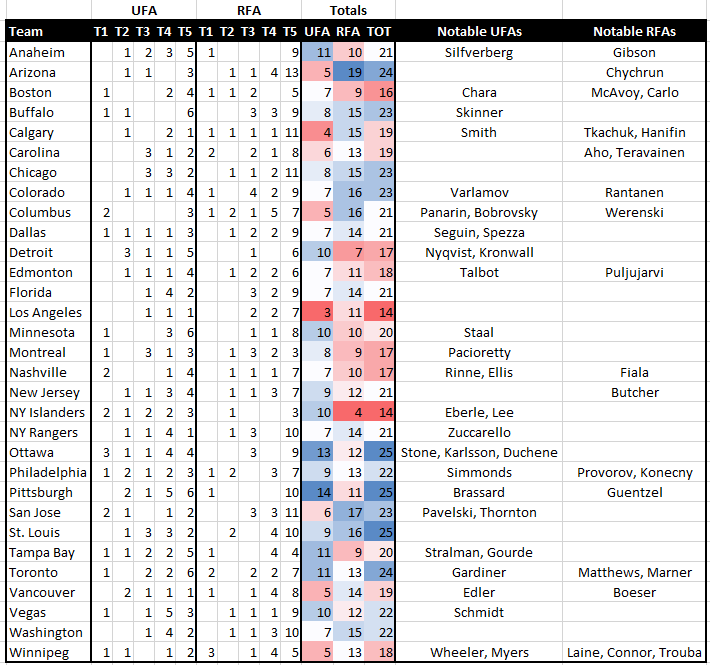 Ottawa's 25 free agents remain high, but it's not the gigantic, cataclysmic chasm that it looks like when typed out solo. In fact, while they remain first in the league, they're tied with two other, well-respected teams in the Pittsburgh Penguins and St. Louis Blues, and are only one ahead of the Toronto Maple Leafs. They're neither the UFA leader (Pittsburgh, 14), or RFA leader (Arizona, 19). Twenty teams have at least 20 free agents next year, with a league average of 20.5, with the teams at the bottom are teams that are trying to balance budgets and balance competitive windows at the same time (Winnipeg, Carolina), teams draining out cupboards to chase windows (Nashville, Boston), and teams that are generally seen as a little shambolic at the moment (NY Islanders, Los Angeles, Montreal, Detroit, Winnipeg, Vancouver).
Having a lot of free agents is completely normal, and is in a lot of ways a very good idea. It makes much more sense long-term to not make commitments to depth players and uncertain prospects, taking them one year at a time unless you have a good idea that they're a piece you'd like to carry with you down the line. There is no use in having a 23-year old signed until he's 26 if he's peaking on your AHL second line, and there's no use in giving a mid-30's guy millions of dollars for multiple years if… *peers over shoulder to see if Jim Benning or Lou Lamoriello are standing behind me*.
In that respect, Ottawa, as a budget team, as a rebuilding team, and as a relatively cupboard-empty team, should have a ton of players going year-to-year. It really shouldn't be alarming that they're not committing to blockbuster names like..
UFA Sampler: Tommy Pyatt, Paul Carey, Max McCormick, Ben Sexton, Mike McKenna, Erik Burgdoerfer, Jim O'Brien
RFA Sampler: Jack Rodewald, Francis Perron, Macoy Erkamps, Adam Tambellini, Nick Paul, Julies Bergman, Gabriel Gagne, Magnus Hogberg, Andreas Englund
Because, well, replacement-level players and C-D prospects aren't the guys you give term to. The much bigger issue remains at the top of the lineup, where, while Ottawa isn't the only team to have star players needing new contracts, they've now got the best defenceman in the NHL, an elite winger, and a brand-name top-line centre that they gave up an insane amount for less than a year ago with the clock ticking on their deals. It's the top-heaviness of that trio (and also Chris Wideman, who seems a good bet for a breakout contract year) and the front-office and boardroom shambles in regards to locking them up that's the issue at hands.
But 25 free agents, on a general spectrum? Sure, why not. I don't think there's a perfect number, in the sense that a team can be below the curve due to having a strong core rather than a list of bad deals (Tampa Bay, for example, is T-19th). But if I'm a perfectly average team with a perfectly average prospect pool, I'd probably be shooting for fewer committed deals, rather than locking up every single facet of the organization.
The Senators are a mess, and their problems are very real, but "too many mediocre players haven't been signed" probably isn't one of them, especially when it's not far off from what 90% of the league is doing.