A couple of weeks ago, I wrote a piece about the Toronto Maple Leafs' supposed problem with blowing big leads, as it had happened several times in the span of about ten days and caused major concern among the hockey world. It wasn't, however, spoken of under the context of a team having a bad ten-day run, but as a marking point for a chronic flaw the team had.
I understood the backstory behind the narrative – "It was 4-1" is famous, but almost everything about the team has changed since that game eight years ago. Their first-round loss to Montreal last year is on the forefront of people's minds, though the key there was getting stonewalled rather than losing leads of note in individual games. I decided to poke through about half the league to see if Toronto's full-season pattern of lead-collapsing was irregular, feeling that to be a sufficient sample to get a feel of it. The conclusion: Toronto had a bad ten days, but were really good about holding leads prior to it, and the full result was still pretty normal. Something to worry about short-term, but not long.
The whole thing got me curious though, especially as I started pointing out when the other top teams had similar collapses. For example, did you know that the New York Rangers have blown multi-goal or third period leads in three consecutive games now? No? They're a big market team with contenting aspirations, though, and… okay, let's be honest. This story really doesn't hit anywhere outside of The Big Smoke. But I'm fascinated by it now, and decided to finish the table and plan on keeping it up to date throughout the year. Here's where we're at ahead of tonight's games.
Note that the definition of a collapse or comeback remains the same as in the previous articles. We're using any multi-goal lead, as those are supposed to be more difficult to lose, and single-goal leads that occur in the third period, as that's when teams tend to aim to shut down, and your amount of time to concede is more limited. These are intuitive choices, based on what usually becomes a talking point in the mainstream. Note as well that these are hand-counted by going through every box score in the league this season, so the possibility for a slight error here or there is possible.
Most Collapses: Washington (13), Detroit (12), Los Angeles (12), Philadelphia (11), Four Teams (10)
Fewest Collapses: NY Islanders (4), San Jose (5), Minnesota (5), Columbus (5), Arizona (6), Edmonton (6)
Most Comebacks: Vegas (13), St. Louis (12), Florida (12), Philadelphia (11), Pittsburgh (11), Edmonton (11)
Fewest Comebacks: Calgary (2), Ottawa (4), Buffalo (4), Los Angeles (4), Montreal (5), Dallas (5), Detroit (5)
An average team at this point has collapsed and rallied about eight times each way this season, with one event or the other (and sometimes both!) occurring in about a third of all their games. All of these results, including the teams' records in those games, are included in the table at the end of the post. Also included are the team's full-season records, what percentage of their games feature collapses, rallies, or are "normal", what percentage of their losses include a collapse, and what percentage of their wins include a rally.
As mentioned before, this is something I'll be paying more attention to throughout the year, and possibly building on, so I wont' be tearing this apart in incredible detail here. But there are some interesting first glance nuggets – for example, the relationship between record and events seem to be more tied with rallies than collapses, which is interesting, though there does seem to be a pattern with both. I suspect overall frequency is likely tied to pace of play, though that will require more digging. You can also see that most of the top teams still have good records in games where they blow notable leads – likely because they're good enough to take control back – and some of the positive outliers (okay teams that do well in collapse/rally scenarios) are teams that can lead on their superstars in late games (looking at you, Oilers). A lot of the most chaotic teams are still on the winning side of the standings, and the absolute most stable teams are usually the ones who just plain never get the lead.
The general rule, it seems, lies with what often gets said by those who promote high-event hockey (like myself). As goals increase, the odds that the better team will win usually also increase. The order that the goals come in will be random, and occasionally come as collapse, sometimes as a comeback, but you'll generally come out ahead, short and long term.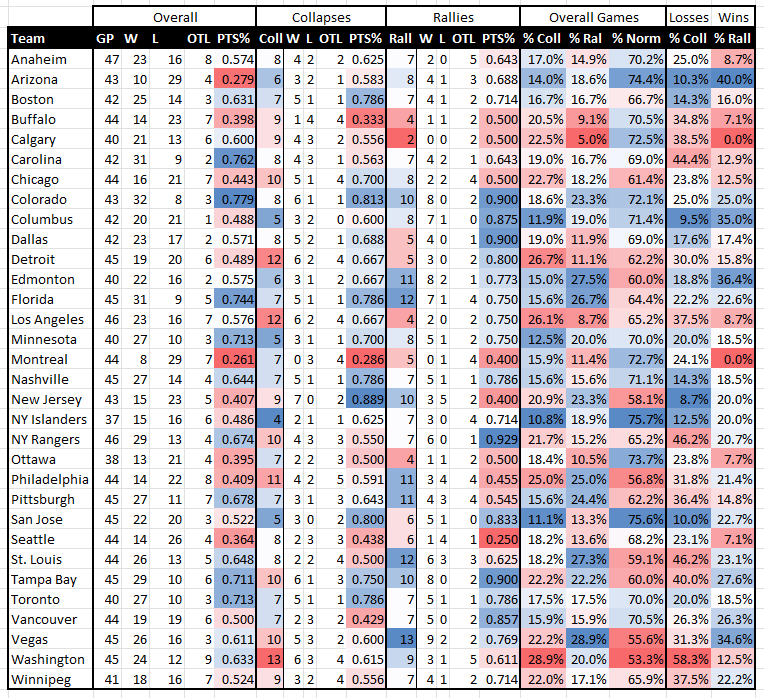 Keep an eye throughout the year, as I dig deeper into this. I'm not convinced that we're going to unearth any meaningful secrets to hockey, but it's at least worth keeping an eye on.