The Toronto Maple Leafs had a rough night last night. Let's not take away from that – yes, they won on the Expected Goals, and the Deserve-to-Win-o-meter, but even as an analytics-inclined person, I can tell you that those are just a couple pathways to weighting your coin, not the only ones. Toronto got outbattled on several key plays, Jack Campbell wasn't his start-of-season self, and the New York Rangers chipped away at a 3-1 deficit until they were the ones who were in the drivers seat.
In a sense, it happens, especially with a team like this. Home ice, an elite goaltender in Igor Shesterkin who has proven calm in adversity, and a hard-working skater group that might be playing a bit over it's head right now, but has moments of burst. Not to mention, Ryan Reaves picking a hell of a night to score his first and second goals for the team. Ryan Reaves! It was meant to be, clearly.
Anyway, this was the fourth time in five nights that the Leafs gave up a lead that should've been comfortable, and that has some alarmed. It has others pointing to more of the same – those typical Maple Leafs, incapable of holding a lead, just like they always have, right?
That's what I wanted to take a look at, and did today. Here's what I dug up. Firstly, the route we'll be taking:
I chose to look at 15 teams' full 2021/22 schedules to date, to see how often they have either collapsed or rallied in a multi-goal or third-period lead situation.
Why 15 teams? Bluntly, this is really tedious to do by hand. I might come back and grab the other 17, or I'd encourage you to do it yourself if you're curious. Based on what I've seen so far, I highly doubt the pattern changes with the rest of the group. These weren't cherry picked selections – they're the Leafs, the teams above them in PTS%, the rest of the Atlantic Division, and the rest of Canada. Basically, teams that should theoretically be better than Toronto, and other teams of interest that give some love throughout the rest of the standings.
Why just 2021/22? Same reason. Also, we're trying to figure out if this is a pattern of concern, so going too far back won't really matter. 'But what about Game 7 vs. Bost-' I don't care. If you care, go watch the highlights again. I know selling the angle of a team destined to crush your dreams is a cottage industry in Toronto, and for arguably good reason, but I'm just here to see if the narratives line up with reality.
Again, I'll note, I'm using multi-goal leads at any point in the game, or single-goal leads in the third period. Frankly, in a league where 6.1 goals are scored in an average game, I don't care about a team scoring the first goal three minutes into the first and then losing 4-1. That's not a blown lead to me. It shouldn't be to you. By the third period, teams are game planning for lead protection and you're not trying to sit on a puck for 50-something minutes, so I'll allow those.
So here's what we've got at this point of the season: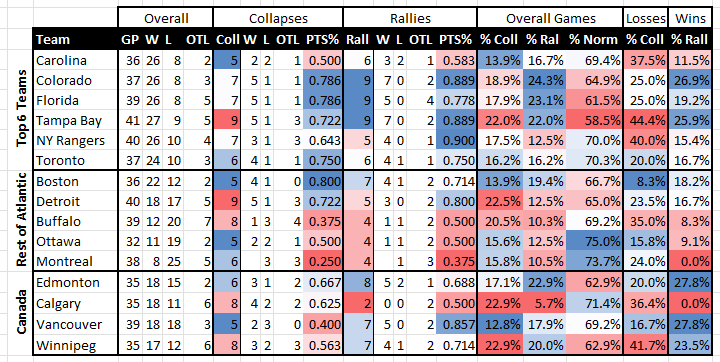 Would you look at that! Of the 15 teams I've pulled, none of them have given up fewer than five of these leads, and many of them are ahead of Toronto's six. Tampa Bay has given up nine of them! Toronto also has an above-average record in how those games end, which seems to be more tied to quality of team than frequency of collapsing and rallying.
I was a little surprised to see even the bad teams keep up in frequency; similar to adages about possession, I assumed "you need to have the lead to lose it" would be at play, but that seems to show that every team is capable of scoring and conceding, and that the end result of it is more important than how you get there. In a league where the goal share gap between the elites and the minnows is only about 10-15% in a full season, this sort of makes sense – goals will get distributed pretty randomly in their order, but the talent is in how you take advantage of that.
This pattern even rings true with rallies, for the most part – the elite teams have been by and large closers once they get there, while a team like Montreal hasn't actually won any of their comeback games. Vancouver, Edmonton, and Winnipeg are interesting in their success in this regard, and I wonder if that's luck, an ability to leverage their stars when pressing, or a bit of both.
Back to the rate of frequency, Leafs games seem to be slightly less heart-attack inducing – a team takes the lead and holds it, instead of crazy dramatic swings – than the other elite teams. Most fascinating about all of this is that Toronto has fallen towards average at a rapid pace in the past week. This means that if there is an abnormality here, it's in the fact that the team was unusually stubborn in holding it's leads until last week. Toronto collapsing in four of their last five means that they just two eligible 'collapses' in their first 32 games. Toronto, who are 6th in the league in time spent playing with the lead (second at 5v5) were actually the league's least prone-to-collapse until a week and a half ago, where regression came back at them like a tsunami.
Rather than look at the order in which the goals are scored, it may make more sense to look at the bigger picture. Since the Maple Leafs returned from their holiday and COVID-19 pause on New Years Day, the team ranks third in the league in Shot Attempt Share (CF%) at 57.2%, and even better in Expected Goals rates (still third, but 58.5%). They have allowed the fourth-fewest high-danger attempts per hour in that span, and the fifth fewest shots on goal. The bigger issue at hand is that they've gotten 32nd-ranked goaltending at 5v5 in that timespan (0.876 SV%). What to do with the netminders is a deeper subject for another article, but the reality in this context is that while he's been great over the past two seasons and change, Jack Campbell isn't stopping pucks at a rate that protects leads right now. The fact that all of the games in the 4-in-5 sample were on the road should also come into consideration.
In summary:
Maintaining leads is preferable to losing them, but leads are frequently lost in the National Hockey League, where the talent gap between the best and worst teams is noticeable but not chiasmic, the parity is plentiful, and six goals are typically scored in some order on a given night.
The Maple Leafs have not conceded leads of consequence (multi-goal or third period) at a rate that exceeds reasonable expectation in the 2021/22 season.
Feelings that they have could be attributed to recency bias (two-thirds of their scenarios happened in the past 11 days), confirmation bias (believing that certain things only happen to the team(s) you focus on, because you don't pay attention to the details of other teams), and historical scarring (it was 4-1, 3-1, 2004, 1967, etc).
Toronto has maintained solid control of the flow of play since coming back from their break, but their 9th-ranked shooting percentage is getting outmatched by their 32nd-ranked save percentage
Prior to this streak of collapse, the Maple Leafs were abnormally good at holding onto their leads, likely the best in the league by a good margin. Regression and random distribution come into play here.
Ultimately, there isn't a lot to learn about the future outcome of the team based off of these metrics. There might be some value in the fact that the team, like most other top teams, turns their collapses and rallies into wins and standings points at a high proficiency.