On Sunday afternoon, the Vancouver Canucks snapped a three-game losing streak – their first in the Bruce Boudreau era – with a 4-2 victory over the Washington Capitals. To me, it felt like most games have for them in January. There were positives, negatives, and a sense that the post-regime change burst set the bar a little too high, but enough effort to be satisfied with the actual result feeling secondary. At this point in the season, I'm not overly stressed about where the team as a whole ends up in the standings, knowing that Boudreau, new Team President of Hockey Ops Jim Rutherford, and whoever he hires as GM will be looking to tinker with this formula and put their own spin on it – a decision that's likely for the best.
What I do care about, though, is maintaining the development of the players that will matter in the long run. Much of this roster is ultimately going to be inconsequential if not absent to the team's long-term success, but some shining stars will remain. Perhaps the most important of them all is 23-year-old Elias Pettersson, who up until this season was considered the no-doubt cornerstone of this franchise moving forward. In his first three seasons, despite what can be politely described as a mess surrounding him, Pettersson put up 153 points in 165 games. Of all active players in the NHL today, only a dozen had a higher points-per game rate through their first three years of their career. Not bad for a player on a team that was 25th of 31 by points percentage in that time span, right?
Well, as the Canucks continued to struggle this year, no one's struggles seemed as overt as Pettersson's. Leading up to the firings of Travis Green, Jim Benning, and parts of their support staff, the Swedish centre had just 4 goals and 8 assists in 25 games, including just three points in the 12 games immediately prior to the dismissals. His immediate results after the change weren't much better – five points in the first dozen – but yesterday gave fans a beacon light of hope, as Pettersson scored a pair of goals in the first five minutes of the second period, pulling Vancouver level and ahead in a game that puts them one back of a "Bettman 0.500" record.
There's a lot of things you can point to that could be contributing to Pettersson's struggle this year.
An obvious path, for example, would be to look at how his season ended in 2020/21. In a game against the Winnipeg Jets on March 1st, 2021, Pettersson hyperextended his wrist after mishandling a puck in the first period. He played through the rest of the the game and the following day as well, but shut it down for the year shortly thereafter. Pettersson didn't have surgery on the wrist, instead going the rehab route, and while he said he was at full strength at the start of the year, it's possible that he's not quite there with his touch. This would become more obvious once training turns into full-intensity game situations, and while it hasn't been something he's continued to discuss, it could still be playing a factor.
Rhythm could also be at play. Pettersson's contract negotiations went pretty late into the summer, due to the Canucks' salary cap bind (a subject for another day, and aimed at people who hare since departed). Pen was finally put to paper on October 1st, after training camp had already started and some preseason games had already been played. One could suggest that the lesser amount of prep time may have hindered his performance out of the gate, similar to fellow countryman and Toronto forward William Nylander's aberration of a 2018/19 season. The counter-argument to this would be that Nylander missed significantly more time, jumping in mid-regular season, and that teammate Quinn Hughes, who Pettersson was skating with prior to signing, has had a bit of a renaissance year.
Ultimately, the prior injury and the jagged early-season schedule likely aren't the whole story for Pettersson, but they likely contribute to it. Coming into the season with momentum is important, and, bluntly, having a fully functional wrist is useful for a high-percentage shooter that's famous for slippery stickhandling with a wide reach. When you mix these two factors in with good-ol-fashioned puck luck, and then compare his season to prior ones, the whole picture begins to come in view.
Individually, Pettersson continues to shoot from high-danger areas, and continues to put up shot volume that isn't his best, but is relatively consistent with his career averages. His 0.66 expected goals per hour at 5-on-5 lines up near-identically to his 0.67 over the first three seasons, while his 8.77 attempts per hour is most of the way to his 10.34 average in the prior span. Where he's really lagging here is in his touch – 54.7% of his attempts have landed on net to a career average of 56%, and just 7.3% of his shots on goal have gone in compared to his typical career rate of 17.1%. That latter number is high, but for an elite finisher playing in dangerous areas, is more probable for him than what he's doing right now. A player who was once an elite slot finishing presence still carries volume, but just isn't converting, costing him goals: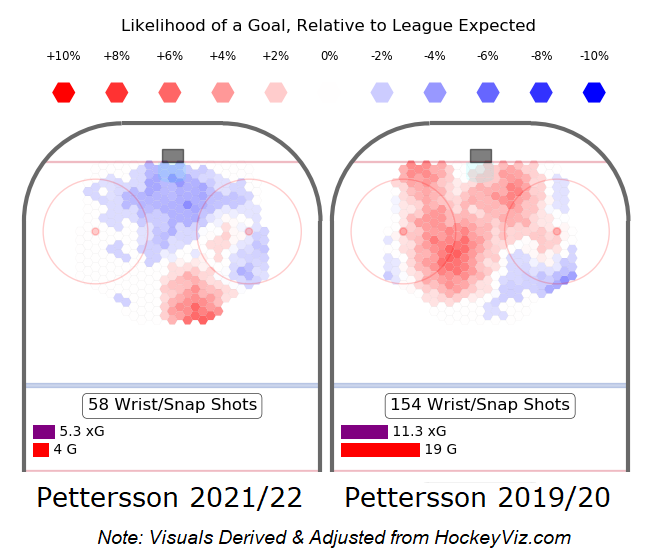 When you look at his on-ice data, similar can be derived. Pettersson is still getting more or less the same ice time, more or less the same zone deployment, and is still driving play. The team is still taking about as many shot attempts and shots on goal with him on the ice as they usually do, though the locations have gotten a bit weaker, looking closer to what they did in his rookie season. What's key though is that the rate of finishing, even besides him, has been abysmal. What has typically been a 11.4% rate of shots on goal to goals has, like his own rate, halved to about 5.6% at 5-on-5. When one factors his individual and team finishing struggles into consideration, you end up taking a player that is producing 0.7 points per hour at 5v5 right now and bring him closer to the 1.6-1.7 range by accounting for his career averages.
That's still down from his 2.47 per hour clip over the first three seasons, but at least comes back into being accounted for by the team's early struggles – especially when you consider that his assist rate would be lagging behind the average more than his goals in this situation. This is all to say that when one asks about whether one should be worried about whether we'll ever see Elias Pettersson in form again, the answer is "probably not". If accounting for poor puck luck is enough to get him most of the way there in a season of team turmoil, in a season where he came back from long-term injury and showed up a little late due to contract talks, and where all of this likely adds up to a lot of metal pressure for a confidence-driven young star, he's probably due for a pick-me-up sooner than later.
Sunday very well could be the start of this recovery and upward regression, though with the above paragraph in mind, I also think it's important for his confidence that the burden of this story lessens. A post-game tweet from Sportsnet 650 producer and friend Justin Morrissette caught my eye last night, where he notes Pettersson muttering "so it's just going to be questions like that…" before answering four questions in a row directly related to the slump. Boudreau mentioned how it's not easy to get out of this sort of funk when it's the story of the town, and really, I think this is the fourth piece of the puzzle here. Obviously, the media has it's job to do (it would be hypocritical of me to say otherwise in a written piece about this very slump), and the fans have a right to concern, but the sooner the concern fades, the more I think things will ramp up for him. The margins are so thin at the elite levels of the game and confidence can make such a difference. Moving forward from a slump also means moving on, and you can't fully move on until your surroundings have too.
Personally, though, I don't think we're far out from it. Pettersson is simply too good of a player to not go on a tear one way or another at some point, and as all the factors mentioned – the injury, the uneven start, the puck luck, and the pressure – begin to dissipate, the goals and the good times will come again.