Out of nowhere, the Toronto Maple Leafs are making big news this afternoon. The team announced on Friday that they've signed their longest-tenured player, defenceman Morgan Rielly, to an eight-year contract extension that will pay him an Annual Average Value of $7.5 million per season.
TSN & The Athletic insider Pierre Lebrun has passed along the contract details, which break down as follows:
2022/23: $4 million salary, $4 million signing bonus, NMC
2023/24: $5 million salary, $5 million signing bonus, NMC
2024/25: $10 million salary, NMC
2025/26: $8 million salary, NMC
2026/27: $6 million salary, NMC
2027/28: $6 million salary, NMC
2028/29: $6 million salary, 10-team NTC
2029/30: $6 million salary, 10-team NTC
The first impression one has when seeing this news is an obvious one – where did this come from? After all, we hadn't heard a heck of a lot about extension talks in recent months, and most of the debate in town seemed to be around whether you saw the year through before letting him go to free agency, or traded him if the team didn't look to be a true contender by the deadline.
Most had accepted the fact that the team was going to be priced out of the 27-year-old, who was originally drafted by the team in the first round of the 2012 draft. This is because of the summer we just had, where the following contracts were inked by defencemen going into UFA-aged deals:
Seth Jones: 8 year extension at $9.5 million
Alec Martinez: 3 years at $5.25 million
Dougie Hamilton: 7 years at $9 million
Adam Pelech: 8 years at $5.75 million
Darnell Nurse: 8 years at $9.25 million
Neal Pionk: 4 years at $5.88 million
Colton Parayko: 6 years at $6.5 million
Mattias Ekholm: 4 years at $6.25 million
Ryan Pulock: 8 years at $6.15 million
There's a lot of 7-8 year deals here, and a lot of huge, huge AAV's here. Some of the best looking deals from a bang-for-buck perspective only look great because of some of the worst ones on this very list. For example, the Islanders duo of Pelech and Pulock, while very good and key to the team's identity, would not be seen as "steals" had those deals been signed before Jones got the ball rolling on the summer of insanity by not only signing that contract, but having an extremely steep asset cost attached to his acquisition. For this reason, most felt that Rielly was bound for free agency. Due to Toronto's investment in their big four forwards, it seemed unlikely that they'd be able to compete with the open market in a race like this one, where a player of his reputation could potentially be the most expensive name on the entire free-agent market in July and maybe even push towards $10 million.
In this respect, seeing him sign at an AAV under $8 million is, quite frankly, spectacular on a relative scale. Rielly isn't the best defenceman on that list – I would personally give that award to Hamilton – but he does find himself ahead of the other two big name cohorts in Jones and Nurse based on Evolving Hockey's goals above replacement model, and by most metrics seems to comfortably be a first-pair defenceman, albeit more of #2 with defensive deficiencies. He continues to play considerable minutes every night, which to this day remains the most predictive quality in how a defenceman gets paid, for better or worse.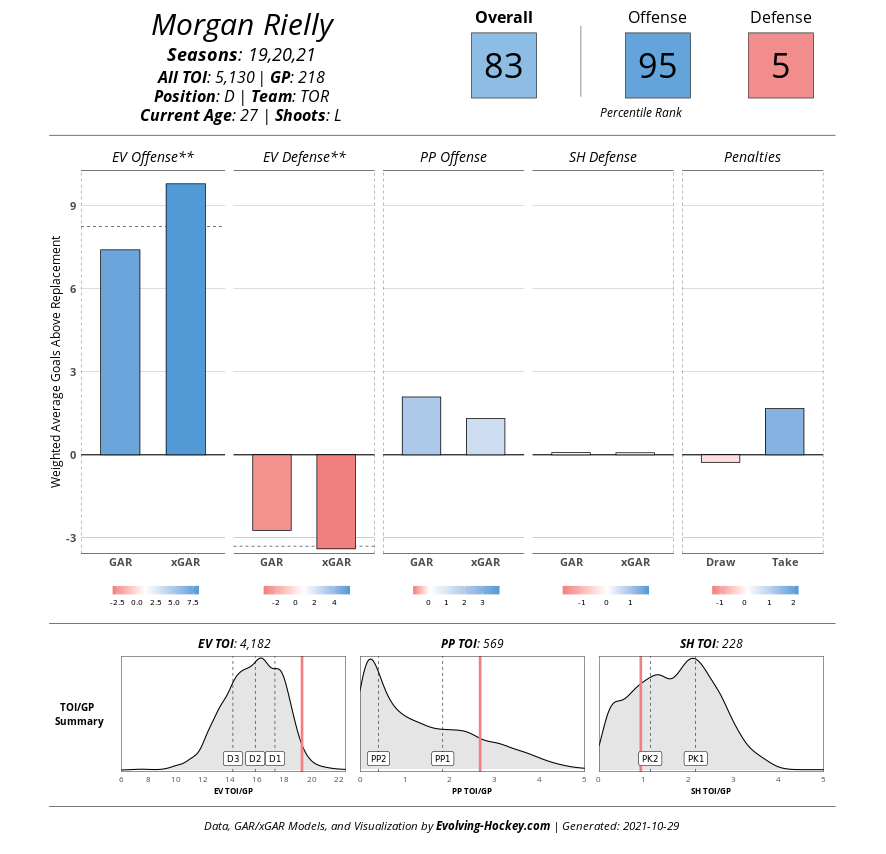 Speaking on a spectrum of comparables, reputation, and overall market value, Rielly more than likely takes a noteworthy haircut on this deal, one that offsets some of the lack thereof that Toronto saw from Matthews, Marner, and Nylander on their second deals. It's interesting in the sense that he might not be Toronto's #1 or even #2 defenceman, but the value that the team has gotten out of Jake Muzzin (slow start this season aside) and TJ Brodie provides enough surplus to make this work out too. His raise is also one that is by-and-large settled by the cap over the next year – the $2.5 million increase will be chipped away at by the end of Phil Kessel's salary retention ($1.2 million) and an expected $1 million increase in the ceiling.
The flip side of this, though, is that there is still risk involved, even if you're "beating the market". Beating the market means less if the market is broken, and I continue to believe that such is the case with defencemen.
With few exceptions, most high-end defencemen don't have the ability to change the dynamic of games in controllable ways to the extent of high-end forwards. Goals are more difficult to create than they are to prevent, and offensive control creates defence to a more significant margin than the inverse. Defencemen also put on miles faster than forwards, and do so in ways that are often more physically taxing. For all of these reasons, I'm not a big believer of paying big money, and big term to defencemen. The Morgan Rielly deal is great in the sense that it beats the market for the type of player he is, but it's arguable that it's still not the best way for a team to spend its money.
This will be even more of the case as the years progress. Rielly will get older and slower, his injuries will add up, and the younger defencemen in the system will begin to come for his special teams minutes, where the money really lies. It's also likely noteworthy that his peak seems to have already come and gone – a 20-goal, 72-point season in 2018/19 where he ranked in the 99th GAR percentile, and hasn't really come close to matching since. There's a reasonable chance that as this contract persists, and it persists for nearly a decade on, it won't age well. Better than most of the rest of this summer's hit-list, due to the concession he took and his more offence-driven playstyle, but not well enough to be conductive to team success.
Going back to the contract structure, though, it appears that the Maple Leafs see the same potential outcome in their path. In contrast to their star forwards, Rielly's last signing bonus payout is just 12 months into the deal. Four years into the deal, his salary permanently sinks below his AAV, and in the final two years of it, his no-movement clause turns into a modified no-trade. In other words, the team begins to build up flexibility to move on, if need be, as soon as July 1st, 2023 – roughly 20 months from now. As long as Rielly doesn't go into a spiral befitting of LTIR, Toronto will have leverage to move the player down the road if need be. Rielly's heart seems to be here, and the teams heart with him, but they appear to have created some balance of commitment and business with this structure, allowing for a walk to the end of his career if he ages well, and opportunity to parachute out if he doesn't.
Rielly news announced to team at end of practice @BarDown pic.twitter.com/MBuNDHjNHr

— Mark Masters (@markhmasters) October 29, 2021
All this considered, do you declare the deal a slam dunk? No, but you see why they did it. It's a great deal relative to his most recently-signed peers, and while Rielly isn't a superstar, he's at a tier that's difficult to replace. He's well-liked in the room, so they don't have to worry about the off-ice dynamics of a replacement either. The concern here, like with all defencemen of his age, is in the term of the deal, but there seem to be some safeguards put in place for a mutual departure if necessary. While I think this is the riskiest of the big-money deals on the Leafs' balance sheet right now, it's a risk that I understand the merit of, and one where the floor has been accounted for.