On the surface, the soon to be official news coming out of Vancouver appears to be a bit of a relief. Elias Pettersson and Quinn Hughes, both represented by JP Barry, are ending their contractual stalemates in the coming days and signing extensions with the team. The exact language of each deal is still to be figured out, which is why we're still waiting for a press release, but indication from the various insiders suggests a term of six years and an AAV of $7.85 million for Hughes, and a term of three years and $7.35 million for Pettersson.
Just on their own, these contracts, in total honesty, are pretty good. Now, they're higher than the models suggest they should be – Evolving-Hockey's contract projection tool suggests that Hughes on a six-year term should go for around $7.02 million, and Pettersson should go for about $5.81 million on a three-year term. I actually think this is a case where the models are undervaluing things a little – Hughes had a down year last season that I don't expect to repeat, and Pettersson had injury issues. When you look at the intense premium that has been paid for defence – both veteran and youth – this summer, locking in Hughes at under $8 million looks like a pretty good bet on his upside, which I still believe could include Norris Trophies. When you look at forward bridges signed around the league in recent years, like Matthew Tkachuk, Mathew Barzal, Brayden Point, even Vancouver's own Brock Boeser, it's easy to feel comfortable with Pettersson as the best overall player of the bunch, and currently capable of delivering at least the $7.35 million in individual player value.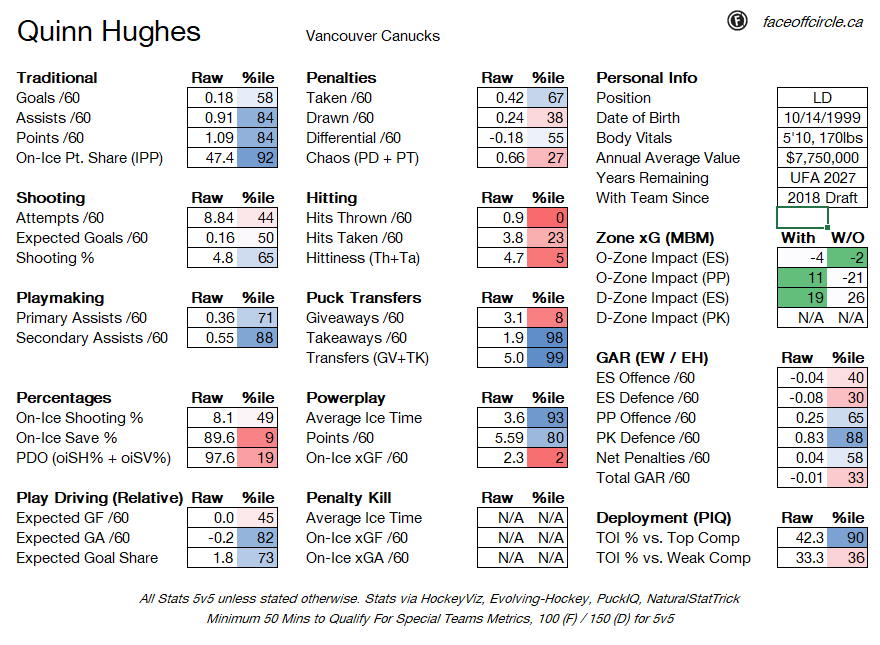 So, you might ask, what's the problem?
For the record, I don't necessarily see a problem on the end of Hughes' deal. At most, the problem there lies in the fact that the team could have likely done better hand they hurried things up – waiting for Cale Makar, Miro Heiskanen, Rasmus Dahlin and the like to sign their extensions, in my eyes, dragged the price up higher than it perhaps could've been had the team went into negotiations more aggressively at the end of, or even during the season. Maybe they get a lower AAV. Maybe they get more term. But overall, this one isn't worth picking over.
My issue is with the Pettersson deal – again, one that I think is a perfectly fine contract if you were to ask me "what would be a fair price for Elias Pettersson on a three year deal?". Frankly, they could've even gone a little higher and still had an acceptable total. The issue, however, is that they couldn't go higher. That this was the absolute most they could do, and as such, this was the longest the team could go.
In today's salary cap climate, the most valuable gains you'll find come from the control of young, superstar talent. Their entry level contracts are borderline criminal in compensation for the best young players, and teams are best served to slam the gas pedal on their windows if an opening arises for them to add more high-end talent while the future is cheap. Barring that, your best bet for sustained success is to max out your term on the second deal. A rookie who comes into the NHL a year or two after their entry-level deal will have an eight-year max extension take them until they're about 30 years old, and that will usually come with terms compared to today's salary cap and today's peers not the one at the end of it. Particularly at a time where the salary cap ceiling is frozen, there is even more room to take advantage of it. That's how you get deals that mature well, allow you to keep the team surrounded into the future, and set you up to get all the player's best years and little of their decline, a hill you can make a decision on at the end of the deal.
It stands to reason that most teams would aim to maximize their term on a star player's second contract, and with the uncertainty of injury and decline, most players tend to take the safe route still. That may change over time, as players gain more power and influence in the negotiating room, but the top RFA contracts are almost always those 6, 7, 8 year monsters. Usually, if we see a "bridge" deal – one that is of shorter term but still holds RFA status onto the player, it's because the team doesn't have the funds to eat the higher AAV that these longer-term deals tend to come with. An example from the pool mentioned above is Point's bridge deal – the Lightning were an intensely competitive team with their funds nearing the cap ceiling, and he signed for three years in hopes of keeping the team good now, and cashing in later. It worked for him – he got to win two Stanley Cups, and then signed an eight-year extension at a $9.5 million AAV.
But again, that's a unique situation in Tampa. The team is loaded with quality talent, who are practically negotiating their long-term deals against each other to make the dollars work. Point takes less after seeing what Andrei Vasilevskiy did, who saw what Nikita Kucherov did, who saw what Victor Hedman did, who saw what Steven Stamkos did. They saw results – first in the regular season, and then in the playoffs.
None of that is here in Pettersson's situation. There are no high-priced peers who took deep discounts on the Canucks roster. There is no success to bank on – the team has missed the playoffs in two of the three years of his entry level deal, effectively wasting them. They had the 22nd-best record in that timespan, and had the 24th-best shot and goal shares in the league. Going into this year, they don't look a hell of a lot better – both EvolvingHockey and Dom Luszczyszyn's early modelling have the team at about 87 standings points, and I think that projection, likely good for 5th or 6th in the Pacific, is fair. Which begs the question – how the hell did the Canucks end up in a position where their two best players were the last two left to sign, with just under $16 million left to sign them?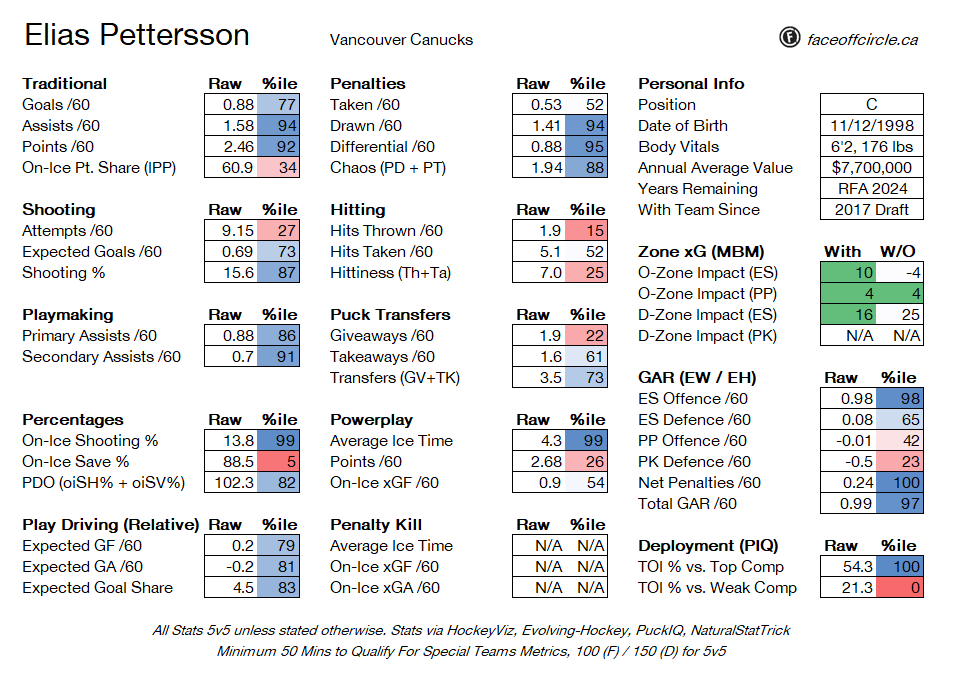 This is the problem. Not that Pettersson's contract is bad on its own – a contending team would love that bridge deal slotted in – but that they had no choice but to leave term on the table and make it, and no good reason for it. A look down the the Canucks' balance sheet begins to truly illustrate the mess they're in.
For example, a quadrant of Oliver Ekman-Larsson (6 years remaining @ $7.26M), Tyler Myers (3 years @ $6M), Travis Hamonic (2 years @ $3M), and Tucker Poolman (4 years @ $2.5 million) combine for approximately $19 million in cap hit – a quarter of the team's budget – and all four were in the bottom third of the league according to EvolvingHockey's Wins Above Replacement model last year. I'm not a fan of going all in on single-number stats, but all four have other black holes dragging them down, whether it's play driving, offensive contribution, penalty differential, or a combination of it all. Yes, some of them were given tough assignments, and are probably better than replacement level players – but even adjusting for that, it's likely not by much, and those four alone could likely be replaced with equal total talent on the open market for a third of the cost – more than enough room to get both of these superstars locked up as close to max term as possible.
These were avoidable situations too – Myers was known as an albatross candidate when the team signed him in 2019. Hamonic already showed he wasn't a needle-mover with the Canucks last year. Ekman-Larsson and Poolman, taking up over half this salary pool, were brought in ten weeks ago. Many will say "what if it works?" but the odds are low, and certainly lower than the odds of Pettersson remaining an elite, game-breaking forward who will now be back up up to the negotiating table in three years.
I could keep going on the Canucks bad decision making – how OEL's acquisition isn't magically good because it shed other bad contracts (which were shorter term and, most notably, the same regime's prior mistakes), how it only took a year for Braden Holtby to turn into an inevitable buyout, how while it's unfortunate what happened with Michael Ferland, his concussion history was known prior to signing and his LTIR status an inevitability. The unforced errors are endless with this club, and a perpetual point of frustration for me as I'd like to see the team – particularly these two extended players – get back to their winning ways. But we need to stay on topic, so we'll move quickly and return to Pettersson.
Three years. There's a lot that can happen there. Many will point out that the Canucks will be shedding some money by then – Myers, Hamonic, Tanner Pearson, and Jason Dickinson will be the contracts above $2.5 million expiring between now and then, freeing up about $14 million.  Ferland's contract will no longer be in the way, Roberto Luongo's cap recapture will be gone, and the two buyouts (Holtby and Jake Virtanen) will be gone. Admittedly, that's a pretty useful chunk, and it'll help in the next contract negotiation with Pettersson if he's up for it. Vancouver's cap spend will be at about $46.7 million, which is pretty good, right?
Other teams will shed a lot in that time as well, though – admittedly less of it dead weight. That number, however, doesn't include some other names that will need re-upping or replacing – Brock Boeser, Bo Horvat, and JT Miller to name a few. It doesn't include the second contracts of Nils Hoglander and Vasily Podkolzin – which will either be for notable amounts of money, or the players will not have lived up to their potential and you've got a blow that way. Either way, you're either subtracting the little bits of talent the team has, or you're likely up against the wall again in three years. The good news is that by then the salary cap should start to inch upward again, but with that, player asks will inch upward. Particularly from those who have had to eat the short, discounted payday not once, but twice – and will be looking for that payday at 25.
There's a distinct possibility here that, should the Canucks not find a way to shed even more of their worst, including what they've just acquired this offseason, they'll be in a position where Pettersson will have truly affirmed his superstar status, but the team still can't really afford to pay him – and possibly still not even be good enough to justify that crunch (sudden leaps by young players could turn this die, but are not to be gambled not). If that's the case, Pettersson will be in a position to accept his qualifying offer instead – a year at roughly whatever his third year on this contract ends up being – and unlock a pathway to becoming an unrestricted free agent possible.
These are the ramifications of the problem. Years of inept, predictable decision making – particularly when it comes to overpayment for depth-quality players – cornered the Canucks into a pretty tough situation with their two best players, where they could not afford to make the best possible long-term offers for them. They've now bridged the best player on their team, paying for years where they hope that they could start to become good, and not securing any where they expect to be true contenders. They've wasted Pettersson's entry-level deal, and have now delivered him a situation where, if they don't untie the rest of their knots and do so in a hurry, he'll have the power to leave for nothing at the absolute first available hour.
Again, the contract itself isn't the problem. If you're a Tampa Bay, Vegas, Colorado, Boston, Florida, Carolina, Toronto type team – teams looking to go on deep runs now and eager to keep one more star player in the mix – you're more than okay with it. But the Canucks simply aren't in a good enough spot to be putting this gamble in the hands of a player who has the upside to be among their best in franchise history, and is certainly their best now – it's a total loss of priority, completely preventable, and indicative of the death by a thousand papercuts that the front office has delivered over the past several years.