Most in the new-school hockey world feel that the offer sheet is one of the most under-used aspects of potential roster growth in hockey today. It's a weapon that, if well used, could get you a quality young asset from another team without giving up players of your own – just money and draft picks. Or, it could just end up pissing them off, which sometimes is just as much worth it.
Two years ago, the Montreal Canadiens made a play that was a little bit of both, signing Sebastian Aho to a five-year deal before he could agree to terms with the Carolina Hurricanes. It was a fair deal for both sides from an AAV standpoint, which is why the Hurricanes were very quick to match it, but the attempt by Montreal management to stuff all of the deal into signing bonuses and front load the distribution, just to force new owner Tom Dundon's hand on spending, was not received very well by the other side.
On Saturday night, the Hurricanes got their revenge and boy, was the execution fun. Carolina went right back at Montreal, signing their prized off-ELC forward Jesperi Kotkaniemi to a 1-year deal for $6,100,035. The real devil was in the details, though. The "LOL" release from the Hurricanes on Twitter. The more serious statement, put out in French. Don Waddell's comment on Kotkaniemi being a perfect mirror of Bergevin's on Aho. The $6.1 million to keep the compensation at a 1st and a 3rd without giving up a second, the extra $15 tacked on for Kotkaniemi's jersey number, and the literal $20 signing bonus for Aho's number. From a PR standpoint, it was brilliant.
The fact that it's going to put Montreal up even further against a wall currently cushioned by LITR money? Even better, as it presumably either makes it harder for your in-conference opponent to spend, or they sacrifice a young player just two months removed from turning 21 and three years removed from being drafted third overall. It's the perfect crime, seriously kneecapping their nemesis as revenge. Incredible! Let's all have a good laugh.
…and now that that's out of the way, Montreal has to seriously consider letting this go through, right?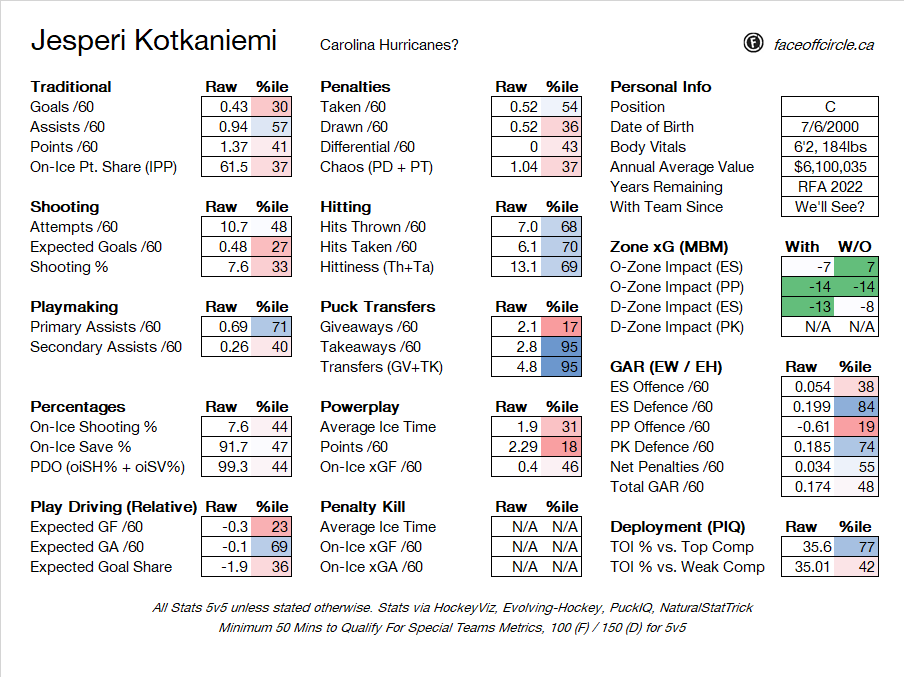 After all, as everyone knows, the AAV here is ludicrous. Renault Lavoie reported tonight that when talking to people around the league, the price tag he came back to for a one-year deal was about $2.2 million. Similarly, Evolving-Hockey's salary projection model has him in that range on a two-year deal, and even less ($1.5 million) for a single year. Even if Montreal were to swing big and offer him an eight-year extension, the model maxes him at $4.75 million. Now, that's not necessarily saying that his value as a player over the next eight years peaks at under $5 million – it's a system based off of historical comparables and this would be a weird and rare extension to go that long – but the point is, nothing saw $6 million in the cards for him this year.
It likely wouldn't just be this year either, no matter how well he does or doesn't play. Kotkaniemi would have this price tag set as his qualifying offer for next year as well, meaning that Montreal or Carolina will have to tender that to him again to avoid having the player go to unrestricted free agency at 21. For a recent comparable there, look at Patrik Laine – he had a $7.5 million qualifying offer at the end of his two-year bridge deal and despite not playing to anywhere near that potential this year, took it from Columbus, who didn't want to see their hopeful future star fall away from them just 45 games into his time in Ohio.
As explained by friend of the blog David Alter, there is an option for the team to file for salary arbitration at the end of next year, but that's a pretty bloody process which will still guarantee him 85% of his QO, so about $5.2 million.
Either way, whoever has Kotkaniemi in a week is going to be paying him $11-12 million over the next two years, and then has to figure out what to do with him on what will likely be his last contract before unrestricted free agency. If they don't commit to that, they'll be spending $6 million on him this year and losing him.
My wonder here is if Kotkaniemi, who scored just 20 points in 56 games in 2020/21, is really the tier of player that deserves that level of a sunk-cost bet from Montreal. The team is obviously to avoid more frustration in town after the drafting of Logan Mailloux, the pseudo-retirement of Shea Weber, the long-term injury for Carey Price, and the loss of two of their top forwards in Phil Danault and Tomas Tatar; the latter four being big blows to a team that went on a magical playoff run but barely squeaked in to begin with. Efforts have been made to patch up some of those holes, but its hard to look at the current roster and expect the same or better over the course of a full season, which is worrisome given how they've barely scraped into the playoffs in each of the last two seasons. For that reason, Marc Bergevin might not want to lose a player once billed as a key part of his team's build-back. It's the same sort of thinking that led the 2007 Buffalo Sabres to match Edmonton's offer on Tomas Vanek, keeping the player at a 7x$7.142M cap hit (the equivalent of $11.6 million today) instead of taking the Oilers' first round picks for the next four years.
The return there was obviously bigger, but the concept was similar. The deal was matched to avoid yet another blow, and Vanek to his credit was a very good player out of the gate, but he wasn't a foundational franchise guy. Kotkaniemi isn't going to return the same draft picks, and his salary is closer to a low 1C/high 2C, but is there a high confidence that you're still going to get that out of him? It's early to say at 20 years old, but his production out of the gate has not matched up with his draft pick pedigree, and when you look at players who produced similarly through their ELCs at the same age since the analytics began, there's not a lot of high hopes in that 0.36 per-game range. Some below him and just above him have blossomed (Sean Couturier, JT Miller, Nino Niederreiter, Tom Wilson), but most haven't. Looking at the contract-year-only outlook isn't much better, as no one below him really chased stardom in this 13-year sample, and most who did produced significantly more by their third season. It gets a little better when you focus the group down from Year 3 at 20-to-22 to just 20 years old, but Kotkaniemi's point production still ranks 22nd out of 27 in that contract year pool.
That's not to say that Kotkaniemi is solely defined by his point production, or that he can't be a late bloomer, but for true impact players, you want the signs of stardom to start coming in by this age. Not necessarily dominance overnight, but more than below-league-average production and overall at 5-on-5. Yes, the 6'2 frame helps, the good defensive play helps, and the strong puck-carrying ability. But even with that added, the player being projected here no longer looks can't-miss, but closer to very good. Is very good worth passing on a 1st and a 3rd round pick to pay 7.5% of the team's Cap Space for in back-to-back development years, in hopes of maybe finding some fair value a contract or two down the road?
I don't think it is, and that's why I'm seriously considering taking the picks if I'm Montreal. The team is unlikely to repeat the magic of last year in 2021/22 and inching the NHL roster closer to the rebuilding stage might be wiser, if not a little controversial, and with Carolina putting a lot of eggs in a new goaltending basket this summer, you never know if you get lucky with the draft picks you get back. Even if it does just end up being a low-mid first and third, that's about fair value for a player of Kotkaniemi's current upside at prime age (see: Jean-Gabriel Pageau to NYI in 2020), and if he continues to stagnate, you've parachuted out before the league notices. Montreal must be aware of that being a potential outcome, given their reluctance to use him during the playoffs – so why not think about it?
To me, it's the safest and best bet for Montreal and hey, it could be worse on Carolina's end as well. They'll have some egg on their face for the plan not going entirely to plan, but they'll have a year to see if they think the player could be turned into something special. If not, they're not a team that's spent all that close to the cap ceiling, so he won't hurt them in that regard, and if it looks bad through a year, a first and a third is just low enough that you don't feel horrible about cutting losses.
Not to mention, it would add at least another year of entertainment on our end. Whatever the case, this is one of the most exciting transactions in the NHL in quite some time, and I hope that the spite wars don't scare away GMs from doing things like this more legitimately in the future.