On Thursday, two high-end NHL forwards signed matching eight-year, $62 million contract extensions with their teams. Andrei Svechnikov got his from Carolina, and Sean Couturier got his from Philadelphia. A little weird that they'd match given that they play for different teams, have different expiry statuses, have different play archetypes, and are several years apart in age, but hey, I don't make the rules in this league.
This did mean that one of Toronto hockey's biggest givens would rear its head again. With new contracts attached to brand-named players in the league, Mitch Marner would be thrust back into public discussion again, trending on social media for much of the day. The once-beloved Maple Leafs winger has been taking all sorts of heat over the summer due to another disappointing playoff series, in stark contrast to his heavily and publicly fought for six-year, $65.4 million contract extension signed in 2019.
Let's talk about that a little bit, because it's starting to get a little much.
I know that sounds weird coming from me, of all people. After all, I was one of the most vocal critics of his contract negotiations as they were happening, being a bit lower on the 2015 draft pick than most others were. My analysis of his entry-level performance slotted him at closer to a $9 million AAV rather than the $10.893 million that he got. I've done thought experiments that involve moving the player, and I'm still open to the idea of moving him for the right price. I wasn't exactly singing his praises at the end of the playoffs. Prior to his reputation-crater in town, it wasn't uncommon for me to be described as a "hater" of the player.
All the same, that description isn't totally fair, and that's kind of while we're here. I do have my criticisms of him, like everyone – I don't think he handled his negotiations well, I wonder at times if he's too personally invested in being "the hero" or "the guy" on and off the ice, I don't think he's a super-driver of play like his biggest supporters feel, and I don't have him as a Tier-1, foundational superstar. But there is no shame in not being in that extremely limited tier, and not being there doesn't change the fact that Marner is a superstar in his own right.
For example, the conversation regarding Svechnikov yesterday brought up a lot of discussion about teams and their highest paid duos. There was one semi-viral tweet comparing the duos of Carolina ($16.25M), Colorado ($15.5M), Edmonton ($21M), and Toronto ($22.5M), to essentially make the point that other teams got their two best players signed for cheaper. A poll with over 17,000 votes currently has fans preferring the Carolina duo at their price to the Toronto duo at theirs.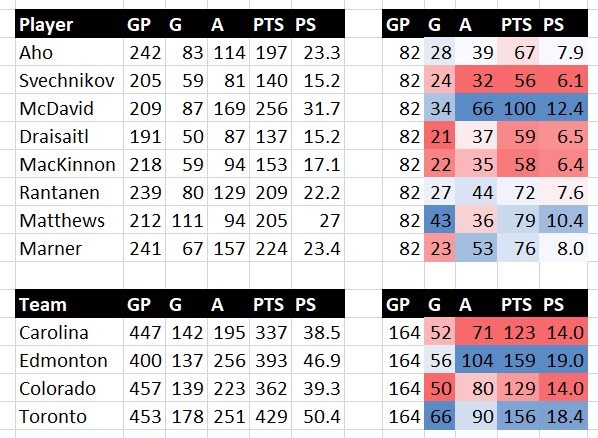 Once you pick those groups apart, though, the comparison makes little to no sense. The above shows the raw point production (still the best indicator of payment for forwards) and Hockey-Reference point shares of the eight players in these four duos over the course of their entry-level contracts, in which their performance got them their second deals. As you can see, the Toronto and Edmonton duos come out within a margin of error of each other on a per-82 game season basis, and the Carolina and Colorado duos do the same on a noticiably lower tier.
Something that's forgotten with Toronto's negotiations is the fact that, while they're hampered by the fact that all of their "Big 4" signed at approximately or slightly above their comparable market values at the time, they all had considerable market values at the time due to proven work. Matthews was already the league's most efficient goal scorer, Marner already had a 90 point year to his name, Nylander already had multiple 60 point seasons and John Tavares was a long-term established superstar on the open market. Toronto didn't find surplus value in their deals, but they didn't significantly escape the price tiers on any player. Most of the best forward contracts in the league today come from players who were not productive at the time of signing but grew into their price tags later. For a better example that plays more into Marner's hands specifically, let's look at the top 20 point producers in the league over the past three years, and who they played towards the start of their current contracts: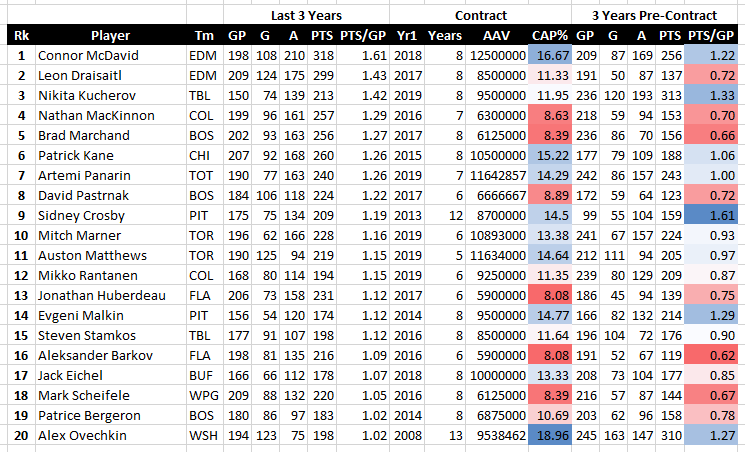 We've seen so many people talk about how the players on Boston and Florida "took less to win for the team culture", or how Nathan MacKinnon did the same (something he's even claimed himself, but only several years after he signed his contract), and their deals and cap hit percentages look amazing on this list today. But look at where everyone's production lies before they signed, and you see a much different story.
In Marner's case, you see a player who is 10th in points-per-game over the past three years. He carries the fourth-highest cap hit in this group of the 20 best, but by cap percentage at the time of signing, he drops to eighth. In terms of point-per-game production in the three years leading into his deal, he ranked ninth out of the twenty. Even with the best of the hindsight deals taking up about a third of this list, the contract doesn't look out horrifically out of place. It looks like what it was when it was signed – a slight overpayment.
Relatively speaking, it likely wasn't even the worst of the deals here at the time – Leon Draisaitl's was panned across the league when it was given to him, but he had more room to grow upward, and he signed in time for the last addition of cap space before the league's income went flat.
Beyond comparative production, one should also look at how much damage this approximate million or two of overpayment is really doing to the Maple Leafs. Much like the rest of the Big 4, getting great deals on their stars would've been ideal, but to this point hasn't really hampered the team in a serious way. Even with the salary cap staying flat due to a combination of the pandemic and escrow coming back to haunt the league and players association, Toronto has continued to put out a quality top-down roster on paper.
Their $20 million defensive corps of Jake Muzzin, Morgan Rielly, TJ Brodie, Justin Holl, Travis Dermott, and Rasmus Sandin comes in at well below the combined market value of the players' talents while being one of the best groups the organization has had on the blue line in decades. Jason Spezza continuing to play for league minimum gives the Leafs a significant chunk of value up front on his own, and they've still managed to build a quality forward group beneath their stars. Jack Campbell and Petr Mrazek at a combined $5.45 million is one of the league's more shrewd goaltending tandems. Toronto has cancelled out the lack of superstar discounts by finding good deals on their secondary core, and more importantly, shredding all of their dead weight.
There are legitimate gripes with how things went down to get to Marner's contract, and there are legitimate gripes to be had with the player. Like most in the league, he comes with both strengths and weaknesses, and there was definitely a time where people were blinded to the latter with the 24-years-old winger. I think there are good discussions to be had about what his role on the team needs to be, from the perspective of management, the coaching staff, and even in his own head. But to get upset every time a big name carries an AAV smaller than $10.893M, even if the player is clearly not of the same tier, is a tired exercise that is only going to strain the relationship between the player and the team.
Mitch Marner was not a good fit to be seen as the saviour of the Toronto Maple Leafs, and while he dug himself a bit of a hole a few years ago and could use a big playoff series, he's not a good fit to be the sole villain either. What was done in 2019 is done, and the tangible, non-emotional damage is minimal. It would be good for the Leafs to avoid repeating the situation, but as far the contract goes, the horse is long past dead.