After signing Ondrej Kase last night, the last of the main Toronto Maple Leafs roster's cap space appears to be spoken for as of this morning. First reported by Sportsnet's Elliotte Friedman, the team is closing in on a deal with free agent forward Nick Ritchie, locking him in for two years at an Annual Average Value of $2.5 million. The team confirmed the signing shortly after.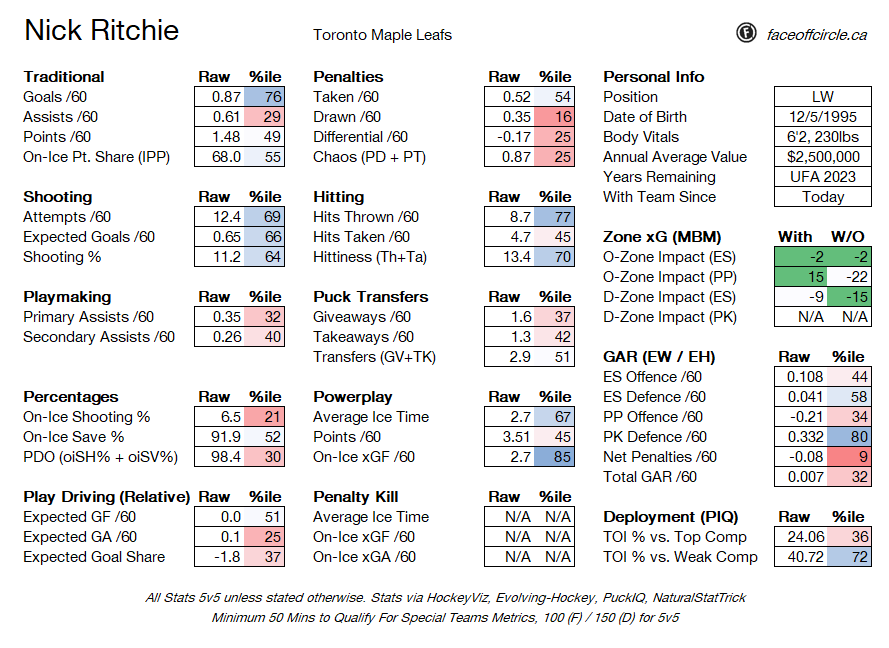 Ritchie is perhaps most famous in Leafs land for being a favourite of the more old-school crowd, most notably Don Cherry, in the 2014 draft. The Leafs ended up passing on him, allowing him to go 10th overall to the Anaheim Ducks, but likely have few regrets about it given that the player they chose instead, William Nylander, turned out okay. Since then, the Orangeville native hasn't quite lived up to expectation, but he's still pieced together a decent enough NHL career, posting 137 points in 350 games, including about a half point-per-game clip since 2018/19. Like Kase, Ritchie was acquired from the Ducks by the Boston Bruins in 2020. This season, he put up a combined 16 goals and 30 points in 67 regular season and playoff games.
Those who remember the past discourse about Ritchie are probably expecting a goonish, overtly physical power forward, though that might be putting too much pressure on the player. Ritchie is a physical player who initiates that sort of play, and he is willing to drop the mitts when necessary, but at this stage in his career he is noticiably more focused on playing the game than he is on hitting and fighting everything in sight. He's not the fastest skater, but his large frame makes him a potential net-front option. If we're being super honest about the player, there isn't really a true standout part of his game at this stage – even when it comes to the physical stuff, he's not doing anything specific at a high frequency – but the capability is there and the combination of that capability with the ability to play a regular shift is what likely catches the Leafs' eye.
Personally, I'm somewhere in the middle with this signing. I don't have an innate issue with signing a player like Ritchie and could see him being a useful fit in the lineup, and I think both the money and the term is fair. Picking up a physical forward on a two-year term at Age 25 is, after all, much preferred to giving their long-term payday in their late 20s or early 30s. At the same time, it's difficult to look at the names still sitting around on the market (most notably Tomas Tatar, or bringing back Alex Galchenyuk) and wonder if the last of the remaining main-roster cap space could've been more shrewdly allotted elsewhere. Of course, this makes implications about the ask and interest on those other players' ends, so if this is a case of him being the best of the interested and affordable, it's likely fine. In the position of a fan, I wouldn't be in love with this signing or getting my hopes too far up, but I'd keep an open mind to it.