Just when you thought they were done, the Toronto Maple Leafs stuck again, taking advantage of the proverbial leftovers pile. After announcing a handful of minor league signings earlier in the day, the team snuck in a Friday night special, signing Ondrej Kase to a one-year contract. According to the official press release, the deal will carry an annual average value of $1.25 million.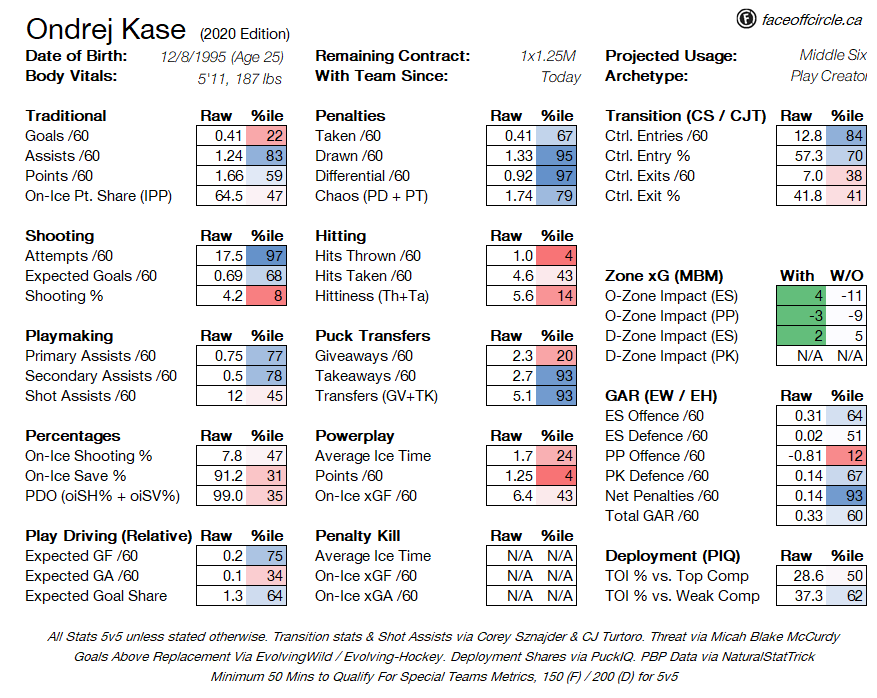 Kase is the type of player that comes with some risk, in the sense that he hasn't been able to stay healthy. The most concerning part of the equation on his part is the fact that he's suffered multiple concussions over the course of his NHL career, including one that pulled him out of all but three games in 2020/21. Since 2018/19, Kase has played in just 99 of 236 available games. He has been a solid enough contributor in those games, though, producing 18 goals and 48 points, averaging about half a point a game at 16 minutes per night.
Prior to this, Kase was known for a breakout sophomore season with the Ducks, in which he scored 20 goals in 66 games in his Age 21 season. Kase was originally picked 205th overall in the 7th round of the 2014 NHL draft, with a pick that Toronto at one point held the rights of before sending it back to Anaheim, who they had originally acquired it from.
The Boston Bruins, who only got 20 games out of Kase in a year and a half of tenure, opted not to tender him his qualifying offer of $2.6 million this summer. This contract lands him in Toronto for a little under half that price.
If Kase can show up healthy, and stay healthy, this could be a fantastic bargain for the Maple Leafs. He shows fantastic playmaking ability when healthy and has the capability to finish when need be. If he can't, he's not making significantly more than a buriable amount, making this a low-risk acquisition for the team. CapFriendly now has Toronto as out of salary cap room to sign other players with this move, though it also has 15 forwards on the roster – don't be surprised if there's still a couple more moves on the horizon.