As Free Agent Frenzy continues and the Maple Leafs both have a goalie signing and a defensive trade sorted out, word has come out confirming their most predictable forward signing, and the price tag that comes with it. According to semi-retired TSN insider Bob McKenzie, Toronto have signed Michael Bunting at a cost of $950,000 per season for the next two years.
The first thing that comes to mind when you look at Bunting's name is, quite obviously, familiarity. Like many before him in the Kyle Dubas era, the player has a connection to the GM via the Soo Greyhounds, playing both his draft year and his Draft+1 in the organization. Dubas was there for the first of the two years, and Sheldon Keefe was behind the bench for both. Bunting also has a local connection to the Leafs, being born and raised in Scarborough.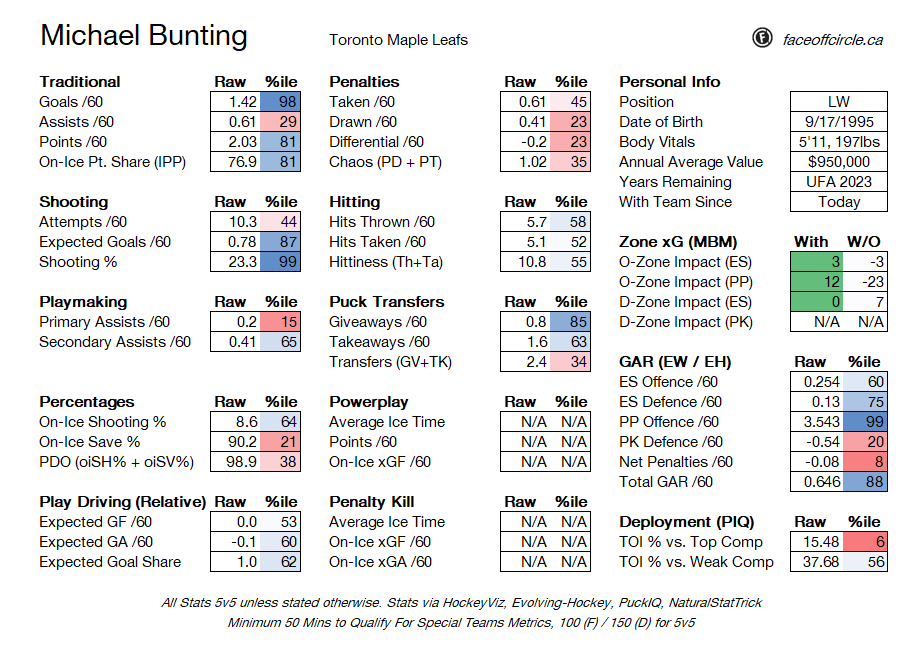 Bunting joined the free agent market under Group VI classification, which is reserved for early prime aged players who haven't seen much NHL action. Specifically, they have to be 25 years old (Bunting is 25), play three or more pro seasons (he's played six), and played fewer than 80 NHL games (he's played 26). This usually isn't the ticket to a huge pay day due to a lack of proven work in the big leagues, but it allows for more control of your destination than restricted free agency gives.
The most optimistic look at Bunting comes in his standard stats, as he produced over a point per game at the AHL level and scored at nearly half a goal per game with the Coyotes last season, potting 10 goals in 21 games with three additional assists. Looking deeper, though, you see a whopping 26.3% shooting percentage (23.3% at 5v5) attached to him, suggesting that his goal totals should likely be at least halved at a reasonable expectation. Combine that with a lack of quality matchups, and you start to see why the AAV doesn't necessarily match the production.
All the same, I like the move for the Leafs, even with it following the Soo gags. He comes in under the buriable threshold, meaning they can send him to the Marlies if it doesn't work out. If he's even somewhere in the middle of the worst and best case, he can slide up and down the lineup, potentially even flanking one of the top two lines.
As well, the Maple Leafs have signed forward Michael Amadio to a one year, two-way contract. According to Sportsnet's Chris Johnston, backing up the Toronto Sun's Terry Koshan, Amadio will be making the $750,000 minimum in the NHL, and $400,000 in the AHL.
Amadio has spent the past four seasons going back and forth between the Los Angeles Kings and the Ontario Reign, proving to be a strong AHL forward with point-per game upside, while contributing in a bottom-six role in the show. Amadio also played five games for the Ottawa Senators this season, having been traded there in March for Christian Wolanin.
Amadio also has a Sault Ste. Marie connection, though with it just being "he's born there", it's less likely to have come into play here, besides the possible influence of playing in-province. What Toronto likely sees in him is likely at the AHL level at this point, given that he's not been productive, physical, or strong defensively in the NHL. But there's always a need for support veterans on the Marlies, especially as the league comes back into form for 2021/22. Look at Amadio as more of a replacement for players like Kenny Agostino or Nic Petan, rather than a fill-in for Zach Hyman or Alex Galchenyuk.