The news keeps rolling. After signing Petr Mrazek, Michael Bunting, and Michael Amadio, and trading for Brennan Menell, the Leafs have added four more signings in David Kampf, Kurtis Gabriel, Alex Biega, and Carl Dahlstrom. They've also confirmed that they'll be inviting forward Josh Ho-Sang to training camp on a professional tryout.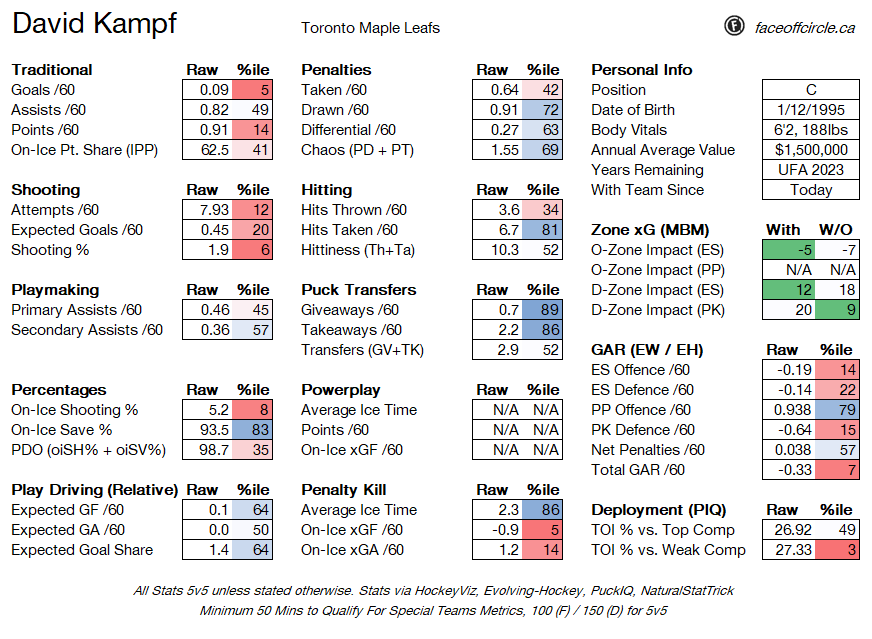 Kampf is the big fish out of this group, by far the most likely of the bunch to regularly play in the NHL, as proven by his two-year contract at a $1.5 million AAV, slightly higher than the buriable threshold. In his media availability, GM Kyle Dubas described him as a player that the team has been interested in acquiring for some time, and while I wouldn't be of the same mindset, I can see where he's coming from to an extent.
A good way to describe Kampf is as a bottom six "escape artist". Deployed twice as often in the defensive zone than in the offensive zone and used more against Chicago's top competition than any other centre, Kampf rarely saw a weak or easy matchup and was tasked with keeping the play afloat for them. While he wasn't individually productive, producing just 12 points in 56 games, he managed to put up positive team-relative possession numbers and neared the 50% mark on despite his deployment and Chicago's lack of support talent.
My concern, as always, is that he doesn't do a heck of a lot from a creativity standpoint. But maybe some of his individual and line-based shooting percentage events it self out, and maybe he's a player you can specialize the role for. Winning draws and surviving legitimate minutes is not without its use, and while I'd personally rather double, triple, quadruple down on offence, but I can see the utilitarian purpose here. It's not a bad move, I just can't convince myself it's fully good. All the same, I'm interested in seeing what role they have for him.
Moving down the list, you get to mostly minor league-related signings. Quickly going down the line:
Kurtis Gabriel, 28, is a 6'4 forward best known on the ice as an enforcer, spending time in the lineups of Minnesota, New Jersey, and San Jose across 49 NHL games played. His results in those games aren't much to write home about, averaging 7 minutes of ice time, totalling five points, and posting dreadful possession numbers – he's mostly there to hit, intimidate, and drop the mitts. In AHL minutes, he's a bit more productive, showing capability to play a legitimate fourth line shift. Gabriel is a Newmarket neighbourhood, making this a homecoming signing for him, and he's known off the ice as a prominent voice on LGBTQ+ issues, which has won him fans throughout the league.
Alex Biega, 33, arrives as a veteran presence as his career likely winds back towards the AHL. After five solid pro seasons in the minors, the 2006 fifth round pick played 241 games over six partial seasons with the Vancouver Canucks and Detroit Red Wings, peaking in a depth role in 2018/19. Biega is a bit of a smaller defenceman at 5'10, 199lbs, but isn't shy about using his body and can contribute on and off the puck.
Carl Dahlstrom, similar to Menell, is a bit of a project acquisition. The 26 year old was a second-round pick of the Chicago Blackhawks in 2013, and made his NHL debut five years later. After Chicago, he played 15 games with the Winnipeg Jets in 2019/20, and 17 with Vegas' AHL team, the Henderson Silver Knights, last season. Dahlstrom is a high-end AHL option thanks to his sharp hockey IQ and puck carrying ability, and while he doesn't use it as much as people wish he would, carries an imposing 6'4, 231 pound frame.
Josh Ho-Sang will be joining the team at training camp on a Professional Tryout. This is a player I'll go into more detail on as we get closer to that, but the 25-year-old Thornhill native has a great potential opportunity here. One of the most purely skilled prospects in recent memory, Ho-Sang has struggled to find his footing in the pros, with some concerns about his work ethic and character and some on-ice concerns about his defensive play. Deciphering what's real and what isn't when it comes to the gossip about Ho-Sang is increasingly difficult as years go by, but this PTO will be a great opportunity for him to show what he's about with a blank slate in a new organization. He's a personal favourite of mine, and I'm really hoping to see this work out.