The Toronto Maple Leafs have swung themselves a move ahead of the NHL's Expansion Draft roster freeze, acquiring forward Jared McCann from the Pittsburgh Penguins in exchange for prospect Filip Hallander and a 7th round draft pick in the 2023 NHL Entry Draft.
The timing of this move fits the outcome, as McCann was rumoured to not be part of Pittsburgh's protection plans. the 25-year-old native of Stratford, Onatario played 43 games for the Penguins this year, notching 14 goals and 32 points, a career high in terms of scoring rate. He also played six games in the playoffs, picking up a less productive one assist.
McCann was originally drafted by the Vancouver Canucks in the first round of the 2014 NHL Entry Draft, at 24th overall. In a factoid that's become notoriously repetitive in the Kyle Dubas era of the Maple Leafs, McCann spent his junior career with the Sault Ste. Marie Greyhounds, playing his two pre-draft years and first post-draft year with the club, the first two of which came under Dubas' watch. Vancouver played him in their NHL roster for one season before trading him to the Florida Panthers in the summer of 2016 as part of a play to acquire Erik Gudbranson, and the Panthers used him for three years before including him in a deal for Riley Sheahan, Derrick Brassard, and several draft picks. While this is now McCann's fourth organization in four years, the history seems to imply more circumstance than concern.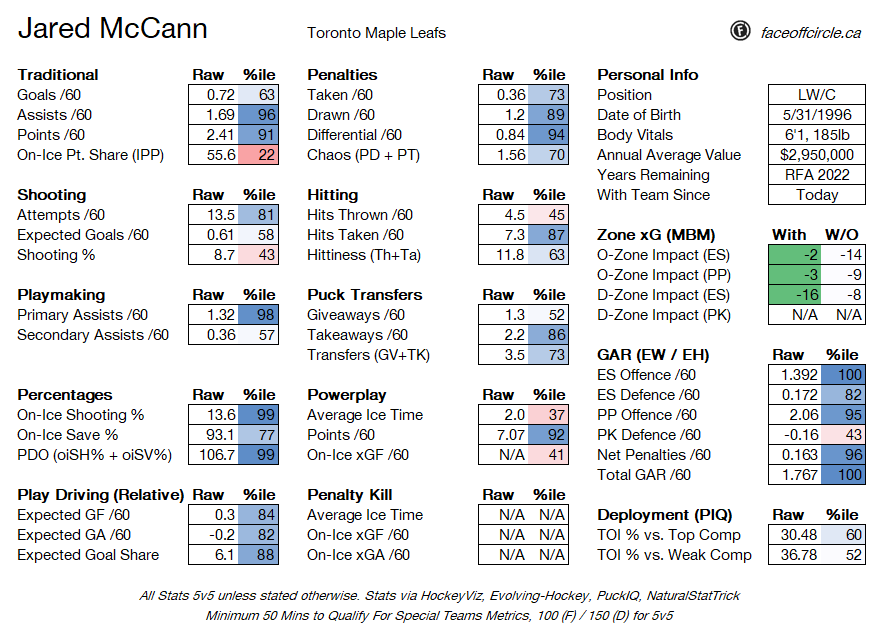 This year was a breakout year for McCann in Pittsburgh for a lot of ways, which makes it difficult to see why the Penguins wouldn't just protect him (until you see that they favoured their checking forwards, and remember that they're run by Ron Hextall and Brian Burke, that is). By that, I mean that McCann was a fancy-stat king.
By "fancy-stat king", I mean that Evolving Hockey's replacement model had him as the most valuable per-minute player in the National Hockey League. Now, before you get on my case – I don't, in any way mean to suggest that Jared McCann is about to leap frog Auston Matthews on the depth chart and even give Connor McDavid a piece of his mind. Truthfully, I don't even know if he's a sure bet to be playing on the top line next year. Evolving Hockey's model uses on-ice results on the offensive end to factor it's numbers, and in this respect, McCann had a lot of fortune going his way, with one of the highest on-ice shooting percentages and overall PDO's in the league. He was super productive on the powerplay, and their model also values penalty differential – which I do as a concept but wonder about the consistency of those sorts of numbers from team to team, year to year.
Basically, a lot of stuff went in McCann's favour last year to make him look absolutely elite to an analytical profile. But he also produced well in the more repeatable forms of analysis – his rate production was good, his individual shooting percentage wasn't egregious as those of his linemates, he appeared to drive play and he was comfortable with having the puck on his stick a bunch. Visually, as explained by Jesse Marshall of The Athletic, McCann improved at carrying the puck from zone to zone and generated rush shots at a high rate.
What this likely means is that McCann be used to provide an offensive anchor for the third line. Some look at this as a Zach Hyman or Alex Kerfoot replacement, and those routes are possible, but with so many elite puck-carriers on the top two lines as it is, it seems better to hold McCann to a supportive role, perhaps finding him extra minutes on the powerplay. This way as well, you don't risk inflating his numbers, as his contract will be up for renewal at the end of next season. To Toronto's benefit, he'll still be a restricted free agent.
Going back the other way are a seventh round pick two years from now (best described with a shrug), and Filip Hallinder, a prospect who was original acquired from the Penguins last year for Kasperi Kapanen, essentially keeping the Phil Kessel trade tree immortal and slightly circular. Hallinder remains an interesting prospect, originally selected in the second round of the 2018 Entry Draft, and is doing relatively well in a men's league with 24 points in 54 games in the SHL this year. With that said, it's the third consecutive season in that league where he's hovered at the same production rate, leaving one to wonder how if he'll be able to make a substantive leap. As it stands, he's definitely the type of prospect you want to have in your system, but to move him for a capable, presently good young forward makes a lot of sense.
The biggest question that will come out of this deal is the implication it makes on Toronto's expansion draft protection list, which was locked in as I was writing this and could very well come out at any moment. Heading into today, my expectation was that the Maple Leafs would go with eight skaters and a goaltender, protecting the "Big Four" up front and the Top 4 of Morgan Rielly, TJ Brodie, Jake Muzzin, and Justin Holl on defence, leaving Seattle to essentially pick between Alex Kerfoot, Travis Dermott, and Pierre Engvall.
This trade obviously complicates things, and leaves people wondering if the Leafs will now go with a 7/3/1 arrangement, protecting Matthews, Marner, Tavares, Nylander, Kerfoot, McCann, and Engvall, while cutting Holl from the defensive protection list and forcing a decision between the cost-controlled, number-four, right-side defenceman in Holl or the young, even cheaper, higher upside but heavily sheltered Dermott.
I believe that this is the likely play, though it's possible that the Leafs now get very courageous and put McCann on their exposure list, making Seattle pick between him and Kerfoot. This would be on the gutsier side but might be the smartest play – Kerfoot is the type of player that Seattle would likely lean towards, especially with Head Coach Dave Hakstol already having familiarity and trust in him. It would terrify the town, no doubt, but even in the worst case scenario, Hallinder and 7th simply becomes the cost of protecting Kerfoot, and we all pretend this trade never happened. It'll be interesting to see what Toronto decides to do here.