One of the least fun parts of running, managing, or even watching a sports team is the fact that you can't keep the core of your group together forever. It's the reality of the business – players age out, budgets become difficult to manage, interests and philosophies on both sides begin to differ.
But for a lot of people, this one is going to sting. Zach Hyman wasn't always a fan favourite in Toronto – many felt he was holding the team further back than he was pushing them forward just a few years ago – but over time, he won over the city with his combination of hard work, positive results, and a happy-go-lucky personality. And just as that union of appreciation came into place, it seems likely to be ripped away.
TSN's Darren Dreger reported this morning that the Maple Leafs have granted Hyman and his agent the permission to speak to other NHL teams ahead of free agency, giving Hyman an opportunity to find out exactly what the market looks like while giving the Leafs a chance to recuperate some assets for his rights, should a team look to get ahead of the market. This is especially important if one of those other teams is willing to offer Hyman an eight-year contract, the max allowed under the CBA but only available to the team that holds the player's rights.
That eight-year possibility might be the biggest sticking point in all of this, and it seems to be what Hyman is seeking the most out of this. The Toronto Star's Kevin McGran is reporting that Hyman's ask to Toronto is in the rage of about $5 million per year over that max term, and that the teams interested in the winger include Calgary, Vancouver, Edmonton, Pittsburgh, Florida, Boston, and Detroit.
McGran, like many others, also makes the assertion that the Maple Leafs' roadblock here is the increase in salary, due to their roster's stop-heavy salary cap structure. I don't necessarily buy that – while Toronto has a large chunk of their salary committed, they also don't have significant holes to fill this summer, and will be getting some money back via whatever happens with Frederik Andersen (currently slotted in at $5 million) and the likely loss of Alex Kerfoot to Seattle ($3.5 million). Just between those two, it shouldn't be difficult to fill a $2.75 million gap, particularly if you're looking to replace Andersen with a 1B/Backup instead of a Starter.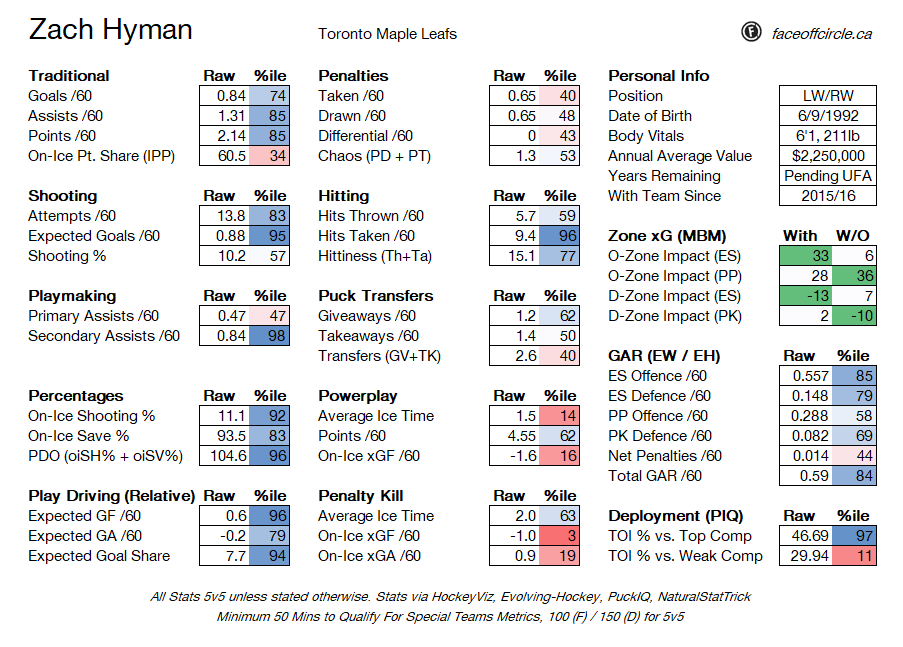 After all, $5 million for Zach Hyman is more than fine in the short term. Hyman, as I've said for many years on this website and others, is a very good hockey player. He's able to keep up with high-end linemates, and contributes value to them as a retrieval and net front forward, usually leading to an increase in dangerous scoring chances with him on the ice. He's improved his finishing ability in recent years, he's physical but not a penalty burden, and he can contribute to both your powerplay and your penalty kill. When he's not playing with your stars, his production dips but his role shifts, creating a strong two-way presence – a trio of Hyman, Pierre Engvall, and Ilya Mikheyev produced a 62% share of expected goals, 57% share of shot attempts, and 71% share of actual goals in 93 minutes of play this year.
Getting Zach Hyman right now for $5 million is a no-brainer. At the price of $6 million that he's speculated to reach on the greater market, he's still likely a good immediate add – again, he's a player who can contribute in just about any role on the ice and do it well.
The issue lies not in the AAV, but the term of the contract. Simply put, Hyman's current situation is one that we've seen fall apart many times in the past. It's David Clarkson, it's Nathan Horton, it's Milan Lucic, it's David Backes. All four of those players were paid about the same amount of money over a long term, and none of the deals ended well. What do they have in common with Hyman? Quite a bit, actually. All four of those players were players in their late 20s that played a physically taxing game that worked out great for them in their youth, but began to take a toll on them as they became veterans. Once they started getting injured, their overall contributions fell off a cliff.
Now, those four were seen as a different kind of power forward than Hyman was due to the fact that they mostly initiated contact, and fought more often (though Zach will drop them too). But Hyman is a player who is playing first-line minutes against top competition, who does most of his work along the boards or in front of the net, who takes more hits than just about anyone in the NHL and does send a few back. He's beloved for that courageous role, but it's without doubt one that breaks down the body. With that in mind, Hyman just turned 29 in June, meaning that term is going to go a long way in defining the value of this deal. Should Hyman find that eight year deal he seeks, it will take him to a little after his 37th birthday – for reference, Jason Spezza signed the first of his league-minimum deals with the Leafs a little after his 36th, and the league is only getting younger as teams gain better understandings of all of this.
Hyman has also had his share of injuries already, tearing his ACL at the end of the 2018/19 season, missing some of 2019/20 because of it, and suffering a different knee injury this season. Knee injuries in general don't age well, adding another cause for concern in the long term.
Ultimately, if this is the end for Zach Hyman in blue and white, there's no one to blame or be upset with. It would have been nice to see Hyman take a sweetheart, short-term deal with the team, but we're talking about a player who started his ELC at 23 years old and was paid well below-market on his second deal, making this his first and likely only chance to cash in. Yes, it's well-known in town that he has family money that he can fall back on, but he likely wants to secure his own and that's totally understandable. It sounds like he's willing to take a haircut on the AAV, which is all you can really ask for, but wants to secure his term.
Similarly, you can't really blame Leafs management for saying no. People will use this to complain about the team's salary structure, or whichever of the Big 4 they have an issue with, but the structure has nothing to do with this decision if the two decide to part ways. The team can pretty easily afford to bring him back for next year, and if the term was shorter they probably would. But, no matter how they were structured and how many team-friendly deals they would or wouldn't have, there wouldn't really be a situation where giving eight years of substantial salary to a 29-year-old physical forward with an injury history would make sense. The Leafs could be entering this summer with the most cap flexibility in the league, and it would still be a bad, mostly-emotional bet.
That's a tough pill to swallow, as Hyman really has been such a positive encapsulation of what the organization seeks to build over these past six years. They bought low on him, they developed him through the Marlies, they let him grow through the Leafs and sat through the criticisms, and truly turned the rough into a diamond – one who was local, humble, and encapsulated the type of player the city loves. But unfortunately, in a league where how you spend your money creates a competitive advantage or disadvantage, the best thing the Leafs can do for Zach Hyman is let him get paid.
Hopefully, he ends up the outlier for his archetype and has a long, healthy career with his next team. But for both parties, a divorce seems to be the best option at this time.