It's incredible that a team with arguably the greatest pure talent to ever put on a pair of hockey skates is more entertaining to watch on the offseason transaction sheet than on the ice, but for yet another offseason, here we are. The Edmonton Oilers, still searching for a pathway to success but looking everywhere but in the modern era of the sport, made a big-name trade today, acquiring future Hall of Famer Duncan Keith from the Chicago Blackhawks.
Elliotte Friedman of Sportsnet broke the story of Keith's status on a June 30th Hockey Night in Canada broadcast (and on Twitter). The situation was pretty simple – Keith was looking to move on from the now-rebuilding Blackhawks, the Blackhawks were looking to free up some cap space and minutes to pursue a big younger name like Seth Jones or Dougie Hamilton, and the two were going to work together to make it work. Keith gave them the general preference of Seattle or Western Canada – leading everyone to believe they were working out a "sweetener" style deal with the Kraken similar to move the Vegas Golden Knights made in 2018.
But here came the Oilers. Here came Ken Holland and his band of "hockey men", ready to show the world how it's done. Holland, famous for somehow turning an organization with Niklas Lidstrom, Sergei Fedorov, Steve Yzerman, Brendan Shanahan, Larry Murphy, Igor Larionov, Slava's Fetisov and Kozlov, and others into repeat Stanley Cup champions, has struggled to turn the Oilers into true contenders since taking them over in 2019, despite having the two reigning MVP and Art Winners at his disposal and all the attraction that comes from that.
Like the staff before him, Holland has largely tried to plug holes with veterans, focused his cap space on retaining mid-range, mid-age talent, and not done a heck of a lot else to build a development pipeline – something essential in today's game to both fill roster holes and create trade assets, and also something you'd generally expect a team named after the oil industry to have. Instead they have a roster with minimal youth, minimal depth, and now just $11 million to fill at least two forward roster spots, retain or replace Mike Smith (who, at 39 years old, is their starting goalie) with, and otherwise improve their roster so as to not waste another year of Connor McDavid and Leon Draisaitl's primes.
That number, of course, was $16 million before today's trade. From the sounds of it, no one other than the Oilers in Keith's bubble were interested in the type of deal where Chicago would actually get ahead – Seattle has no incentive to take on anything but sweeteners, the Canucks have talked about getting bigger and meaner on the point (another issue for another day), the Flames have Mark Giordano already filling the veteran legend quota on the point and no one really knows what the Jets are doing.
The Oilers competed against themselves, and moved a package of,
Caleb Jones, and
A conditional 3rd round pick in 2022 that turns into a second if the Oilers go to the conference final with Keith playing Top-4 minutes
As well, the Oilers received 23-year-old forward Tim Soderlund. "Hey, that doesn't sound too awful", you may say, but let's go over a few things here: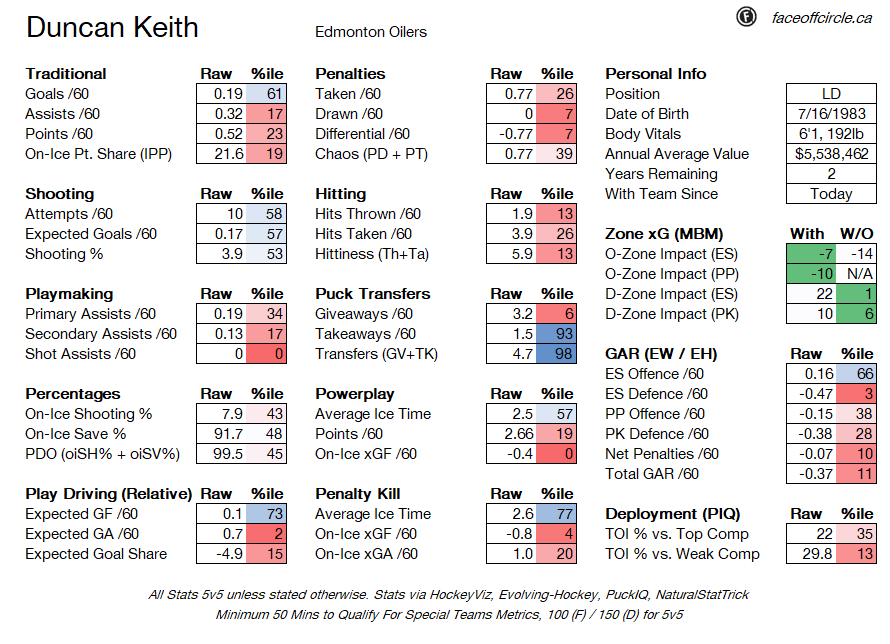 Firstly, Duncan Keith isn't good anymore. It's sad to say, but it's true. He was an integral part of three Stanley Cup victories, and he's going into the Hall of Fame, but the numbers above just do not lie. He's a below average point-producer. He bleeds quality shots against to the point where it kills his teams in the aggregate. He's a sum-negative for penalty differential, he's not physical, he's not producing on the powerplay, he's getting eaten up on the penalty kill, and he's not even facing the toughest of tough competition like he once was. Maybe some of this improves on a better team, but this is not a guy that's going to be an impact player for you any more.
He also still makes a bunch of money. Keith is only owed about $2.5 million in real dollars over the next two years, but his overall salary cap hit is at $5.5 million – not quite Norris-calibre dollars, but definitely first pair dollars. That's a lot to commit when you're tasted with upgrading a team that has a lot of holes and only have $16 million in cap space to plug it them. Some might point out that the difference between Cap and Dollars is a win for owner Darryl Katz, but if your $4 billion owner is willing to stunt his billion dollar company over 0.1% of his net worth, you might need a new owner.
Either way, It's also way more than a theoretical 38-year-old named Duncan Smith would get on the open market with the above statistics, at least if you're not looking at time on ice. Going by results, Duncan Smith would be below replacement level, and as such would not get a two-year deal on a 35+ deal. Odds are, we're talking about a one-year contract below a million bucks. The Oilers took on a contract that was close to double-digit millions in surplus cap damage, and then paid assets for it instead of getting something back.
Then you get to Caleb Jones. Jones bounced in and out of Edmonton's lineup after a down year this season, but at 23 years old, it's pretty likely that he'll have a better next two years than Keith will, especially when the non-offensive numbers already trend in his favour. More than that though, he should have been a point of leverage against the Hawks, as the team was reported to want him to entice his brother Seth to sign with them, and he was also a shield from Seattle as a prime expansion draft selection candidate. Instead, the Oilers will now lose someone else, a reality made even more obvious by the fact that Keith kept his no-movement clause intact, forcing them to protect him.
Then you get to the condition. "That's fine", you may say. "They'll never get to the conference finals with him in their top four, and if they do, they won't care". That part is great, but it glosses over the part that trading with conditions freezes the picks. Not officially, but realistically so. With the results of the condition not known until after the season plays itself out, the Oilers can assume that they will likely give up a third, but will need to keep that second round pick around just in case. While they've only spent one, they've essentially committed both from the perspective of deadline rentals. Having already given up their 4th, this means that their pick leverage in a deadline scenario either needs to be their 2022 1st rounder, or a late (5th, 6th, or 7th) pick, limiting their options almost as much as the contract itself is.
Lastly you get to Soderlund. While miracles are possible, this is not likely to be a situation where the Oilers are getting a real prospect. Soderlund already has six seasons of pro experience behind him, and at the North American level, the 5'9 winger has picked up just 1 goal in 52 AHL games. This isn't a player that's headed to the NHL, but rather one with a year remaining on his contract that needs to be seen through.
To summarize, the Edmonton Oilers have traded for a player who's name contains immense weight, but who's talent no longer matches up with it. They've acquired a player who gave a shortlist of teams, from a team who was desperate to get money off the books. They were the only team of the shortlist who seemed to have any actual interest in the player.
Despite this, they've managed to acquire the player without any salary retention, choosing to pay him about 500% of what he's worth to a present-day roster for the next two years at a time where they could've made radical, forward-thinking moves or even just gone big game hunting in a more present fashion. They've moved a player who could have been their smoke bomb for Seattle, and will now have to give up someone else. They gave up the draft pick, despite taking on the bad contract and giving up the desired returning piece. They froze another draft pick for a year in order to see out a condition. They took on the extra contract, despite all of the above.
Duncan Keith, God love what he once was, is not a player that I would claim on waivers today. The Oilers, obsessed with the idea that they can still turn one of the biggest perennial failures in all of sport into a champion by working under the conventional thinking of the dial-up internet era, haven chosen once again to let a staff whose names carry more past pedigree than present performance attempt to solve the problem. Their solution is to make nearly every possible mistake in the book en route to acquiring a player who matches their description. This isn't about analytics, it's not about new-age philosophy, it's about common sense, and about not wasting some of the most obvious building blocks a team has been fortunate enough to possess for yet another year.