The NHL season ended last night with Tampa Bay repeating as champions, meaning a league-wide shift to the offseason. In some cases, teams have already gotten to work – as the Maple Leafs did with extensions to Jason Spezza and Wayne Simmonds in the prior weeks, but with this morning came their first official "offseason" transaction, signing Travis Dermott to a two-year contract extension.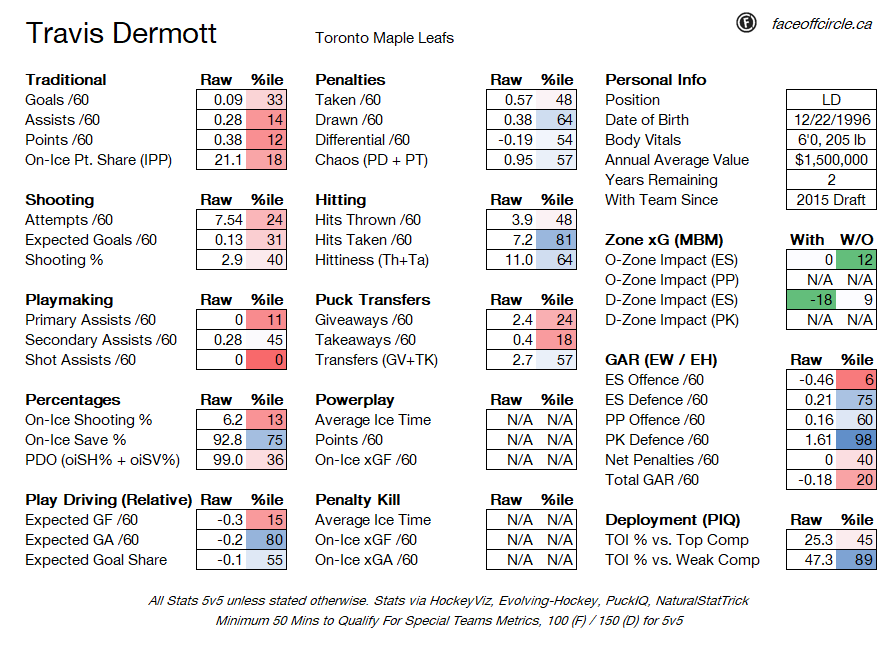 Dermott reprised his role as a depth defenceman for the Maple Leafs this year, playing in 51 of 56 games and producing six points while averaging a career-low 13:13 of average ice time. In the playoffs, Dermott produced no points and averaged 16:15 of ice time in just three games played, often subbing out in favour of rookie Rasmus Sandin until both were required to play following an injury to Jake Muzzin.
In recent years, Dermott has been seen as a potential breakout candidate for the team, due to his relative youth and his modern-style defensive traits – strong gap control, comfort with carrying the puck, and a dash of physicality. While he has previously shown himself to be a strong bet through underlying shot metrics, and the defensive side of those remain favourable this year, this was a weaker year for him in terms of offensive productivity, special teams value, and earning overall confidence from the coaching staff. Now at the early-prime age of 24, Dermott has yet to break through a sheltered role, and hasn't dominated to the point of deserving an opportunity above Toronto's current top four.
With this in mind, it's not shocking that the Leafs did not feel the need to commit long-term to the Newmarket native, instead bridging him for two years. The $1.5 million AAV, however, feels a little higher on the surface than should be necessary, given his relative replaceability.
Where Dermott had some leverage here was in the Seattle expansion draft, now just a few weeks away. Toronto are required to expose at least once defenceman who is under contract for 2021/22, and played either 40+ games this past year, or 70 over the past two. Should Toronto want to protect their entire top four of Morgan Rielly, TJ Brodie, Jake Muzzin, and Justin Holl, they were required to sign one of their three other eligible options – Dermott, Zach Bogosian, or Ben Hutton – or acquire someone else to expose. In signing Dermott now, the Leafs are no longer tied to their UFAs.
Should Toronto go with an 8 skater, 1 goaltender arrangement, Seattle's best candidates for selection now become Dermott, Alex Kerfoot, or Pierre Engvall. Should Toronto go with 7 forwards, 3 defencemen, and a goaltender, Dermott will likely go up with Justin Holl.
The deal is a backloaded one, which some might see as incentive to not select him – he'll make $1.25 million in real dollars this year and $1.75 million in real dollars in 2022/23. My guess is that one should keep an eye on what happens with Kerfoot in the coming weeks – whether Toronto moves him early for assets and makes it a choice between the two lower-value assets in Dermott and Engvall, accepts Kerfoot as a loss, or makes a sweetener trade to keep him. Either way, getting Dermott out of the way now, though probably a shade more expensive than waiting until the late summer, gives them some flexibility, and it may not even make it to the books by opening night.