So a few weeks ago, perhaps a little sooner in the process than I expected, my new NHL 2004 custom arcade cabinet made some waves on social media. The fact that people couldn't even wait for the air bubbles to settle on the graphics wrap before giving it some love was very heartwarming. I've always wanted my own home arcade machine, and I felt that paying tribute to my all-time favourite hockey video game would make it into something uniquely mine.
As promised, here's what you need to know about making your own unit!
Note: Items linked to on Amazon and eBay will be routed through affiliate links, which give me a slight cut if you make a purchase after entry. I did my best to stick to parts I myself used or low-cost equivalents – the goal here is less to cash in and more just to recover some costs while also giving honest recommendations. If you want to support the project directly you can also chip a few bucks at me through Paypal, though that's only if you want to.
The Base Cabinet
For this unit, I started off with a Marvel Super Heroes Arcade1UP cabinet that I bought from a Canada Computers in Barrie – a clearance unit that, to my knowledge, was the last available in Ontario.
Arcade1Up Cabinets are 3/4 scale units that are sold in flat packs at big box retailers. Some may prefer to build their own cabinet from scratch, or get a full size machine. I'm not overly tool-savvy, liked the idea of a unit with an active community familiar with its specs, and the condensed size was an advantage given the room it was going into. I quite like these units and recommend them to someone who is looking for get an arcade-like experience without maximizing your hassle.
I picked the MSH unit because I wanted a unit that already had a pre-done six-button control panel, a deck protector, and an included riser, and the deal I got checked all of those boxes. With that said, all of their models can be the base of a project. If you want to get a cheap unit to start with and build up later, your easiest route is probably the Street Fighter II unit on Amazon – which doesn't come with a riser, but can be purchased later or built much easier than the cabinet itself. For Canadians, you can also get cabinets at Walmart, Best Buy, The Source, EBGames, London Drugs, The Brick and other retailers. For Americans, Walmart is usually the place to go, especially since smaller-town locations love to put these units on fire sale as they age out.
Putting together one of these units is incredibly simple – similar to building Ikea Furniture. My one recommendation would be to hook up the main board, monitor, control panel, and power supply and make sure your guts are working before you get building. After that, it's very straightforward and well-described in the manual.
Internal Modifications
I'm including the above video since it covers most of the intricacies of conversion and was a great point-of-reference for me – different units might have slight differences in process, but generally stay the same.
Out of the box, this machine is already a lot of fun – Marvel Super Heroes is a great, colourful fighting game, and it also comes with X-Men: Children of the Atom and The Punisher. But that's not really what I bought this unit for – I wanted to maximize my playlist and get as many games on here as possible. This requires a few modifications.
A New Heart: Most obviously, the stock motherboard wasn't going to cut it. The most popular method is to use a Raspberry Pi micro-computer loaded with RetroPie. I had an older model (3B+), so I started with this for the first month or so. These are great for the entry level, especially if you get a large Micro SD card to load up all your titles.The dream was still to headline with NHL 2004, though, so I eventually bought an off-lease computer off Kijiji. The best way I can explain the decision here is that a Raspberry Pi 3 will play up to Playstation 1 and 2D arcade games, a Pi 4 will play up to Dreamcast/PSP with some 3D arcade games, and a full computer will play as far as you're willing to upgrade – these off-lease units are usually good for up to PS2, Gamecube, and plenty of modern PC titles.Most i3/5/7 machines will do the trick here – there are plenty on eBay, or for Toronto locals, I also recommend Infotech Computers, a Black-owned business in my old neighbourhood that has helped me out for nearly 20 years, and always has great deals on these sorts of units. I also upgraded this computer a little bit, adding a low-profile graphics card to boost newer games, a solid state drive to improve load times, and a Wifi/Bluetooth adapter for connectivity.
Converting Video: Luckily, Arcade1Up Units come with nice, vivid 17 inch screens out of the box, saving you a lot of hassle in figuring out a screen. Some get courageous and swap them out with older 20″ LCDs, but generally, your best bet here is to buy an LCD controller board that lets you input an HDMI source. There are different converters for different screens (this one is mine, for reference), so my recommendation here is to wait until you have your machine, and then search the model number of the monitor to make sure you have the right one. You can play the stock games for a few days while you figure this out!
Converting Audio: There are a couple routes you can go here. I started the way most do – keeping the stock speakers, plugging them into a powered amplifier, and the amplifier into your computer. Some do this but replace the speakers with car speakers. I eventually decided I wanted a subwoofer, so the final choice was to grab a second-hand set of Logitech Z313 PC speakers, cut open the shells, and wire them up. I've kept the amplifier and stock speakers (which will be relocated), as I hope to use them with a cheap MP3 player to pump ambient arcade noise for an extra touch.
New Controls: Technically speaking, you can probably use your stock buttons and joysticks if you really wanted to, so long as you buy USB encoders to re-wire them to. But as most will tell you, these are the weakest links of the stock units, and aren't really worth keeping. Especially when you can get a pretty good full kit for under $60, which includes two encoders, a ton of buttons, and Sanwa clone joysticks. You could also spend more and get genuine Sanwa Joysticks and buttons for double the price, but the above kit should be plenty – we're going bang-for-buck, not bleeding edge, and I really like the feel of the kit I got. The control deck comes pre-wired when you buy the unit, and unfortunately, they lather these things in glue to keep everything in place, so taking the old stuff apart is going to be a bigger pain than putting the new stuff in. I did keep some of the stock buttons for my trackball (more on that later), but if it wasn't for that, I might have just cut them all out and trashed them instead of prying them all off the stock boards in hindsight. If you don't think you'll ever use them again or are willing to buy more buttons later, I wouldn't blame you if you "sped up the process".
Extra Ports: You're probably going to need an insert coin button for each player if you're modding. I drilled three holes into my J panel (the board under the control deck) – two for buttons, and one for a USB flush mount so I don't have to open the machine up every time I need to plug something in for a couple minutes. While I was drilling, I also added a bigger hole to the back board to thread through the power bar you'll need to power your new parts.
Visual Modifications
So we had the guts done at this point, but it was still a Marvel Super Heroes unit on the outside. Again, no disrespect to the Marvel fans out there, and it was a fantastic-looking unit in it's stock design, but it just wasn't the look for me.
I wanted a hockey theme, but I wanted to so something different. I didn't want a game that already existed in the arcades, like 2-on-2 Open Ice, Hit The Ice, Blades of Steel, or others. I didn't want to do NHL 94, because people have done that already.
After much internal debate, I went with NHL 2004. NHL Hitz 20-03 was my other choice, as it had more of an Arcade Feel, but with 2004, I felt like I could pay tribute not just to a game, but to an entire era of the sport. To overhaul the look of the machine required two things, both of which were generously supplied for this project.
A Light Up Marquee: This was supplied by Scott from The Arcade Game Factory, and is nothing short of brilliant – even better than the marquees that some official units come with. Scott's model, which you can find here, replaces your old marquee entirely with a new PVC frame, with an LED light strip and a gorgeous printed marquee graphic. Installation was simple (and Scott offers instructions on his site) and you can even wire it to the stock game board to turn it on and off with the stock switch.
The Graphics Wrap: These were supplied by Julie and Justin at Gulf Coast Decals, who sell their work on their own site, on eBay, and on Etsy. They have a ton of great designs already available on their site – I chose to design my own – and the vinyl they print on is stunning and detailed. Should you opt for your own design, they'll provide you with templates to work with in Photoshop or similar software. They also provide instructions for application, though it's about what you'd expect for a skin – clean your surface, remove the backing from half, slowly apply, do the reverse, and then cut off any stray edges. Patience is key here, but its easier than you might trick yourself into believing – you don't even have to take the machine apart, though you will have to disassemble your control panel.
I personally really enjoyed doing my design, a tribute to both the game and the era. The two cover athletes grace each side – Dany Heatley on the left, Joe Sakic on the right. The screen bezel includes fast facts like many other arcade titles did, and display some of my favourite logos for the leagues teams up to that point in their history. The control deck gives instructions for the various platforms. The kickplate lists various other hockey games on the unit, similar to how Arcade1Up lists their extra games on theirs, and the riser shows the progression of one's office in Dynasty Mode. Lastly, you'll notice upwards of 80 era-relevant autographs across the unit (plus my own, under the Player 1 controls) – these were all cleaned up from cards and photos found online, with the extra large on the sides re-traced to avoid pixilation. I did make a mistake on the control panel by double-listing some controls on Player 2, but I'll fix that down the line.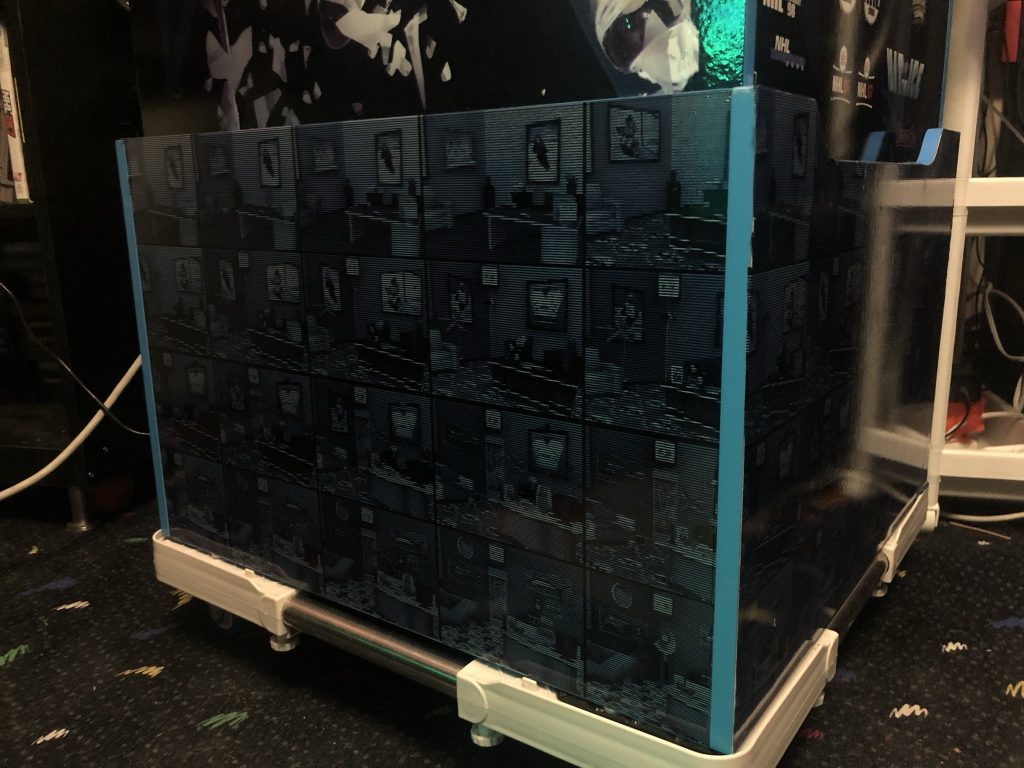 Underlying Software
Naturally, a machine like this needs games and ways to run them.
I'm not looking to get sued for this article, so I can't link you to games. What I can tell you is that the NHL 2004 Rebuilt Forum has a great Discord that may or may not have the PC version of the game available for download, and that Reddit has a great ROMs subreddit that is easy to find with the most obvious google search, and very instructive and up-to date.
On the technical side, I can give you a tip for arcade games, and that's to make sure that you get a full MAME Romset that matches your emulator or core version exactly to maintain compatibility. If you don't need 10,000 arcade games (Spoilers: You don't), you can use a program like ArcadeManager to trim your folder down to the files you need for the specific games you want.
Where I can be more descriptive is emulators and front ends. For 90% of systems, I use RetroArch as my underlying emulator – it's the gold standard multi-app that lets you install "cores" to add compatibility for certain systems. The cores I use are as follows:
Arcade: MAME 2003
Atari 2600: Stella
Atari 5200: Atari800
Atari 7800: Prosystem
Atari Jaguar: Virtual Jaguar
Atari Lynx: Handy
Wonderswan: Beetle Cygne
PC Engine: Beetle PCE
Nintendo DS: DeSmuME
Game Boy/Colour: Gambette
Game Boy Advance: mGBA
NES: Nestopia UE
Nintendo 64: Mupen64Plus-Next
Super Nintendo: bsnes
Virtual Boy: Beetle VB
Sega Dreamcast/NAOMI: Flycast
Sega Genesis, CD, Master System: Genesis Plus GX
Sega Saturn: Beetle Saturn
Neo Geo Pocket: Beetle NeoPop
Playstation 1: DuckStation
PSP: PPSSPP
3DO: Opera
This doesn't cover a few of the bigger systems, for which I go with standalone emulators. For Gamecube and Wii, I use Dolphin, and for Playstation 2, I use PCSX2.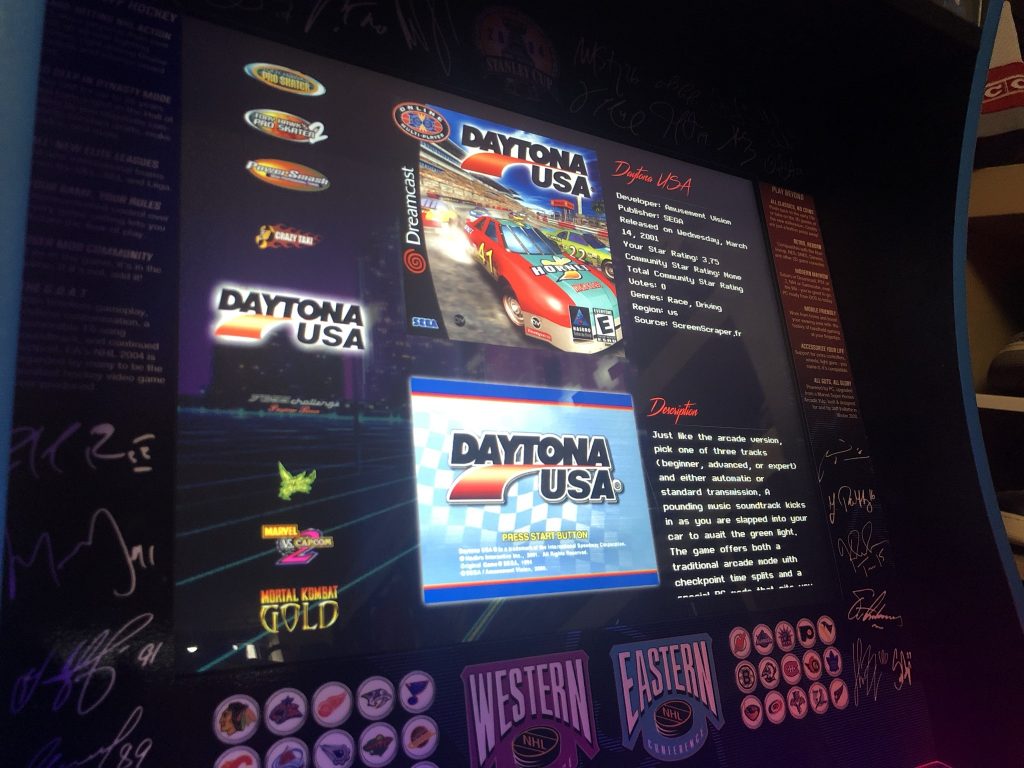 Lastly comes organizing and presenting your game set. On a Raspberry Pi, most use RetroPie, though other launchers exist (and, if you're really hesitant to build your own software setup, you can even find pre-done images with some light googling). On PC, a few different apps exist, but I personally really like Launchbox, which organizes and launches all of your games, and in its paid form comes with BigBox, which presents them in a brilliant visual way.
The best advice I can give you here: Aim to download full romsets, but keep your actual list of games on your Pi or in your launcher folders to just the games you can see yourself playing. You don't need to scroll through 25,000 games every time you just want to play your favourites. My current front-end has a little under 1000 titles across all platforms and I'm still subtracting more than I'm adding.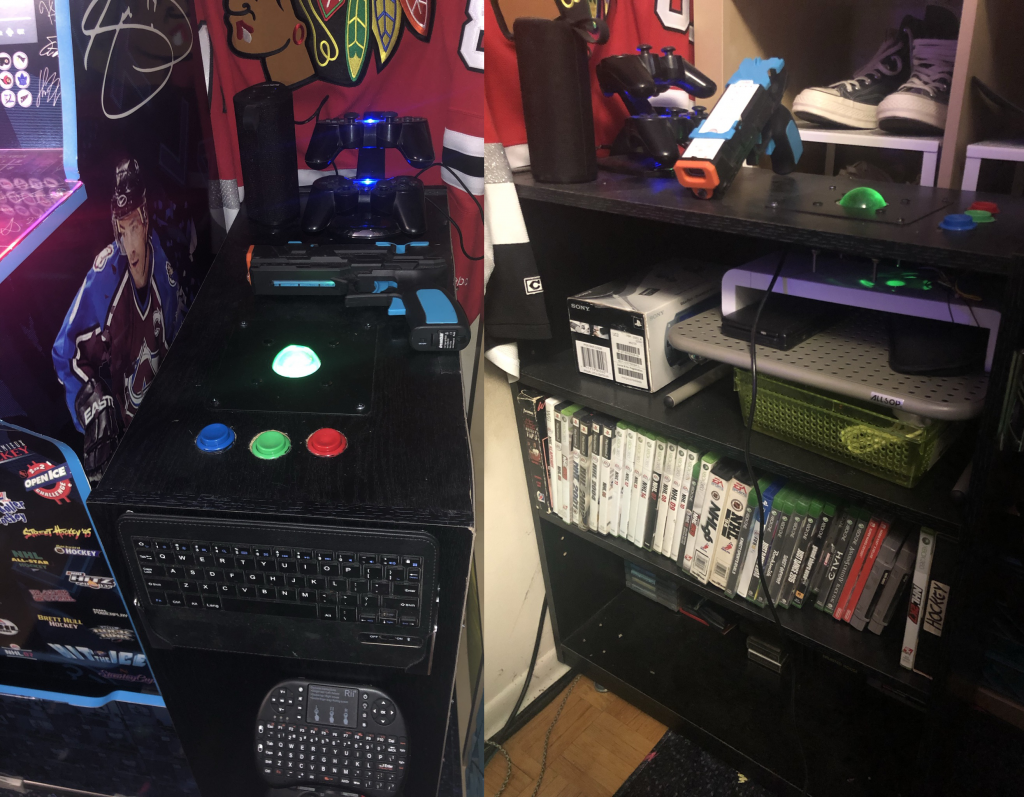 Extra Features
Beyond everything I've listed here, there are some other things you can add to your setup. For example…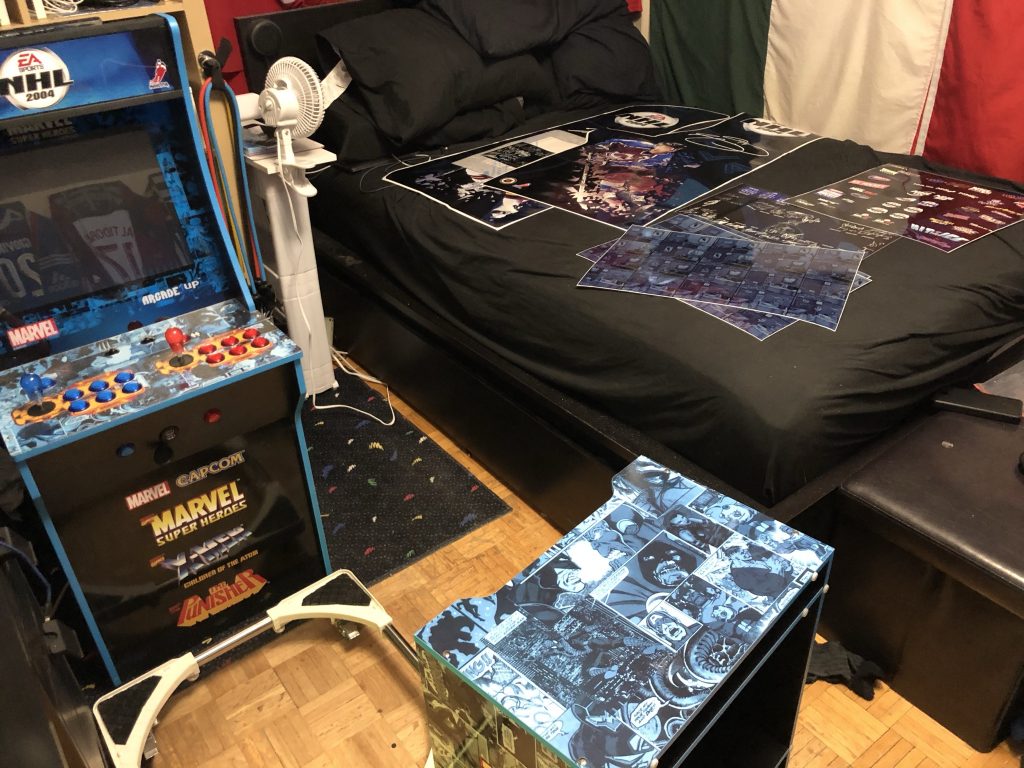 Other Parts List
Beyond the above, here are some things you'll need to execute the build, or might add for fun.