On Monday afternoon, the final buzzer sounded for playoff-eligible trades to be made, and the Toronto Maple Leafs walked out of it with a deeper roster than when they entered. They made acquisitions up front, on defence, and in goal, and confidence in the team in the public eye is sky-high; about as united in positivity as I've ever seen in this era. That much is nice, and overdue – but was this the set of transactions that warranted it? That's the question we'll look at today.
The Transactions
To best understand what Toronto did over these past few weeks, one can start by dividing up the deals into categories of expected use and purpose. Here is how I see the transactions made:
Favour Trades – Deals that have zero tangible impact on the NHL roster, but were done to give opportunities to players who weren't getting them with the organization. These include:
Seasonal Trades – Deals that were made to give relief to core roster players in the deep end of the regular season, and/or give emergency depth in the event of injuries in the playoffs.
Playoff Roster Trades – Deals that were made specifically for players that the team has some to full expectation will play in the post-season.
This leaves the final ins and outs as follows:
| | |
| --- | --- |
| Incoming | Outgoing |
| Nick Foligno | 2021 1st Round |
| Riley Nash | 2021 4th Round |
| David Rittich | 2022 3rd Round |
| Ben Hutton | 2022 4th Round |
| Antti Suomela | 2022 5th Round |
| Veini Vevilainen | 2022 6th/7th Round |
| Stefan Noesen | Mikko Lehtonen |
| | Alexander Barabanov |
The Comfort Food Deadline
To give you an idea of just how positive the reviews have been across the board, here's the cover of the Toronto Sun from yesterday, which stopped me in my tracks on an afternoon walk: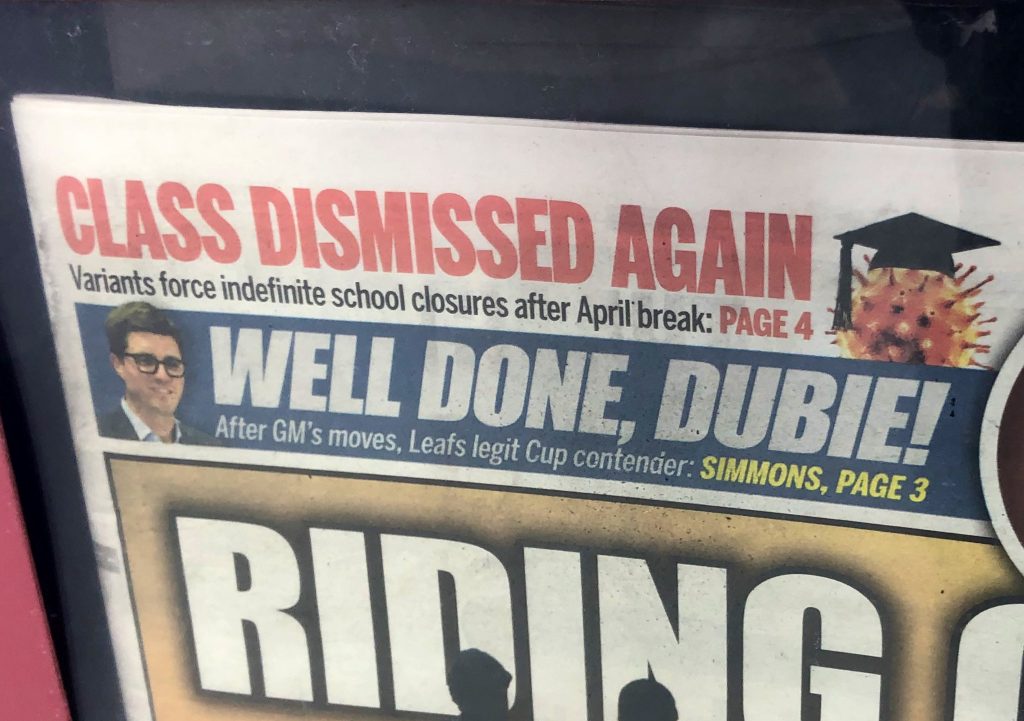 Even Steve Simmons, a writer who has a history of throwing this team, and especially this rendition of the team under the bus, gave them a five-star review. His logic was that the Leafs got grittier, deeper, bolstered their goaltending, and didn't give up immediate assets – current regular roster players or top prospects – to get there. All of which are, given the writer, surprisingly salient points. He also included a bit about how Hutton prevents the potential nightmare of playing Martin Marincin, which seems a bit alarmist, but whatever, we'll give it to him.
He's not the only one who felt good about it all. All of TSN's TradeCentre panelists had Toronto somewhere in their Top 5 cup contenders at the end of the day, on the basis of the moves from the past few days and weeks. Sportsnet heaped praise. The papers heaped praise, the blogosphere heaped praise. You'd be hard pressed to find a spot where you'd find criticism of the team's decisions.
Well, time for something different! But also the same.
I think it's completely reasonable to believe that the Maple Leafs had a strong several days at the negotiation table, and I think a lot of the points mentioned above come into play. Toronto did get themselves multiple roster-capable players without giving up anyone in their regular lineup. They did avoid giving up any of their top, highest-projected prospects, like Nick Robertson, Rasmus Sandin, Timothy Liljegren, or Rodin Amirov. They did get a noteworthy name in Nick Foligno. They did spread out the positional love, making efforts to sharpen the toolset at Forward, at Defence, and in Goal. They did follow the traditional mythos and got grittier and more defensive, and ultimately, they probably did get better on paper.
The bigger questions for me are simple:
Was this a reasonable overall cost for what they'll be adding, and
Is this the overall direction the team should have gone?
On the little trades, the costs can easily be justified. Rittich is a goaltender who has played 1A minutes at various points of the past few years, and he's about average, so a third round pick fleshes with history – on the medium-high end, but within the realm of reasonability, and you take that given Campbell and Andersen's health. The Hutton cost fleshes with an 18-minute defenceman who regularly plays games. The Nash price is basically nothing.
With Foligno, as I mentioned in my piece devoted to the trade, it gets a lot muddier. It's a steep cost – the second-highest paid for a forward at this deadline, with only a termed-up, six-years-younger, cap-dump attached Anthony Mantha fetching more. It's the cost the New York Islanders paid for both Kyle Palmieri and Travis Zajac. It's significantly more than Pittsburgh paid for Jeff Carter, though that seems like a situation where he wanted to go to the specific team. Most notably, it's a fair bit more than what the rival Boston Bruins paid for 2018 MVP Taylor Hall, who fetched a second round pick with a salary relief swap in Boston's favour.
The Hall comparison is the one that's gotten the most attention, as the opinions on his character and lack of team success lead to varying overall opinion, almost rooted at a deep philosophical level. One thing that needs to set straight here is that this was a choice. Many point to Hall's comments about using his no-movement flexibility to land in Boston as proof he was going nowhere else, but TSN's Bob McKenzie stressed on air Monday that "if the Leafs wanted Taylor Hall, they would have got Taylor Hall". Elliotte Friedman's comments on Tuesday's 31 Thoughts Podcast imply that Hall would've gone with a trade with the New York Islanders that was almost on the table days prior. My own digging and conversations suggest that Hall would have been open to a Toronto trade had it been presented to him, but that the Leafs did not pursue the player. Using his NMC to choose Boston simply meant that he got to pick his destination of the offers presented to him, rather than him forcing a trade there.
For what it's worth, Foligno did the same thing, meaning that this isn't likely to have been where the difference in value came from. Rather, Kyle Dubas paid to get his guy, who just happened to be the top prize of the available rentals from a price perspective. The Mikael Granlund rumours from earlier in the season had smoke to them, but Nashville's recent hot streak made them re-assess. Friedman suggested yesterday that Toronto checked in on 25-year-old Arizona winger Conor Garland, but that it didn't go much of anywhere and they went towards Foligno. They didn't want to give up already-had prospects, and other teams were willing to give up firsts, so Dubas gave up a first. There's no 4D chess here – he locked into a player and bid to win, and the other option with more upside but less certainty was of no interest to him, or a lot of others, and it led to him going to another team for less.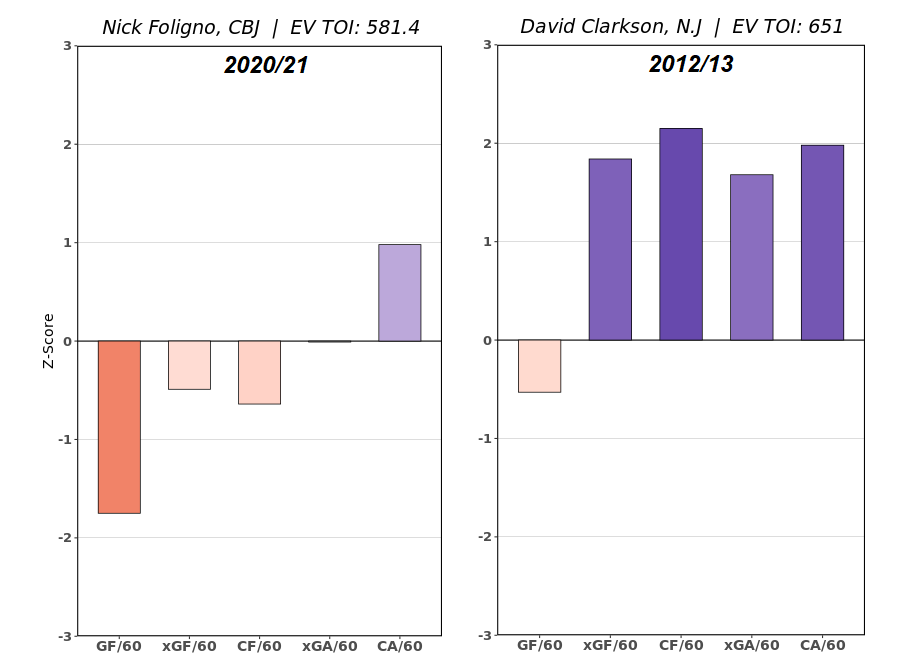 A slight, but not definitive by any means collar tug via Evolving-Hockey.com's tools
I do wonder a little bit about the overall excitement about a "shift in playstyle" as well. There's a lot of hype about Foligno bringing a new element to the roster, despite being somewhere between a less productive Zach Hyman and a more productive Wayne Simmonds, and the team having several other "worker bee" type players in the lineup, from the bottom line to their captain. There's a lot of talk about Riley Nash being the the gritty fourth line right-handed faceoff taker that the team needs, despite the fact that he hasn't been 50% on the draw since 2016 and the fact that he hits and blocks shots at a lower rate than Auston Matthews.
Last night's Sportsnet panels included a "don't count out Stefan Noesen" from Kevin Bieksa, despite being entirely in the deal for cap retention reasons, and both Anthony Stewart and Colby Armstrong put out "optimal" playoff lineups that place Foligno in the top six and Alex Galchenyuk, who Kyle Dubas described as a player who's emergence changed the team's plans, in the press box. We also saw an unsual amount of love for Scott Sabourin last night from panelists and some fans alike, after the forward made his four-minute Leafs debut where he fought Milan Lucic so he could have a sparring mate in his 1000th game, and somehow avoided an interference penalty.
Sabourin obviously won't be playing too many more games for the team, but all of the above feels a lot like a resurgence of the "gotta be gritty" mindset in town that happens whenever a GM makes a splash for a physical player here. There's a lot of narratives going around that sound like the ones post-Davids (Bolland and Clarkson) in 2014, or Matt Martin in 2016. Obviously, Foligno is a better overall player than Martin was then, and he doesn't have a seven-year term attached to him like Clarkson did in 2013. But the above, mostly shock-value chart does serve as a reminder that we've done this dance before to some weird results, and that while this doesn't mean that the deals will bust, players of this ilk don't always translate.
On that note, I also worry a bit about the idea of the "commitment to defence" that's being put out there, the idea that Toronto already has too much offence and needed to focus more of the defensive side of their game. It's a very interesting narrative for a team that's 14th in shot attempts for per hour, and 13th in shot attempts against, or a team that's 9th in expected goals against per hour. It's an interesting narrative for a team that has a negative goal differential on the powerplay over the past five weeks, and an interesting narrative for a team that really isn't getting much support offence. It's an interesting narrative for a team that supposedly needs help winning draws, but ranks 8th in Faceoff Percentage with a higher team rate than the players they acquired have individually. It's an interesting narrative for a team that supposedly really needed penalty kill help, but ranks in the Top 5 in nearly every shorthanded shots against metric, but ranks 30th in save percentage.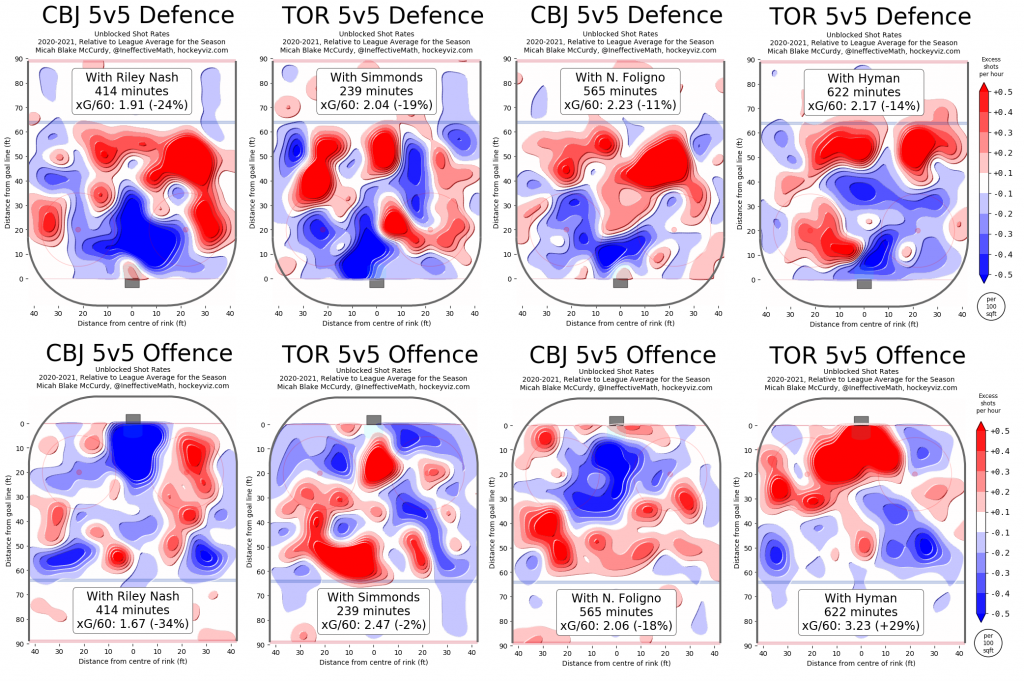 It's an interesting narrative for a team that already has forwards on the roster who have already been doing the things that the incoming players are doing, but also don't see the offensive zone as an ancient memory. Now, that part can change on a different team, as the Blue Jackets are known for being a more grindy, defence-first club, but the same could be said for their defensive metrics as well.
What I'm getting at here is that there's a lot of stuff here that fits the traditional idea of how you need to play to win, a sort of conventional wisdom that "defence wins championships" and that hockey is a game of hard work rather than skill. What gets left out in that conversation is that these approaches are mostly used to fill holes when you can't afford to fill them with talent – a way to close gaps rather than outperform. These are areas where you make your little bets when you're out of chips, rather than going all-in towards.
Had this been even three years prior, the feeling towards what's going on here would be much different, at least with the more modern fan (the mainstream would still love it). Lou Lamoriello would probably be blasted for trading more assets for a gritty rental player who is more "safe" than dominant, and we'd be groaning about how Mike Babcock is probably going to make a line almost designed to not play hockey – an absence of happening in what's supposed to be the world's most exciting game, an antithesis of a team designed to fly at the very top. Now that the names have changed to Kyle Dubas and Sheldon Keefe, there's an odd excitement to do the same thing with a new staff.
I understand that this group has earned trust over the years, but this doesn't make the main roster moves at this deadline an odd departure from the team's identity, and a shift towards doing what everyone else does. One where the solution to just barely losing in playoff series in recent years, despite odd circumstances in coin-toss margins, is to conform, rather than double down – even to the point of acquiring players that have been on the opposing teams. Might it work? Maybe – these are still useful players, the best players on the team are all still here, and come playoff time, most of this comes down to a weighted coin toss. We're fooling ourselves to say otherwise – you can only do so much to influence the decision before the hockey gods take the wheel.
Looking at it all, it seems that the team has a pretty clear idea of what they want to do. I called the Foligno trade "veering from process" the other night and maybe that wasn't the right phrase. These transactions don't fit the usual trend, but there is no doubt that they were controlled and methodical. Some of them (Rittich and Hutton) are genuinely strong bets to keep the team deep and rested, and even the questionable ones have some merit, and could very well prove to work out. We've already seen a case of that with Jack Campbell, who the team acquired for more than market value would suggest to be sensible, but to date has looked like assets well spent. There is merit to the idea that if you think the players are the right fit, you can overpay against the market.
But at the same time, this feels a lot like a team that just paid $20 for a Big Mac Combo on a cheat day whim. Sometimes you're willing to defy even your own patterns of behaviour and reasonability to satisfy a craving, and if you go on to have a great day after that, you'll probably say it's money well spent. But if things don't go well, you'll probably wonder why you splurged on something that felt good for a few minutes, but threw off your routine.
With the Trade Deadline come and gone, though, all we can do now is see how the day plays out.