The Toronto Maple Leafs made their biggest splashes on Sunday night via the acquisitions of Nick Foligno and David Rittich, but squeaked two more depth transactions in before Monday's 3PM deadline. In a deal with the Anaheim Ducks, the team acquired defenceman Ben Hutton for a 5th round draft pick. In a deal with the San Jose Sharks, the team acquired Antti Suomela in exchange for Alexander Barabanov.
We'll start here with the deal that most likely impacts the roster moving forward. Ben Hutton has an opportunity to fight for bottom-end minutes with the Leafs, though I wouldn't put too much confidence into a guarantee of that. Best known for his first four years with the Canucks, the 27-year old has spent his last two seasons in California, playing 65 games with the LA Kings in 2019/20 and 34 games with the Anaheim Ducks this season. This year, he's averaged 18:30 of ice time, and put up a goal and four assists. Deployed heavily in defensive zone shifts (64.2% of the time), Hutton has put up underwhelming possession numbers this year, with clearly negative team-relative shot attempt and expected goal shares on an already bad Ducks team. That might be a factor of deployment, though, as a more balanced season with the Kings last year saw significantly better underlying results.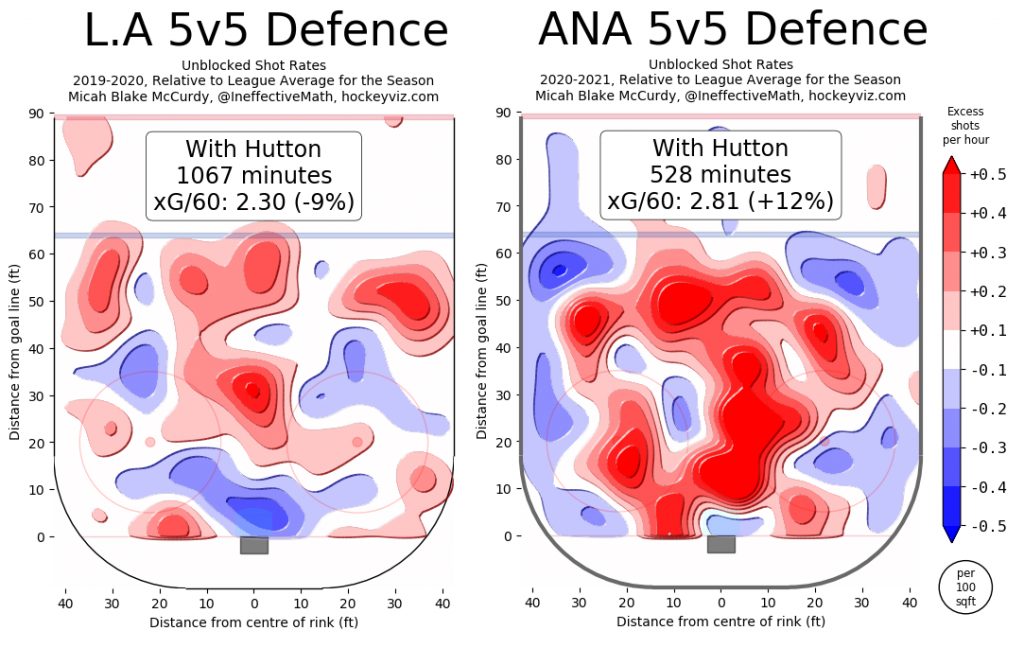 Interesting on the micro-stats end for Hutton is his 94th percentile rate of denying controlled entries, according to Corey Sznajder's data. It's an outlier season in terms of dominance, but he's always been in the upper half in this regard, which is intriguing given Toronto's emphasis on gap control and cutting off plays before they start.
The major question here is whether or not the team feels that he adds more to the lineup than Travis Dermott, who fills a similar niche in a smaller, but slightly more mobile way. That I'm not so sure of, but he does given them further injury flexibility on top of their already existent second layer, and can possibly take some relief games down the stretch one the team secures its playoff spot and position in the divisional standings. Where Hutton really stands out compared to their youth (Rasmus Sandin, Timothy Liljegren) and their veteran depth (Martin Marincin, Calle Rosen), is simply in the fact that he's got a good chunk of NHL games played this year, and won't be as thrust into the frying pan should he have to play.
Hutton was not the only defenceman the team had checked in on, and a trade may not have happened at all had the waiver wire gone their way today, as, to my understanding, they had placed claims on both Victor Mete (OTT via MTL) and Sami Vatanen (DAL via NJ) – two players who were snagged higher up the priority list. But he's a fine fallback, and at a cost of just a fifth-round-pick in 2022, it's a solid haul.
On the other side, we get another favour trade. Similar to the deal that sent Mikko Lehtonen to the Blue Jackets a few weeks ago, the Leafs move a KHL signing that just didn't work out. Alexander Barabanov was signed by the Leafs last August to see if he could build on his KHL success in the SKA St. Petersburg program, but rather than getting the his productive 2018/19 form, they got the more questionable one in his surrounding seasons. Barabanov picked up just one point in 13 games with the team, and rarely made a visible impact even away from the scoresheet.
Soon to be 27 years old, it was unlikely that Barabanov was going to find himself another gear, so it was best for both sides to part ways. In facilitating this, Toronto once again shows to young free agents that, should things not work out, the team will work with them to find them a home. As for what comes back, Antti Suomela is a 27-year-old centre who has bounced between the Finnish Liiga, NHL, and AHL this season, his third in North America. He is unlikely to be of much use for the Leafs, particularly late in the season, though his ability to play centre might get him some games later in the season should Toronto rest their vets.
Overall, these are pretty inconsequential moves, but they shore up some flexibility for the team down the stretch, keep their reputation as a pipeline for Europe in tact, and cost next to nothing. Needless to say, there's not much upside here, but there's certainly more of it than there is downside, and that's a win for the team.