The Toronto Maple Leafs appear to have made their 2021 Trade Deadline splash a day ahead of schedule, acquiring forward Nick Foligno from the Columbus Blue Jackets in a complicated three-team deal. The move sees the team move out their 2021 first round draft pick, and fourth-round picks in 2021 and 2022 in exchange for the 33-year-old winger and San Jose Sharks minor league forward Stefan Noesen. The Sharks were involved in the deal in order to facilitate a double cap hit retention, reducing Foligno's cap hit from $5.5 million to $1.375 million.
If one wants to look at this as strictly a roster addition, and doesn't care about the checks and balances that go behind it, the Maple Leafs became a better hockey team today. Foligno, originally drafted by the Ottawa Senators in the first round of the 2006 draft, is a physical Power Forward-type player who bolsters the team's depth chart. He's picked up Selke Trophy votes in two different seasons (2014/15 and 2019/20). Despite primarily playing on the wing, he's played regular spot duty on faceoffs. He's a player who will give you 150-200 hits in a full season, who takes away as many pucks as he turns over, and gets in the way of shots. He's comfortable on the penalty kill, and he's brought his share of leadership as Columbus' captain over the past six years. He's also someone that, if you tear apart where the pucks go when he's on the ice, is very adept at keeping them out of dangerous areas: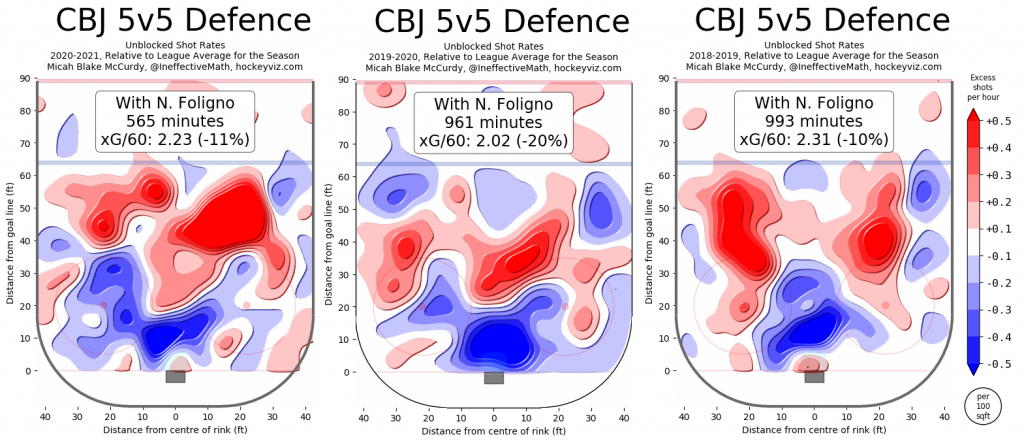 Foligno is a player who is used to playing up and down the lineup – with great players, with depth players, and everyone in between. He's spent time on the powerplay and on the penalty kill. He has a connection to the the Leafs through his father Mike, who played for them between 1991 and 1994 as part of his own 1000+ game career, and was even a very brief assistant coach in 1996. In a lot of ways, adding Nick Foligno is probably the most favourable decision that the Maple Leafs could have made at this deadline, with a little bit of something for the nostalgic, for the old school, and for the new school.
I've got no doubt that fans will enjoy having him, and it's entirely possible that he does, in fact, make a positive impact on the team come playoff time. He is one of the 12 best forwards on the team and has a variety of roles he can be placed in. So, what's the problem?
The first, and most obvious one, is the cost. A first and two fourths is a lot to give up in this market. In a year where most teams are up against their budgets both in terms of salary cap expenditure and real dollars as a result of the pandemic, we're seeing some startlingly low returns for useful players. Heading into tomorrow, there are three exceptions to this rule: Foligno, former Columbus teammate and now Tampa Bay Lightning defenceman Denis Savard, and the double-package of Kyle Palmieri and Travis Zajac acquired by the New York Islanders.
Of those three deals, it's safe to say that Savard was the most coveted player – a highly praised defensive defenceman who has the size, underlying defensive numbers, and right-handed shot to match everyone's premiums. Tampa Bay was also in the toughest salary cap spot, absolutely needing the double-layered retention to fit him under the cap. Toronto isn't quite in the same situation – as The Hockey News' David Alter points out, the double retention in this trade still leaves them with $2.8 million in Long Term Injured Reserve buffer going into tomorrow.
Could it be useful if they can land one more deal? Sure. Is there anyone left that they can land at that price that would improve the team? Probably not, especially now that the team has given up their top trade chip. What's what's left over outside of Taylor Hall, who was the best option available but is likely not in the team's price range any more, is really in scrap bin territory. Maybe you can still call Buffalo and inquire about Linus Ullmark as a goaltending solution, now that he's informed them that they've tested the market. That's really the only thing that makes sense unless you're moving out salary. If you don't swing that, how necessary was the second retention? Was it worth the additional pick capital given if all it ends up being is an extra few hundred thousand real dollars saved? If Toronto does nothing else – a distinct possibility – does it really only exist to improve the optics of giving three picks, one of which is a first rounder?
The other thing too – those picks will still matter in the long run. Wasn't the whole point of having a forward-thinking operation to have a process-oriented approach that runs the present and future in simpatico? This trade puts Toronto down to just three draft picks this year, at a time where the second and third layers of the development program are starting to thin out. One can make the correct observation that this isn't your typical draft – a lack of consensus at the top, and a lot of uncertainty in the later rounds due to a lot of players being displaced by the pandemic. Some might even give the argument that this makes it a great year to skip on picks, but there's an arguably better argument that the lack of certainty is the exact reason why you need to have more baskets for your eggs. There's an even better argument that a high-resource team like the Maple Leafs are in the exact position to want to keep pick quantity, as they'll have a greater ability to zero in on quality selections that other teams might not.
All of that, of course, could be thrown out the window for the right player. As I mentioned above, I'd probably throw it somewhat out the window for Hall, as player not long removed from MVP status. Foligno though? Again – he makes the team better, but to what end? Does he impact their odds at winning the Stanley Cup in any radical way? If they were to win the whole thing, how likely is it that Foligno, a player who hasn't put up 20 goals or 40 points since 2017, and hasn't gotten further than the second round in his 14-year-career, is that difference maker?
While the elements of his game are great, how many of them are stand out for the team? They've got more productive players. They've got physical players. They've got present and former captains, they've got players with more playoff experience. Foligno is a supplement, but to what degree is he moving the needle? Maybe a year or two ago you could argue a substantial difference, but today you're talking about something in between Wayne Simmonds and Zach Hyman. That's a nice add, but is it worth paying a grand-slam cost to make it your home-run swing?
That's the part that I'm kind of lost on. And look, if you're Kyle Dubas, I get it. You've seen this team improve, and you see an opportunity here. You probably see a lot of "meant to be" signs. Its your first full year with the coach you really wanted, your partner in crime at two other levels. You currently have a goalie setting NHL records against all odds, who just so happens to be the goalie who burned you when you first acquired him as an OHL GM. You've got a 42-year-old former Greyhound making what might be his final ring chase with you, after years of trying to woo him. One of your first trade acquisitions, Zach Hyman, is having a breakout season and you might not be able to keep him next year. So on, and so forth. There's a lot of things about this that scream "this has got to be the year, we have to do something".
So you acquire a player with ties to the organization's past, one who captained the team that eliminated you from the playoffs the previous year. He's actually the second guy from that team you've acquired in the past week (Riley Nash being the other), a team who you mostly lost to because one of their goalies put up a 0.956 SV%. Both players, it so happens, are defence-first types who don't really score, or move the puck, or have the fleetest of feat – almost the antithesis of your identity.
It doesn't feel like process. It feels… emotional. It feels like intuition, and it feels more like the Leafs of old than the reason one committed to the team. That doesn't change the vast majority of Dubas and company's decisions over the past few years, which have been by and large wise and, most importantly, rational and easy to explain from a tangible standpoint. But this one feels different. It feels like the "Draft Schmaft" days we used to mock, without a ton coming back. It feels like Lou Lamoriello throwing picks at the wall to grab a name for the third line that Mike Babcock might play. It feels very old-school, and very short-sighted.
Of course, the average fan isn't going to care about that. The hardcore fan might not even care about it. They'll see Foligno's body of work, they'll see him wear #71 like his dad, they'll see him making Kerry Fraser jokes, and they'll love it. As they should. It's cool to have him, and again – he'll probably make the team better.
But if you're evaluating this objectively, if you're thinking about just how much this changes for the team, and you're thinking beyond today, you're probably a bit let down by this. Not so much the who, but the how. It's a premium cost given up for a non-premium player, in the midst of a buyer's market where there isn't a heck of a lot going for a heck of a lot. It's a defiance of process, and while it's entirely possible that the player ends up being an impactful one for the team, the odds aren't in favour of this being the needle mover you'd expect at this price.
All of this to say, once more – I'm excited to see Nick Foligno play for the Toronto Maple Leafs. I'm just not sure about what it took to get him here – especially if this is the last big move Toronto makes, and super-especially if better players go for less in the next 19 hours. But hey, that's the beauty of the trade deadline casino – now we get to see if the bet pays off. At the end of the day, flags fly forever, and if this helps them get there in even the slightest way, you won't have trouble convincing even the biggest skeptic in town that it was worth it.