Is the key to being the best, poaching from the worst? That's a million dollar, or perhaps $10.6 million dollar question that's going around the hockey sphere right now, as the April 12th trade deadline looms and noteworthy names sit available for the picking on the NHL trade market.
The biggest name of them all? Buffalo Sabres forward Taylor Hall. The 29-year-old decided to sign with the Sabres on a "push" year, in hopes of getting big minutes, picking up big totals, and signing a long-term contract in a less COVID-influenced market this summer. Unfortunately, just about every single part of that has gone wrong. The pandemic continues to shake the league (and frankly, the world), the cap will stay stagnant for the next few seasons, superstar linemate Jack Eichel has been injured, the Sabres have been terrible, and Hall himself is experiencing one of the rockiest seasons of his career.
But, this is still a player just three years removed from 93 points and a Hart Trophy, one who was once considered among the best wingers on the planet, and one who might actually be doing a little better than the box scores imply. He's shooting well, well below his career average of 10%, converting on just 2.3% of his shots. The Sabres aren't doing much better with him on the ice, shooting at 6.7% and providing 0.868 goaltending, which makes you quickly understand how he's -21 despite a +45 differential on shot attempts, and +2 differential on expected goals.
Highlight reel of Taylor Hall's elite sniping this season! #LetsGoBuffalo pic.twitter.com/7QYPV0fbii

— JFresh (@JFreshHockey) March 25, 2021
Hall carries a $8 million cap hit, but that figure pro-rates itself downward by the day, and can be retained by 50% to bring it to $4 million pro-rated. He's also on the last year of his contract, meaning a team that has some flexibility now but none in its future can make still make something work. Even if he were to maintain the same results, a 40ish point forward who has a very positive impact on his team's shot differential would be, at minimum, a strong add to a team's scoring depth. If he could sort out his puck luck, it gives you a player who can turn a great line into one of the best in the league, or at least anchor a decent line. The resurgence of Alex Galchenyuk has been one example of the Leafs hitting paydirt on a redemption trade this year, so it's possible that lightning could strike twice.
The question here is – can Toronto be one of those teams that can afford to push for him? If Buffalo is to retain salary, all signs point to yes, dependent on Frederik Andersen and his health. If his $5 million salary is out of the equation, it gives the Maple Leafs ample room to make such a deal. How you move that salary out of the equation is up for debate, however. You could shut him down for the regular season if his nagging injury merits it, possibly bringing him back at some point in the playoffs should he recover. You could also send him back, or elsewhere, as part of the package if he's available to play sooner, and you can get another goaltender to fill his spot.
As it so happens, Buffalo has one of those too, and with the right tinkering, he could be added to this deal. Linus Ullmark is relatively green to the NHL, with three years of platoon experience, but the 27-year-old is now about 300 games into his professional career between the SHL, AHL, and NHL. The Leafs organization would have seen plenty of him in the latter two leagues, particularly with the Marlies' North Division rivals in Rochester, and they'd see a goaltender who has consistently put up above league average numbers across the board. This year in particular has been an excellent one for him, as he's put up a 7-5-3 record (compared to 1-19-3 for all other Buffalo goaltenders) and a 0.921 save percentage over 16 games and 933 minutes.
I'm not particularly sold on having to do a hard move-on from Andersen just yet, and do believe that he could have some use left in him if he comes back healthy and confident. I also wonder a bit about how moving him would impact the Leafs room, particularly given his close friendship with Auston Matthews. But, all signs point to a swap of Andersen and Ullmark giving the Leafs an upgrade in goal for the immediate, and someone who is younger and less proven to negotiate an extension with once they look beyond this year.
He can also be fit into this trade if Toronto were to shed another above minimum, but still relatively small piece. An easy direction to look would be towards Pierre Engvall, who has been plenty decent for his $1.25 million cap hit but doesn't move the needle enough to be married to him – not to mention, adding Hall would likely require him to be placed on waivers in any event. If you want to really test people's heartstrings in town, Ilya Mikheyev ($1.65M) may also be a fit for such a move. Either way, both deals would get the Leafs under the salary cap ceiling.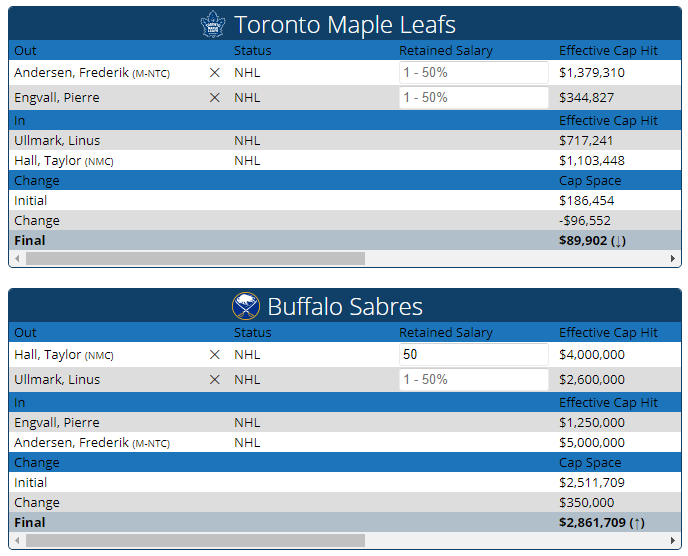 I'm not a particularly big trade proposal guy – I believe they mostly serve for two fanbases to yell about their own anchoring biases, so I'm not going to get into the ins and outs of what would need to supplement this deal (especially if a flip can't be found for Andersen and the play becomes Toronto keeping him and putting him on LTIR). Obviously, Pierre Engvall and a questionable rental of Andersen isn't going to get you an impact player and a very capable goaltender, and you're going to have to add to the pile with other assets.
What those assets are, I'll leave to others to argue. Maybe it's their first rounder – an item that doesn't seem likely to get tossed around by many teams this year given the soft market, but potentially worthwhile given the calibre of incoming players. Maybe it's prospects. Maybe it's moving on from Travis Dermott to give Buffalo some budget-friendly young defensive help while promoting one of Rasmus Sandin and/or Timothy Liljegren full time. There are a lot of ways to nitpick the supplements here, but I'll leave that up to someone else.
The point here is more the nucleus: There is a cap-compliant way to not only land the biggest fish in the pond, and potentially create a fresh, if slightly unproven goaltending platoon for the stretch. It would be immensely gutsy, it would cause a lot of controversy. Hall would have to pick yet another new number as all three of his NHL digits (4, 9, and 91) are off the table. Most importantly, there are literally zero guarantees that it would work. But it's a very attractive possibility that deserves to be treated as reasonable.
Oh, and by the way, Hall is being shut down for the week while Buffalo makes their decision. I'm just saying, keep an open mind, and don't be too shocked if something big goes down here.