When it rains, it pours. After dropping back-to-back games against the Vancouver Canucks, both of which saw Thatcher Demko in full stride, the Toronto Maple Leafs had a chance to shake off the L's and get a fresh start against the Winnipeg Jets, who sit one spot back of them in the North Division standings.
The effort looked good, by and large. But a few costly errors and another elite performance from a goaltender in Connor Hellebucyk kept the Leafs at bay, culminating in a 4-3 defeat on Tuesday night.
Highlights
Things initially looked good for the Maple Leafs in this one, as Zach Hyman went end-to-end on an explosive rush to break the ice, giving Toronto a lead eight minutes into the first period. Hyman took advantage of a lack of real defensive effort from Kyle Connor and Nathan Beaulieu, and made no mistake in burying his 8th of the year on a backhand past Connor Hellebucyk. The Jets responded quickly, however, taking advantage of a powerplay caused by a Zach Bogosian hold and capping off a strong cycle with an Andrew Copp redirection to tie the game.
The Leafs got a powerplay of their own, and it saw Auston Matthews in the netfront position. He made the most of it too, redirecting a point shot from Morgan Rielly and giving the Leafs the lead once again before the first period could close. It wouldn't be Matthews' last redirection, though, and the one that came midway through the second period was much more unfortunate and frankly, questionably chosen on his part. In an attempt to help out Frederik Andersen, Matthews stuck his leg out in a scorpion kick-type fashion to try to block a Josh Morrissey shot from the point. He instead redirected it, and Andersen wasn't in any way prepared for the angle change. Before the second could close, the jets took advantage of a bad line change and an unaware Justin Holl, and Kyle Connor pulled the Jets ahead.
It was all Toronto in the third period, as they out-attempted their opponents 26-9, outchanced them 23-4, out attempted them in the slot 13-2, and outshot them 13-6. You'd think this would turn into the reclamation they needed, but instead, it was Winnipeg once again leading the way in the period. The Jets were quick to take advantage of a turnover off a Morgan Rielly stretch pass, and a burst from Mason Appleton followed by a quick tuck was enough to beat Andersen for a fourth time. The Leafs continued to pour it on following the tally, and Matthews picked up his second with a little under two minutes to go and the net empty. But that was all they had left in their chamber for the night, and they skated off with some disappointment.
Numbers Game
This season, I'm going to showcase the stellar work of Hockey Stats Cards for post-game data, as Cole Palmer has done a fantastic job presenting a combination of data from Natural Stat Trick and Dom Lusczczysyn's Game Score model. Be sure to check out the site, which does cards for all games automatically and lets you subscribe to email pushes for your favourite teams.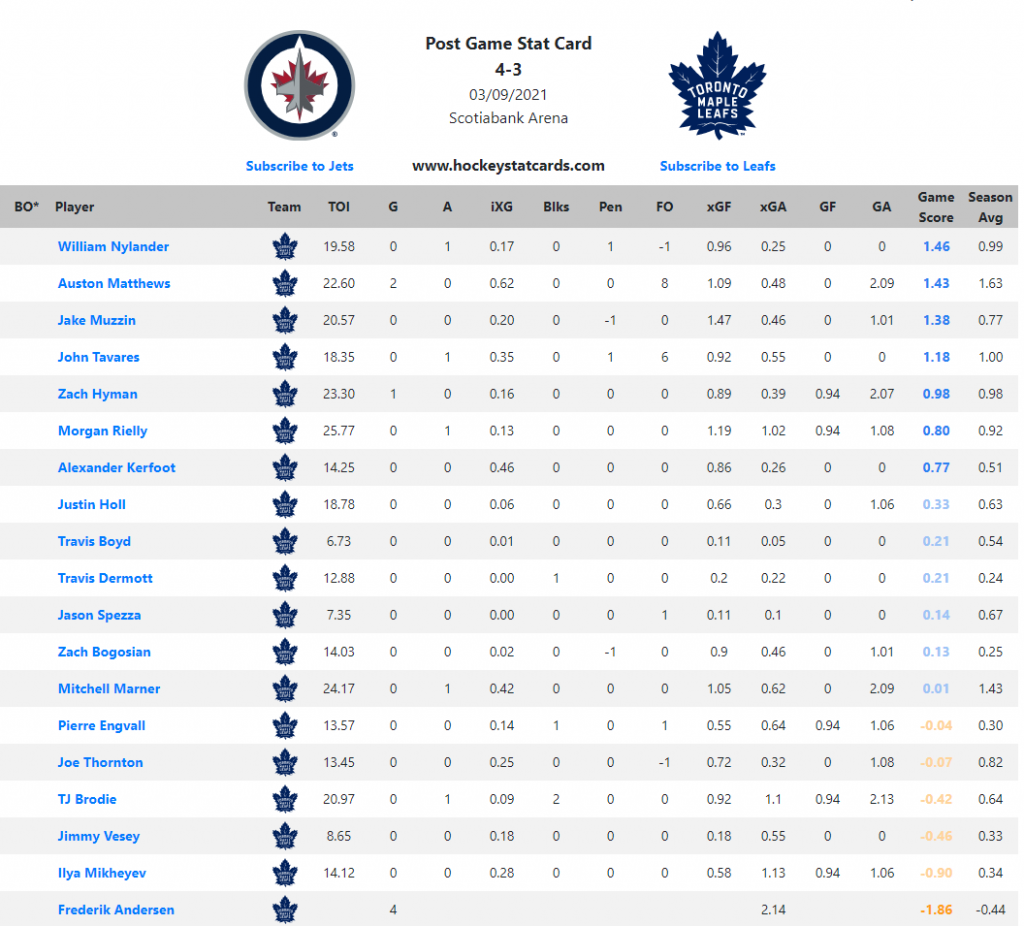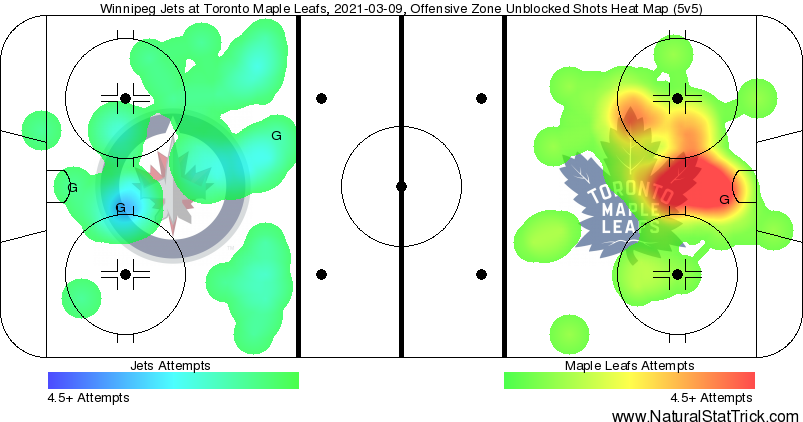 Notes
Talking about Frederik Andersen tonight is going to be really, really complicated. Andersen allowed four goals on 23 shots, which isn't good statistically. To the eyes, there were a couple iffy ones against. He was clearly outmatched by Connor Hellebucyk – but did he cost the Leafs the game? I think it's unfair to say that. Hellebucyk won the game for the Jets more than Andersen lost this one for Toronto. He didn't give them enough to get over the hump but he doesn't deserve the mountain of fault he'll get tonight either; sometimes, you lose because of something positive on the other side, not something negative on your own.
Auston Matthews had one of the weirdest games I've ever seen him play. Two goals on the board, good underlyings, but again – he didn't feel like Auston Matthews, and that decision on the Morrissey goal was just… questionable at best. There was no reasonable explanation to scorpion kick that puck, with a slight chance at preventing a play but a big chance at either changing the angle on Andersen or distracting him. Heat of the moment, most likely, but not great.
Justin Holl made some rough decisions tonight, and got demoted to the third pair for a spell because of it. Oddly enough, still strong on the shot shares, but there weren't too many on the team who weren't in at least decent shape.
None of the fourth line played more than nine minutes tonight, which I suppose makes sense given how much of offensive momentum the top nine had. Save for the puck going in, obviously.
This was the fourth and final night for Toronto's reverse retro jerseys. I still don't think they were as bad as many feel they were, but I doubt we see them again moving forward. Farewell, my grey, era-mashed friends.
Toronto's next game will come against the Jets once more, on Thursday night. It'll be another 7PM puck drop – see you then!