It took nearly half the shortened season, but for the first time, the Toronto Maple Leafs have lost consecutive games in regulation. Even more astonishing, they both came against the Vancouver Canucks, and even more astonishing, they came against them while the team is missing their top player, Elias Pettersson.
But that's where they are.
Highlights
An early hooking penalty to Auston Matthews put the Leafs in a tough spot from the get-go, and it didn't take long for the Canucks to capitalize. 27 seconds into the call, a streaking JT Miller blew past Zach Bogosian and found Brock Boeser in front of the net, putting the Canucks ahead. Toronto had much of the control in the first period, however, and finally took advantage of it with four minutes to go in the frame. Justin Holl's long stretch pass to Alex Kerfoot was turned into a touch into John Tavares general vicinity, and the captain followed up the chase with a half-clapper that Thatcher Demko couldn't keep up with.
The Leafs weren't in as strong of control of the second period, but did score the only goal of the stretch. Three minutes in, Jason Spezza carried the puck into the offensive zone, spun to find TJ Brodie, who went backhand to give Jimmy Vesey a great look in front of the Vancouver goal. Toronto held the fort through the period and carried things out well into the third, but an unfortunate attempt by William Nylander to chip the puck off the glass in the neutral zone instead turned into a delay of game penalty. On the ensuing powerplay, Bo Horvat deflected a Boeser point shot to tie the game, and while the Leafs were still shaking off the shock, Boeser set up Miller for the go-ahead goal. With three minutes to go, Nils Hoglander ripped a wrist shot past Frederik Andersen to add insurance – a shot so quick, in fact, that it was initially waved off until the officials reviewed it.
Numbers Game
This season, I'm going to showcase the stellar work of Hockey Stats Cards for post-game data, as Cole Palmer has done a fantastic job presenting a combination of data from Natural Stat Trick and Dom Lusczczysyn's Game Score model. Be sure to check out the site, which does cards for all games automatically and lets you subscribe to email pushes for your favourite teams.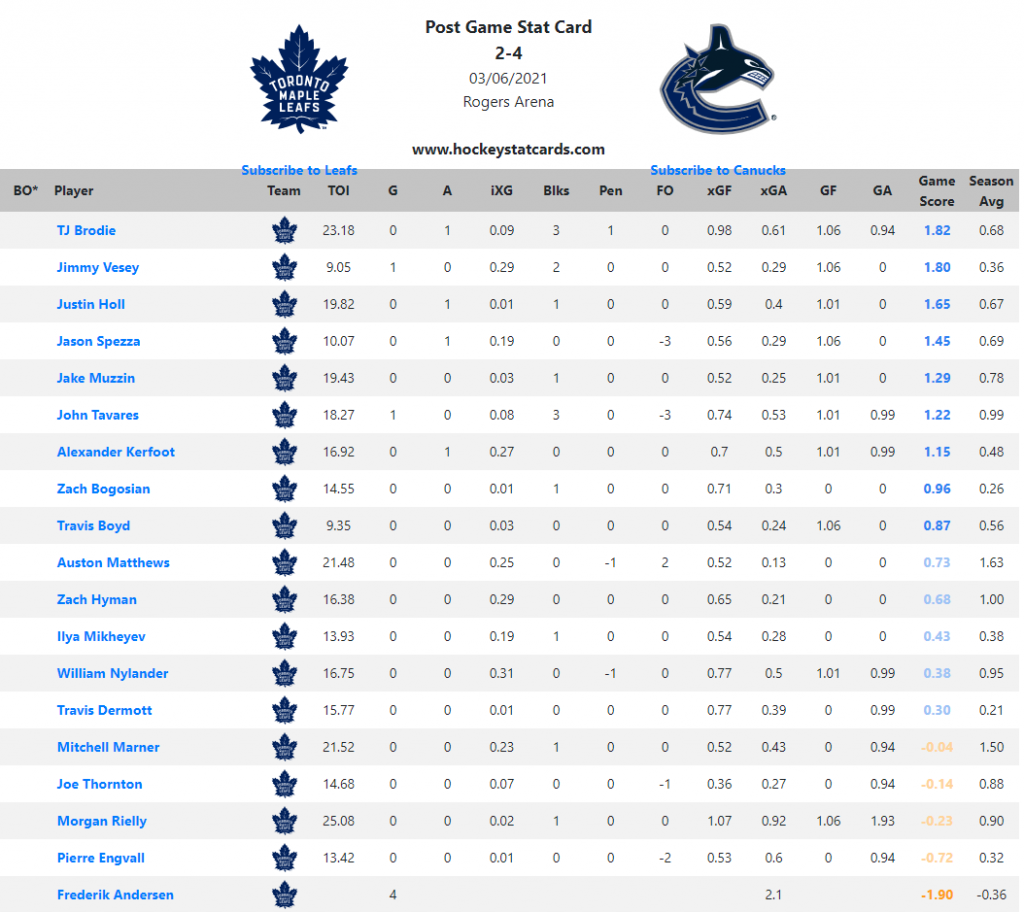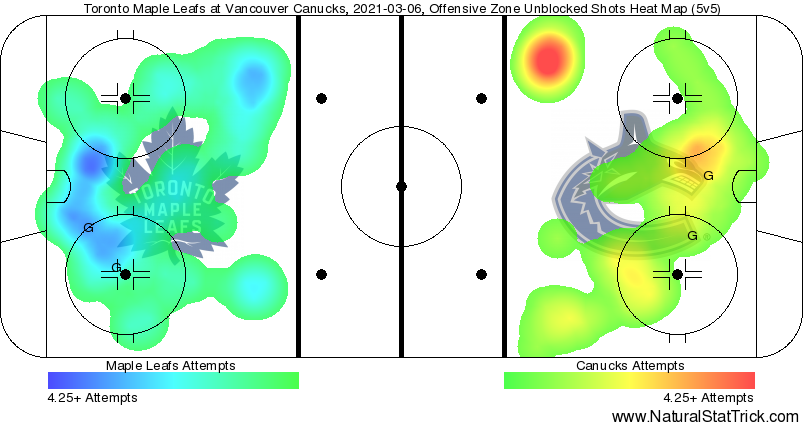 Notes
I'm starting to wonder a little bit about where Auston Matthews is at with things right now. He wasn't awful tonight, and the shot shares looked great, but he hasn't been his usual self. He seems to be a bit hesitant in traffic right now and I'm kind of wondering how much his wrist injury is coming into play here. Now, that could be confirmation bias on my part – simply seeing a mini-slump and making excuses for it. But if he's still not feeling his full self, it might be worth keeping him out a little longer.
Most surprising stat of the night from Dr. Aglikepull: Jimmy Vesey is now third on the Leafs in 5v5 goals. That seems like it won't last (John Tavares and William Nylander exist and are due for their hot streaks, for example), but it's been nice seeing Vesey get a few on the board after taking all sorts of heat from the fanbase and media over the past couple weeks. It's undeserved for a depth player that's been playing fine, so some karma is always nice.
I really liked TJ Brodie's effort on Vesey's goal. With each game he's looking more and more like the top-four defenceman that the Leafs were looking for over the past couple of offseasons – capable of shaping play on both ends.
Frederik Andersen's four goals against on 31 shots weren't statistically great, but I don't think he was a major concern in terms of "costing the Leafs the game", or anything along those lines. Some tough shots faced and Toronto needs to put more than two in if they want to point fingers towards their goaltender.
Speaking of pointing fingers at a goaltender – Thatcher Demko deserves a ton of thumbs up on Vancouver's end for how he played in this mini-series. Probably the most impactful player on either team.
I wasn't a fan of a lot of the officiating in this game – one of the worst games in the season from a consistency standpoint. I don't think it benefitted one team more than another, as each team got away with some plain-as-day penalties, but it'd be nice to see the most egregious stuff get called. There were times where this game looked on the edge of getting out of hand entirely out of self-policing and frustration, when it really didn't need to be there.
Toronto's next game will come on Tuesday night – a 7PM start against the Winnipeg Jets, whom they've faced just once this year. Should be a good one!