Fresh out of Edmonton and now even further west, the Toronto Maple Leafs caught the red-eye on the broadcast schedule and started their two game series with the Vancouver Canucks on Thursday night. While the team put on tremendous pressure to start the game, the rigors of the schedule caught up to them and Thatcher Demko stood tall to match, leading to Toronto's fifth regulation loss of the season, a 3-1 defeat, on Thursday night.
Highlights
This game was kicked off by unlikely heroes on both sides. The icebreaker came just three minutes in, courtesy of Jake Virtanen, who entered this game with just 1 goal and no assists in 21 games. You wouldn't know it from his rush though, and he pulled off a power forward cut on Justin Holl, shot his shot, and created just enough of a knuckler that Holl's attempt to keep it out stuffed it back in. The Leafs were quick to shrug it off, outshooting the Canucks 15-7 in the period, and ultimately getting the equalizer with an almost equal amount of time remaining in the period. Pierre Engvall and Ilya Mikheyev used their blazing speed to create a give-and-go on a Toronto coutner attack, with the former picking his spot on Thatcher Demko to balance the score back out.
The Leafs picked up the pace even further to open up the second, seemingly overwhelming the Canucks and looking all but set to get the next goal. But it once again came from the Canucks, and once again from Virtanen – this time roofing a tough-angle shot past a crouching Michael Hutchinson, for the middle frame's only goal.
Toronto struggled to push forward to begin the third period, and it cost a few key chances, followed by another goal. This time, Bo Horvat was left open in between the defensive zone faceoff dots and before Auston Matthews and Mitch Marner could converge on him, and he made no mistake in burying the insurance goal. The Leafs simply didn't have the legs to push back at this point – while they kept the game reasonably back and forth, and there were a few quality chances still left in them, there wasn't enough to pull the game back within reach.
Numbers Game
This season, I'm going to showcase the stellar work of Hockey Stats Cards for post-game data, as Cole Palmer has done a fantastic job presenting a combination of data from Natural Stat Trick and Dom Lusczczysyn's Game Score model. Be sure to check out the site, which does cards for all games automatically and lets you subscribe to email pushes for your favourite teams.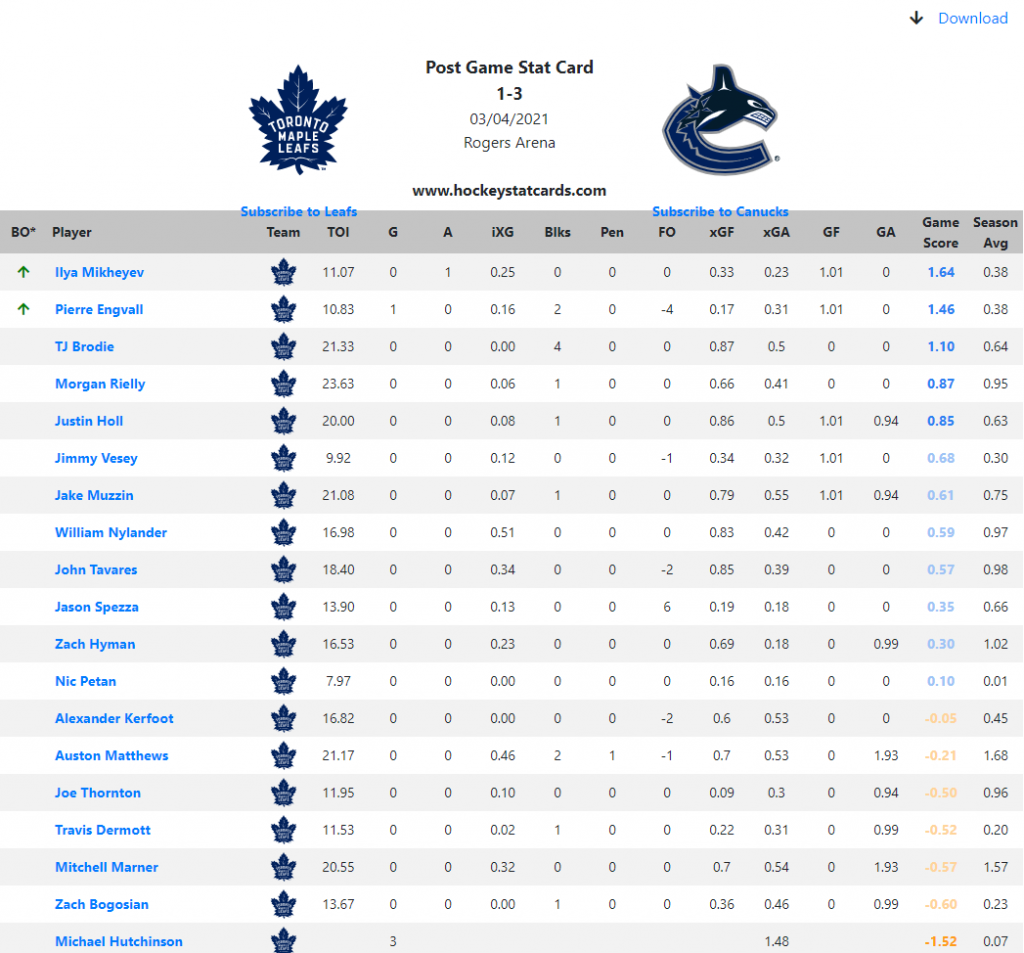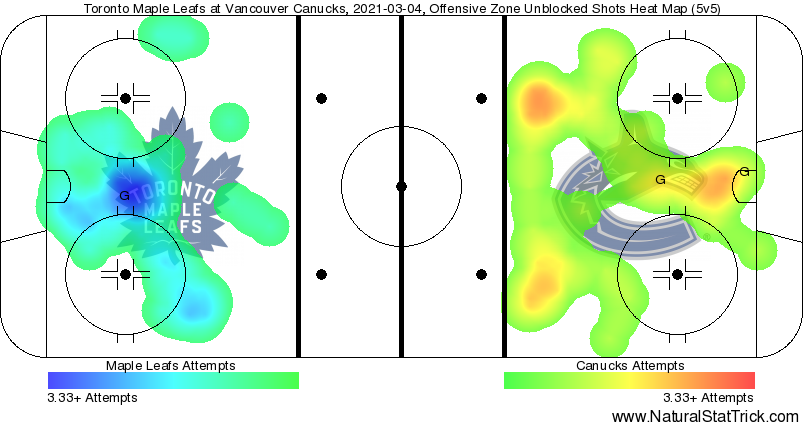 Notes
Not wanting to overwork Frederik Andersen right after coming back from injury, Michael Hutchinson took the reins for this one. He was statistically fine, though you really want a better result out of that second goal.
The Virtanen goals 100% my fault for saying that his play this season wouldn't even put him in the Marlies' top six. All that said, one night doesn't erase a month and a half of play, so I'm going to take my incredibly timed lumps but will stick to my guns.
Admittedly, Justin Holl badly losing the battle against an ice-cold Virtanen after a week of clowning Connor McDavid is the type of schadenfreude that one should been more prepared to expect from this game.
At some point in the second period, likely after their early-period push, their legs seemed to come out from beneath them. Third game in four nights, it happens, but it was without a doubt evident.
The Kerfoot-Tavares-Nylander game looked very good, even without points on the board.  They seemed to have control of the puck on every shift, found each other well, and moved quickly throughout. Unfortunately for them, none of those efforts turned into results.
Toronto's next game will come against the very same Vancouver Canucks on Saturday night – this time at 7PM Eastern, rather than 7PM Pacific.