As some analysts were quick to point out at the start of this series, the Toronto Maple Leafs could have lost their stop atop the North Division had the Edmonton Oilers pulled out a sweep against them in this past week's three-game mini series. The Leafs got the message loud and clear and decided to reject it entirely, completing a sweep in the other direction with a 6-1 victory on Wednesday, putting them nine points ahead of second place Winnipeg.
Highlights
Numbers Game
This season, I'm going to showcase the stellar work of Hockey Stats Cards for post-game data, as Cole Palmer has done a fantastic job presenting a combination of data from Natural Stat Trick and Dom Lusczczysyn's Game Score model. Be sure to check out the site, which does cards for all games automatically and lets you subscribe to email pushes for your favourite teams.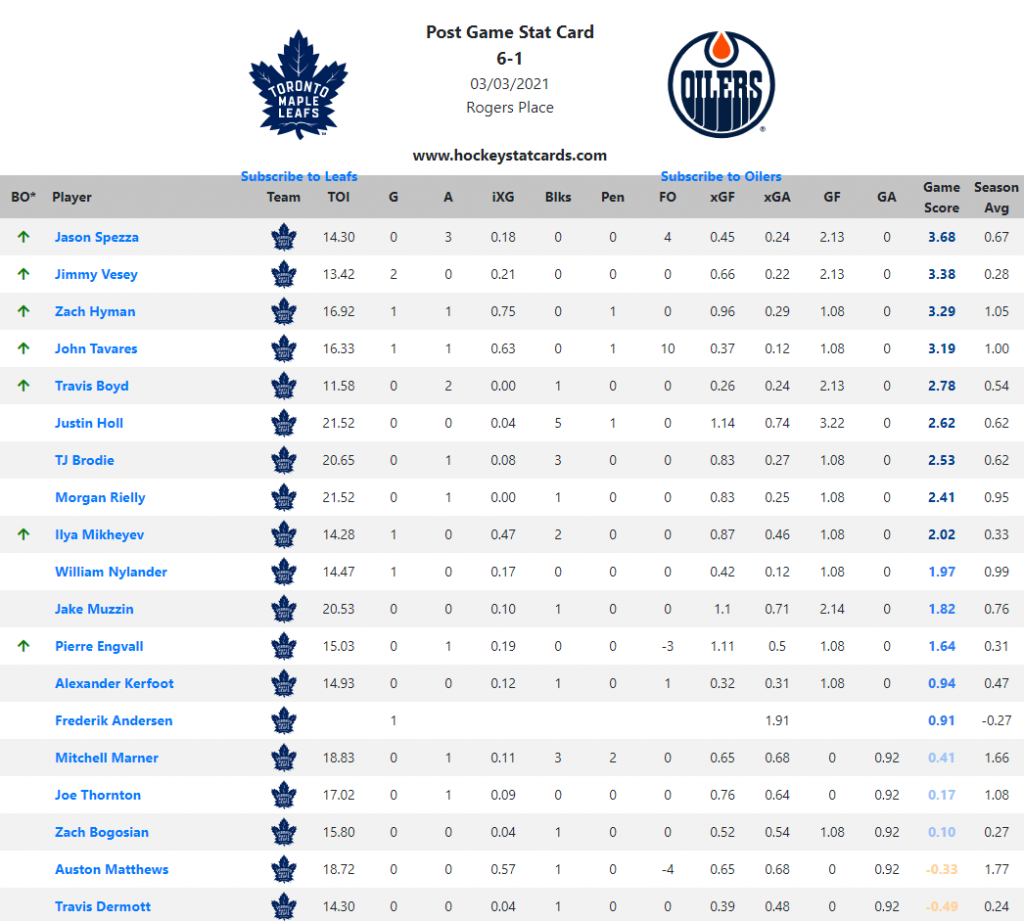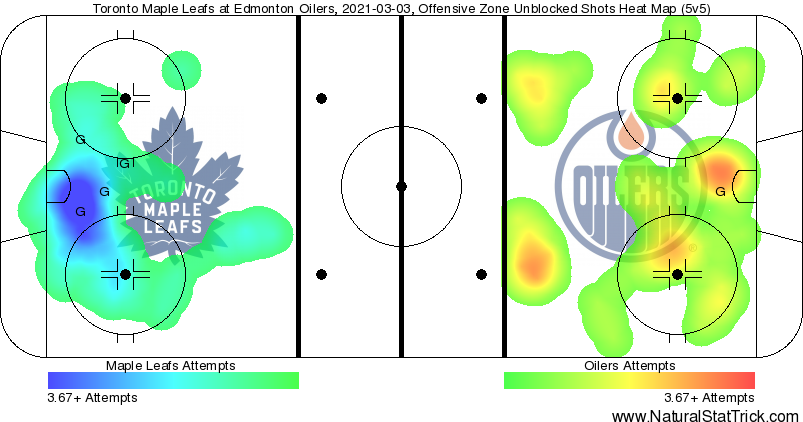 Notes
Frederik Andersen returned to the lineup last night after missing some time with an injury, and proved that he is clearly the #3 goaltender in the organization by not getting a shutout against the Oilers. In seriousness, though, he was a little shaky but more than got the job done, stopping 23 of 24.
Jimmy Vesey came through with a big middle-finger game to the crowd of critics tonight. The once-hyped veteran hasn't been particularly bad this season but has lacked a breakthrough game, and tonight may have been just that. Two well-placed goals and a 75% share of the expected goals is about as good as it gets from a depth-priced forward, unless you're one of the two old legends.
Speaking of the old legends: Thornton's play on the Tavares goal was great, both the pass and the body positioning to ensure Tavares had space. Spezza? My goodness, just another brilliant effort. Three assists and 66% of the xG in 14 and a half minutes is absolute money.
Auston Matthews returned to the lineup after missing two games with a wrist injury, and while he didn't exactly dominate, he appeared to have some zip in his shot and still managed to get as many points as Connor McDavid got in the entire three games.
Speaking of ZIP: Lance Hornby has correctly named the third line. Zach, Ilya, and Pierre. There's also HEM, using their surnames, but I prefer the high-flying overtones of the latter.
Toronto's next game will come tomo… okay, this was a very late publish, tonight against the Vancouver Canucks. 10PM puck drop!