It takes a special kind a performance to shut down Connor McDavid, Leon Draisaitl, and the Edmonton Oilers. To do it twice? Good luck. To do it in back-to-back games? Yeah, okay. After all, as every pre-game breakdown reminded us, McDavid has a habit of going nuclear after being left off the scoresheet.
The Leafs didn't get the memo tonight. Still without Auston Matthews, and now without Jack Campbell, they shattered even the most optimistic of expectations and did the exact same thing as they did just a couple of nights ago, blanking the high-flying Oilers in a 3-0 victory.
Highlights
Honestly speaking, a lot of this game felt like it was going through the motions, but that's only because the Leafs asserted themselves early and often in the first period. The ice was broken about seven minutes in thanks to a great passing play that involved nearly every player on the ice – Pierre Engvall entered the zone and initiated a sequence that led to Ilya Mikheyev and Morgan Rielly eventually setting Zach Hyman up for his sixth of the year on a backhand. Three minutes later, immediately off a faceoff, William Nylander saw a lane to burst through and made no mistake in the process, making himself a breakaway and beating Mikko Koskinen for his ninth. Lastly, with two minutes remaining in the frame, Morgan Rielly threw us back to a simpler time of powerplays with booming point shots, taking in a feed from Mitch Marner and further widening the gap.
From there.. the Oilers just kind of looked stuck. They didn't completely stop playing, but there wasn't ever really a semblence of overwhelming the Leafs, even though they out-attempted them significantly on the shot count. Toronto had already done the work they needed to on the offensive end and knew that the key to closing these Oilers off in their current state was to limit their time and space, and force them into less useful plays. The skaters made their mark, and Michael Hutchinson did the rest, making the game feel never in doubt. So little in doubt that the Oilers, closing in on two consecutive shutout losses and only down by three, never bothered to pull their goalie. They did try to mix it up a little in the final few faceoffs, and Travis Dermott got into one of the least-meaningful fights you'll ever see with Josh Archibald, but it did nothing to change the final score.
Numbers Game
This season, I'm going to showcase the stellar work of Hockey Stats Cards for post-game data, as Cole Palmer has done a fantastic job presenting a combination of data from Natural Stat Trick and Dom Lusczczysyn's Game Score model. Be sure to check out the site, which does cards for all games automatically and lets you subscribe to email pushes for your favourite teams.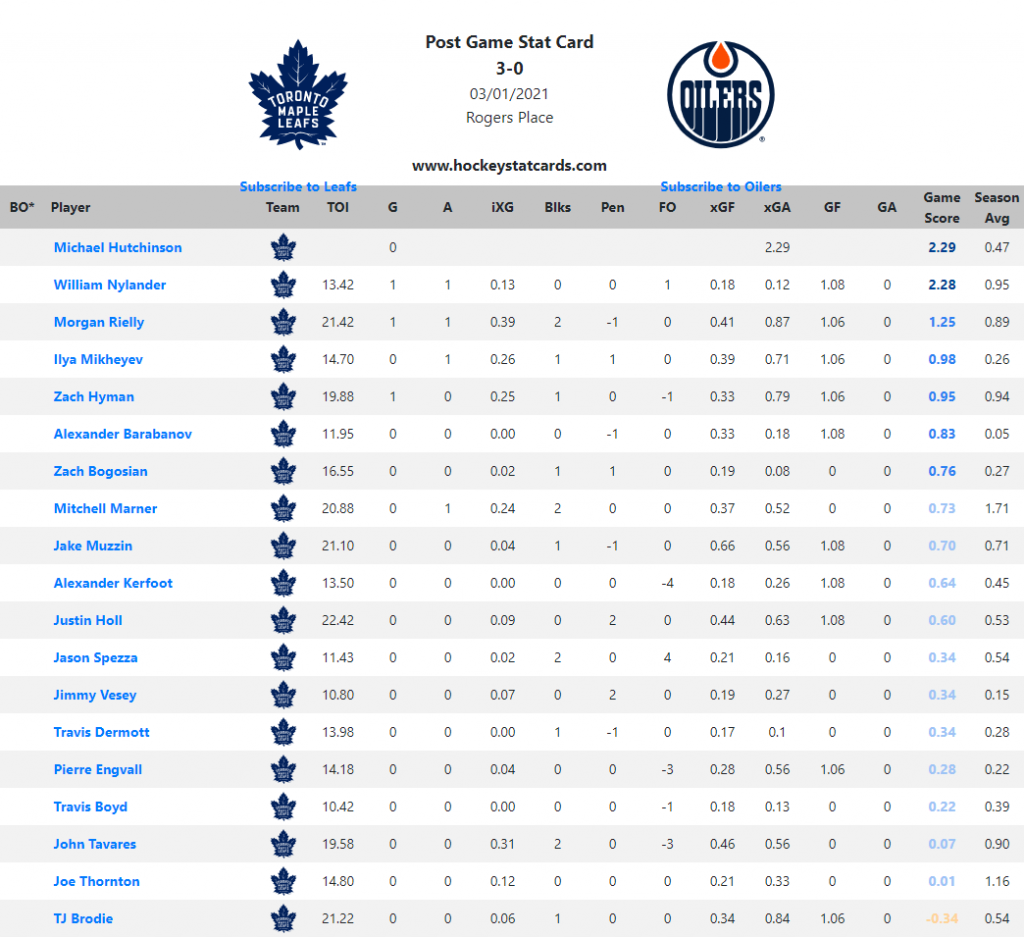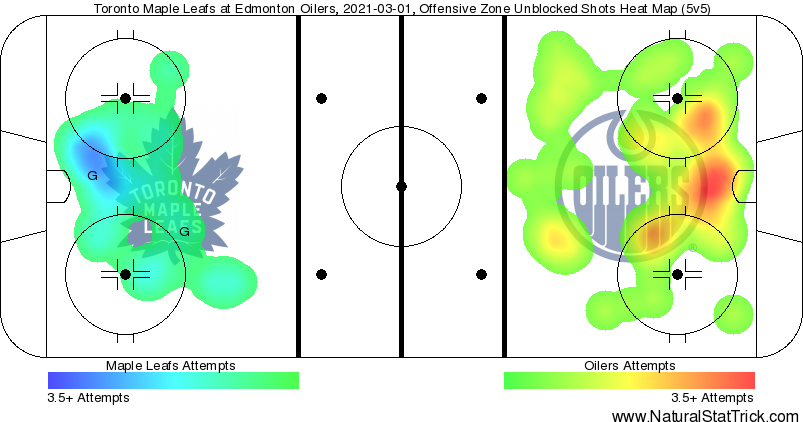 Notes
Man, how great is this Michael Hutchinson story? 3-1-0, a shutout, and a 0.943 save percentage. Will he remain this dominant? Probably not. But think back to this stage of last season, where he was going through the biggest funk of his NHL career, and had the whole city breathing down his back. His struggles essentially pushed him out of the depth chart entirely, and it seemed like he'd forever be remembered for a slump, rather than being a competent backup. Now he's back in the fold and he's playing some of his best hockey in recent memory. You can't help but be happy for him. By the way, it's his birthday on Tuesday.
According to Sportsnet stats, this is the first time that Connor McDavid and Leon Draisaitl have had back-to-back pointless nights together since October 2019. Needless to say, the Leafs did something very right on the back end in these games.
I'm not going to get into the penalties on this one. They were chaotic in all directions and pretty much everyone has a right to be mad about something, on both sides.
William Nylander had sticks with two different names printed on them ready for tonight – a Nylander stick, and a Willy Styles stick. You just know which one he potted his goal with…
Sheldon Keefe gave some updates on injuries after the game, saying that Jack Campbell's injury was a re-straining of his prior leg ailment, and that Matthews' wrist issues are a little worse than previously thought but that he is progressing. The best news there comes on the Campbell front – while no setback is good, the alternative thought was that he may have suffered a concussion when he collided with Tyler Ennis on Saturday, and that would've been much worse.
Some milestones tonight: Jake Muzzin played in his 600th NHL game, and Travis Boyd his 100th.
McDavid wasn't the only 97 left off the scoreboard tonight; Joe Thornton was also pointless. Win some, lose some, I suppose.
Toronto's next game will come on Wednesday night, when they take on the Oilers once more. Can they keep this up? Only one way to find out.. that game will be on Sportsnet.