A few steps forward, and a big one back. That's what the roster sheet felt like for the Toronto Maple Leafs this afternoon, upon hearing that Joe Thornton, Jake Muzzin, and Jack Campbell were all set to return – but Auston Matthews would need another maintenance day for his nagging wrist injury. No big deal, though – the tone was much more positive on the ice, as the Maple Leafs took control of Saturday night's game against the Edmonton Oilers early and never looked back.
Highlights
William Nylander did the team a huge, huge favour a couple of nights ago against Calgary and single-handedly turned around their goal drought. Tonight, he made a point to set the tone early, and did so in the first period just 24 seconds into the team's first powerplay. A make shift star-loadup of Nylander, John Tavares, and Mitch Marner went to work, with the captain retrieving the puck, the streaking Swede giving it to Mitch Marner, and the magician doing a lap before finding Nylander once again for a better look, which he buried past Mike Smith. Only a minute later, Marner got a goal of his own, working again with Tavares and also with Joe Thornton to put himself in a prime spot for his own wrist shot.
Midway through the second period, the fourth line widened the Leafs' gap to three goals. A sprawling TJ Brodie broke up an Edmonton play, and Jimmy Vesey pushed the puck up to Jason Spezza. Spezza gave Smith his signature goal-scoring move – a fake slapshot followed by an absolutely roofed wrister, bringing us all back to 2008 like he often does. The Oilers continued to press from here, but struggled to generate – at points you could even see the frustration on superstars like Connor McDavid and Leon Draisaitl. As the game inched towards its conclusion, with six and a half minutes to go, Zach Hyman capped things off with his fifth goal of the year, showing both quintessential Hyman work through his retrieval and the evolution of his skillset over the years through his pin-point placement of a snapshot.
Numbers Game
This season, I'm going to showcase the stellar work of Hockey Stats Cards for post-game data, as Cole Palmer has done a fantastic job presenting a combination of data from Natural Stat Trick and Dom Lusczczysyn's Game Score model. Be sure to check out the site, which does cards for all games automatically and lets you subscribe to email pushes for your favourite teams.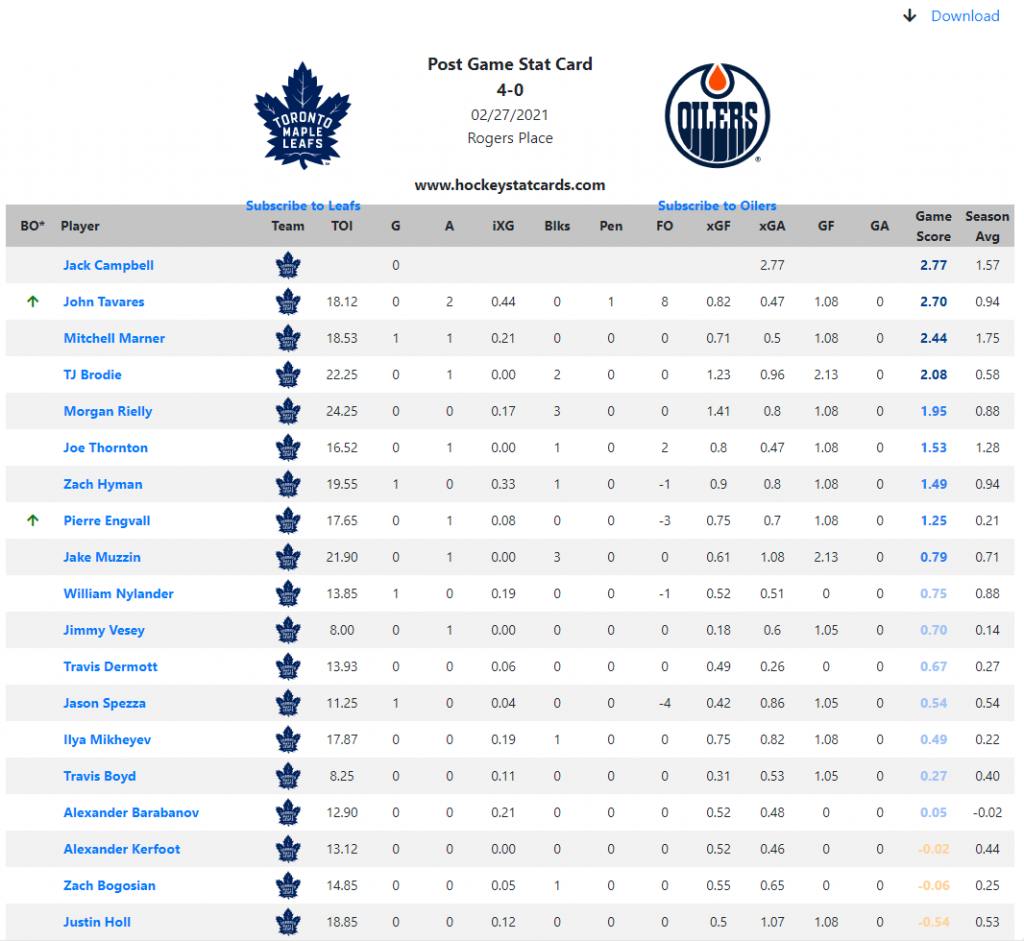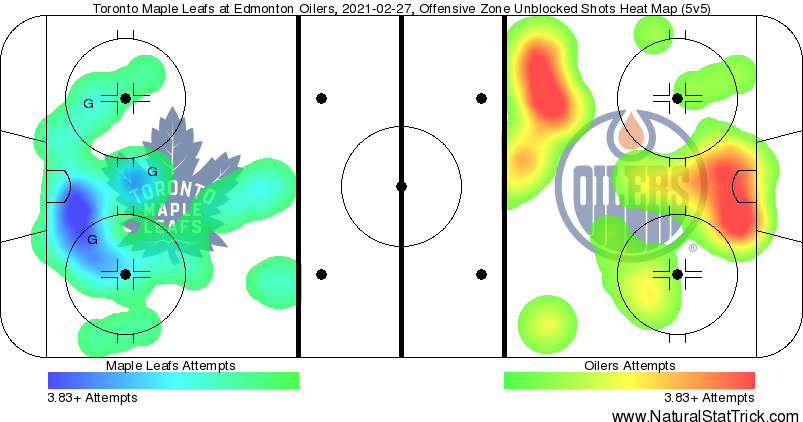 Notes
How great of a story was Jack Campbell tonight? Thirty for thirty for his first shutout of the season. You could tell by the end-of-game celebration that the players loved it. Every time he has a good night I point out how much crow I deserve to eat for not liking that trade, but I'll say it again. Not just for his results, but for what he seems to bring to the team from an emotional standpoint. Yeah yeah, intangibles, but intangibles are cool when they're attached to good tangible results.
There was some concern with Matthews out that Toronto would be cut a little thin up front, but that really didn't seem to be the case tonight. Tavares and Thornton brought the game to their pace when they needed to, with Marner around to fast-forward it as a safety valve, and they dominated control of the puck. The second line of Barabanov-Kerfoot-Nylander did it's work as well, holding their heads above water and eating some time.
Jake Muzzin returned to the lineup tonight, sporting a fishbowl to protect his face after a recent injury. It wasn't a great night for him and Justin Holl, but it's hard to call a night where the pucks stay entirely out of the net a bad one either.
One good thing from Holl, though: He immediately went after Tyler Ennis when the former Leaf crashed into Campbell's head. All things considered, they had to show that they have his back, and Holl did that there.
Back to Joe Thornton: He has eight points in his last five games. He's 41!! Him and Jason Spezza both seem to have found the fountain of youth in recent weeks, more-so than usual, and it's giving off some real EA SPORTS dream team vibes so long as they keep up.
It cannot be said enough that TJ Brodie looks like the man that Morgan Rielly has always needed on his pair. A couple of great breakups tonight to fix some sticky situations, one of them directly leading to a goal.
Toronto's next game will come once again against the Oilers, the second in a three-game mini series. That'll come on Monday at 10 PM and you can catch it on Sportsnet.