It was almost a higher plane of existential dread. After being shut out by David Rittich and the Calgary Flames in a battle of the backups Monday, the Toronto Maple Leafs almost suffered the same fate once again. William Nylander, however, had other plans – snapping Toronto's drought in the closing moments and pushing them to their fifteenth win of the season.
Highlights
Once again, we'll fast forward to where the action is in this game, and.. that's going to take a while. A long while. While the Leafs outshot the Flames in all three periods, including limiting Calgary to just three shots in the third period, they had little to no luck turning that into useful momentum. Even four consecutive powerplays weren't enough to push the tide in their favour, as the man-advantage unit – shuffled, stacked, and everywhere in between – failed to muster up much in the chance department.
With four minutes to go in the third period came potential heartbreak. Pierre Engvall broke away from Andrew Mangiapane to try to help Travis Dermott with a board battle with Elias Lindholm, leaving the forward open. Lindholm won the battle, found Matthew Tkachuk, who found Mangiapane, and while William Nylander had come in towards him and attempted a stick lift, he wasn't close enough to create any meaningful prevention, as 88 in white buried the game's first goal past Michael Hutchinson.
As it turns out, 88 in blue wasn't going to let that be the end of it.  With a minute and a half to go, after Lindholm had hit the post on an empty net opportunity, the Big Four, Zach Hyman, and Morgan Rielly went to the counter attack. A shot towards the goal turned into chaos, and after several hacks by a myriad of players were unsuccessful, a sprawling Nylander tucked home the equalizer, ending 118 minutes of shutout hockey by David Rittich. This was enough to force overtime, and a little more than a minute into the 3-on-3 spectacle, Nylander threw a pass up to Matthews, who set up a drop for Nylander, who burned by Sean Monahan and went roof on Rittich to end the game in Toronto's favour.
Numbers Game
This season, I'm going to showcase the stellar work of Hockey Stats Cards for post-game data, as Cole Palmer has done a fantastic job presenting a combination of data from Natural Stat Trick and Dom Lusczczysyn's Game Score model. Be sure to check out the site, which does cards for all games automatically and lets you subscribe to email pushes for your favourite teams.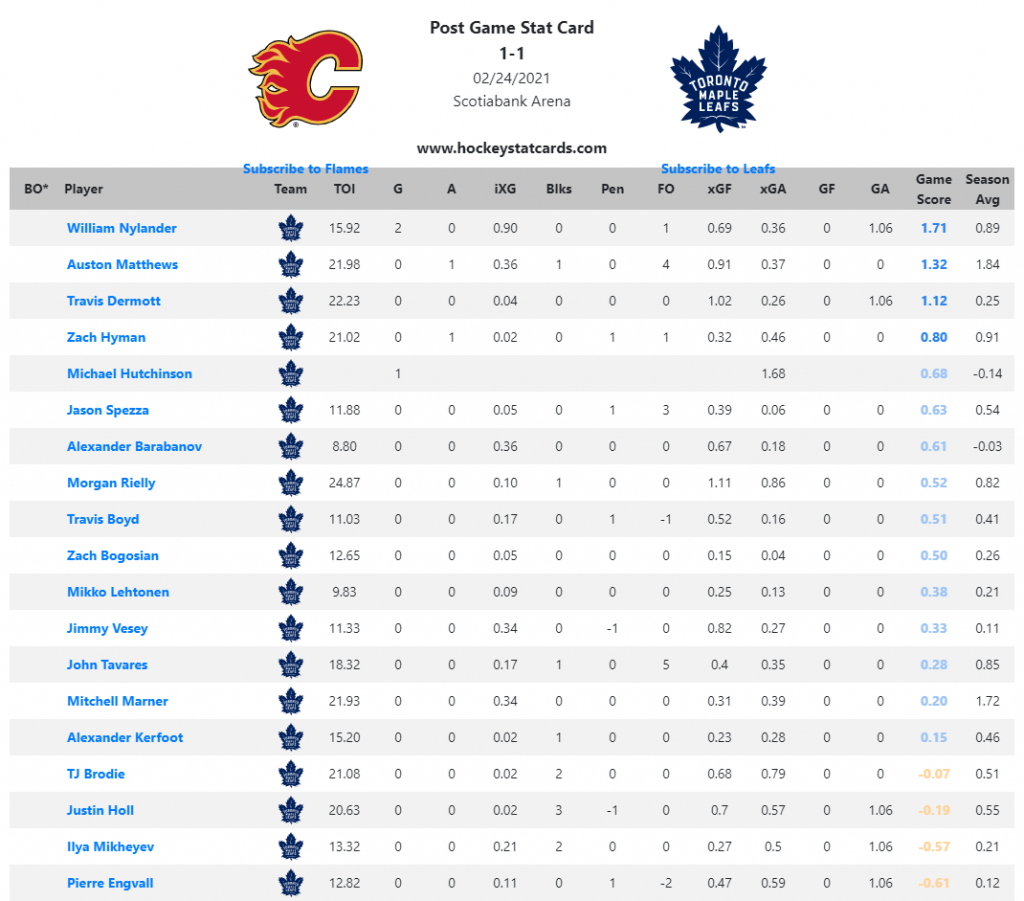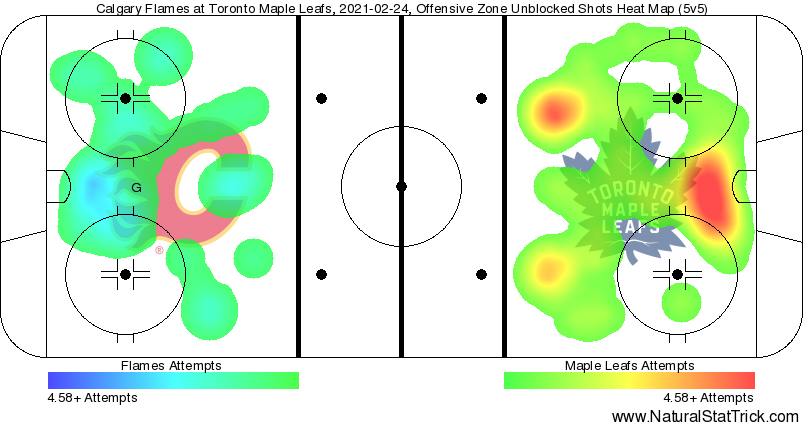 Notes
Assemble that, Steve Simmons.
Seriously, great job by William Nylander tonight. He was already having a decent day at the office before the final minutes, and the Mangiapane goal served to ruin that slightly, but what an incredible response to do what he did from there. Two net-front goals, by the way.
This one was in Toronto's favour all the way through. They held firm control of the shot attempt share (51-35), shot on goal share (30-18 at 5v5, 38-26 overall), the dangerous chance share (12-6), and the expected goal scare (2.1 to 1.3). It was a game Toronto thoroughly deserved, particularly in the back 40 minutes, and that's really the story of this back-to-back.
Dave Rittich is the MVP of the mini-series, without question, but Michael Hutchinson deserves a pat on the back for tonight's game. No ten-bells were necessary, but he was consistent, calm, and stopped 25 of 26. The one conceded wasn't one he can really be blamed for either.
Auston Matthews took an absolute beating tonight and at times, it showed. Rasmus Andersson was particularly good at getting under his, well, everything, shoving him from behind on a second period  rush and wrestling with him in the third, the latter of which led to coincidental minors. Matthews was seen favouring his wrist a few times and Sheldon Keefe said after the game that he's been battling through wrist issues throughout the season. He's got 18 goals in 20 games, by the way.
This was Alexander Barabanov's best game. Without question. He looked confident, he had a jump in his step, and the shot metrics actually went in his favour for once (?!). He had some nice dekes and a very strong scoring chance in the third period. I still don't know what to make of him, but he looked like an NHLer today.
The Leafs get a short break! Their next game will come on Saturday against the Oilers. See you then – I'll be using the days to catch up on Marlies tracking to get you all your first wave of AHL content from this end of things.