It's the least wonderful time of the year. Days ago, we learned that former Leafs bench boss Mike Babcock was back in the coaching mix – albeit in a location that most of us didn't expect, as he took the reigns for the University of Saskatchewan's men's team.
Good for him, I thought. It's not the "top of the mountain" like the last gig was, but it's a way to give back to his home, re-sharpen his tool set, and maybe find a new beginning. Babcock's tenure in Toronto ended tumultuously at about this stage into the 2019/20 season, though the warning signs were there after their prior playoff elimination and, in many people's eyes including my own, even before that. But it was something behind the team now, with Sheldon Keefe having a much better grasp of things since the switch, posting a 41-19-7 record since his debut (27-15-5 in 2019/20, 14-4-2 in 2020/21). The players seem happier, management seems happier, the process seems both more robust and yet more flexible, and there's less to stress. Like many, I was fine with leaving Babcock as a distant memory, save for the odd poke when Jason Spezza or Justin Holl did something nice.
But here we are. Over the past few weeks, the redemption tour has begun for Babs. Pierre Lebrun of The Athletic published an interview with Babcock on January 20th, Luke Fox of Sportsnet posted an article summarizing an interview on the Rod Peterson Show yesterday, and Sportsnet also teased an interview that he had done with Christine Simpson that will be released in full tonight.
The over-arching theme: Babcock would like to sell you on the idea that he's learned the way, while confirming with his words that he's learned very little.
In the Lebrun interview, he addresses the Mitch Marner incident – one where he was alleged to have bullied the young forward by ranking the team's players by work ethic, and then revealing the order to his teammates. Babcock took responsibility for making a mistake, but insists that what described isn't what happened. The issue, however, is that what he describes as what happened is essentially the same thing – he had an sit down with Marner about work ethic, he had him rank the scales, and when talking to Tyler Bozak about work ethic, he told him Marner's list. He then didn't do anything to rectify the situation afterwards. His refute here is that he didn't literally put the list up on a board, and that him and Marner got along fine. Picking apart the semantics here misses the forest for the trees, when he could've just left it at remorse.
He talked about Johan Franzen's interview with Expressen, where he said that Babcock was a "terrible person" and a "bully" who verbally abused him. Babcock's response was to essentially say that he was hurt by being called a mental abuser, and that it's shocking to have something like that said about him due to his roles in mental health awareness campaigns. Essentially, passing the buck back to Franzen instead of just eating the lumps.
In the Pedersen interview, things weren't much better. You knew you were in for a good one when these two lines stacked up next to each other in the Fox piece: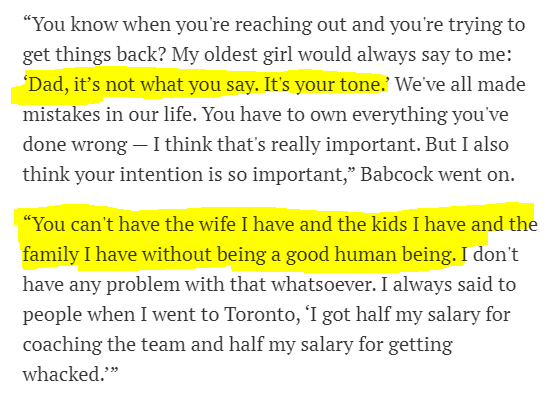 Once again, he goes to the "if I'm so bad, why do I have and do good things?" well. He implied that he couldn't be so bad if the people who gave him employment opportunities were people familiar with him prior. Again, a passing of the buck, and one that suggests that there's no chance that said employers didn't bite the bullet in hopes that the success would balance out the frustrations. For example, he mentioned his connection to Steve Yzerman while he was coaching Team Canada, which is a role that is taken in short bursts and not as reliant on a coach having long-term relationships.
He mentions Brendan Shanahan hiring him in Toronto, leaving out the part where he explicitly left Shanahan (along with Kyle Dubas, and several of the team's stars) out of his post-firing statement, and the part where Shanahan said of the Marner incident when asked about it in December 2019: "It wasn't something that was appropriate or acceptable to us." I've also heard from multiple people with connections to the team over the years that even during the hiring process, Shanahan wasn't overly enthusiastic about pursuing Babcock as the Head Coach in 2015, but rather went with it because the collective group felt it was the best decision at the time.
"I knew when Lou left, I was getting fired."

Mike Babcock joins @SNChrisSimpson on The Big Picture to discuss his time with the Maple Leafs and how it feels to see them finding success.

Watch the full interview tomorrow on Wednesday Night Hockey.
7pm ET / 4pm PT on Sportsnet. pic.twitter.com/MygXBiqG8S

— Sportsnet (@Sportsnet) February 24, 2021
Last out of the media run, we have the sample of the Christine Simpson interview, and this one is a real head scratcher. Simpson asked Babcock if he was surprised by his firing in November 2019, and his response was to effectively say that he knew that when Lou Lamoriello left the organization, he knew he was getting fired.
The issue with this, of course, is that Lamoriello left the Leafs in May 2018. Babcock got to coach 112 more games with the Leafs after Lamoriello's departure, or roughly 30% of this tenure with Toronto. He brings up that GMs usually want to bring in their own coach, while leaving out that he was hired before Lamoriello was. As of last night, 16 of 31 current head coaches in the NHL had fewer games under their belt with their team than Babcock had from the GM switchover to his firing. That's over half the league, and the number has actually gone up to 17 since that interview thanks to Claude Julien's firing in Montreal.
If Babcock knew his time was up when Lamoriello was leaving, it's not because the rest of the group didn't give him a chance. They, in fact, gave him more of a chance than he deserved, given that the change in management came after the Leafs lost a seven-game series to the Boston Bruins that they could have easily won with more tactical adjustment, one where Babcock was the single most obvious spot of error in the round. The team had glaringly chosen poor line matchups and a stale and repetitive defensive breakout scheme (the left side D always moved the puck, usually via stretch pass, while the right side D always dumped), which Boston's forecheck exposed shift after shift for weeks. Had the team not posted their best regular season record in over a decade, and had Babcock not been held in such high regard from a perspective of ability, it would have been much easier for them to make the decision then. In hindsight, they absolutely should've treated it as he sold it.
But they didn't. They gave him the chance. Because he was Mike Babcock, and it was only one embarrassing loss, and the results were otherwise good. But the bridges were burning on the inside, and that's what sunk Babcock in the end.
My third favorite Mike Babcock story:

At the 2019 trade deadline we were discussing bringing in RD Nick Jensen from DET to play on an active, puck-moving 3rd pair with Dermott.

MB essentially said fine, but if we get him then he'll put Jensen in and sit Dermott.

🤷🏻‍♂️

— Jack Han (@JhanHky) February 24, 2021
Stories like the above from Jack were fairly common behind the scenes over the years, where Babcock had thrown wrenches into personnel decisions that he did not like, or at least attempted to. Many of these aren't my stories to tell, at least not for the time being, but the Leafs have missed out on several good players (as in, better than Jensen – though I've never been high on him) because of Babcock's reluctance and/or contrary insistence. But there are some more visible ones.
The Athletic had a piece today about Justin Holl that included a bit about how Babcock held him back, citing excessive loyalty to Director of Player Evaluation Jim Paliafito's players over ones found by other organizational members. I don't think that gives enough credit to other forms of spite and stubbornness involved in the process of not trying him out for several years and scratching him 71 times in 2018/19, but it is among the reasons.
Many know about Babcock's insistence that the Leafs should have picked Noah Hanifin over Mitch Marner in 2015. We've seen all sorts of younger support players lose minutes to veterans – and often, even the star players sitting on the bench in favour of veterans like Leo Komarov, Patrick Marleau, and Ron Hainsey in key moments. He threw shade towards Jake Muzzin after the Leafs acquired him in 2018/19 for not being right-handed, while Muzzin has since blossomed into the Leafs' best all-around defenceman since Tomas Kaberle, and their best physical defenceman since, gosh, I don't even know. He famously scratched Jason Spezza for his first season opener in his hometown, after spending the preseason pretending he hadn't seen enough from him, because he wasn't the type player he wanted Dubas to get for the fourth line. He even did this sort of stuff to Lamoriello. Matt Martin's gradual slashing of minutes and role in his last season here, to my understanding, was a way to force the issue of taking him out of the lineup, a decision that actually makes sense on paper but was very awkward in process.
And yes, there is no shortage of players and staff who made their frustrations clear, often privately, with him. I'm not a big-time insider, but I've been around here for a little bit now, and the first and trustworthy second-hand stories I've heard over the years have been plentiful. Again, they're not necessarily mine to tell, and maybe that will change with time – but they exist. For a lot of people, November 20th, 2019 was an early Christmas, a day of private reaction unlike any I've ever seen while writing about this organization. Even those who were no longer with the team were vicariously happy, feeling a dash of karma. I had known before then that he was the wrong fit on the ice and off, and that his welcome had been overstayed, but seeing the emotion from people that day really brought it home.
https://www.youtube.com/watch?v=QexVWilnQhA
What I'm getting to here is this – Babcock, for all his talents that got him the Leafs job and others before them, had at some point decided that it was his show to run, and was willing to burn bridges, run interference, frustrate and emotionally tamper with players, and even suffocate his own work through stubbornness. If he knew he was done as the team was making a philosophical shift with the front office, it's because he knew his decisions were going to catch up to him. But, to take a quote from the week of his firing, rather than change his ways and show more co-operation and understanding, he "bet on Mike Babcock" and doubled down. Eventually, it became just too much to deal with, he was let go, most of an organization rejoiced, and the team has been better for it since.
It was a shame how it ended – an era that began with much promise and ended with on and off-ice heartbreak. I had hoped that, over time, Babcock would learn from having his mistakes catch up to him, and come back better.
Instead, it seems like he's opted for damage control on the individual mistakes, but to keep many of the same habits, pass the buck on who is at fault, and justify himself by saying "look at all these pro's" when someone points out the con's. Life allows a lot of time for reflection and growth, and I hope he takes the privileged opportunity he has to go and find it, but in the mean time there is little to no room to feel sorry for the man. When you confirm wrong-doings but attempt to make excuses for them rather than own them fully, there is no growth, and little to feel empathetic towards. For now, his journey still has road to cover.