Well, you can't win 'em all – especially when you don't have 'em all. As the day progressed, the Toronto Maple Leafs learned more and more about lineup, and the findings were grim. Jake Muzzin was ruled out with a broken bone in his face, and both Zach Hyman and Joe Thornton were ruled out with day-to-day issues. Just before puck drop, Frederik Andersen was added to the list with a lower-body injury of his own.
Two top six forwards, a top-two defenceman, and your starting goalie, all gone in a flash. Tough as it is, tougher when you're about to play your fifth game in eight nights. To their credit, the Toronto Maple Leafs put up a solid effort, but couldn't find the back of the net in a 3-0 defeat to the Calgary Flames on Monday night.
Highlights
This was a frustrating game for Toronto, who never necessarily felt dominated, but rather felt just a little off with their results on both sides of the puck – just one or two little things not woven into their process to put the puck in the right direction. The first such case of this came three minutes in, when Sam Bennett put the Flames up in hilariously unfortunate fashion. A point shot from Rasmus Andersson crossed John Tavares' path, and rather than his hand-eye leading to an interception, he changed the angle of the shot ever so slightly, trickling it through Michael Hutchinson's five hole and onto a platter for Bennett to tap in.
Calgary extended their lead to two midway through the second period, once again benefitting from a deflection. In this case, it was their own player doing the tipping on a powerplay – Matthew Tkachuk beautifully redirected a Mark Giordano point shot past Hutchinson as his former junior teammate Mitch Marner watched from the penalty box. The Flames' powerplay struck again at the start of the third period, though this time you could point less to fortune and more to poor decision making on Toronto's part.  As all four Toronto penalty killers scrambled to prevent Tkachuk from burying a rebound off Sean Monahan's original shot, they turned their backs to Monahan as he inched closer to the play and buried Calgary's third goal of the night.
Toronto had several opportunities from there to change the tide, including two more powerplays in the final twelve minutes of the game, but special teams continued to fail them into the deep end of this game. Despite out-attempting, out chancing, outshooting, and having more powerplay chances than the Flames, none of this was enough to even lead to a single goal, and David Rittich, also in as a surprise starting goalie, got to savour the shutout feeling.
Numbers Game
This season, I'm going to showcase the stellar work of Hockey Stats Cards for post-game data, as Cole Palmer has done a fantastic job presenting a combination of data from Natural Stat Trick and Dom Lusczczysyn's Game Score model. Be sure to check out the site, which does cards for all games automatically and lets you subscribe to email pushes for your favourite teams.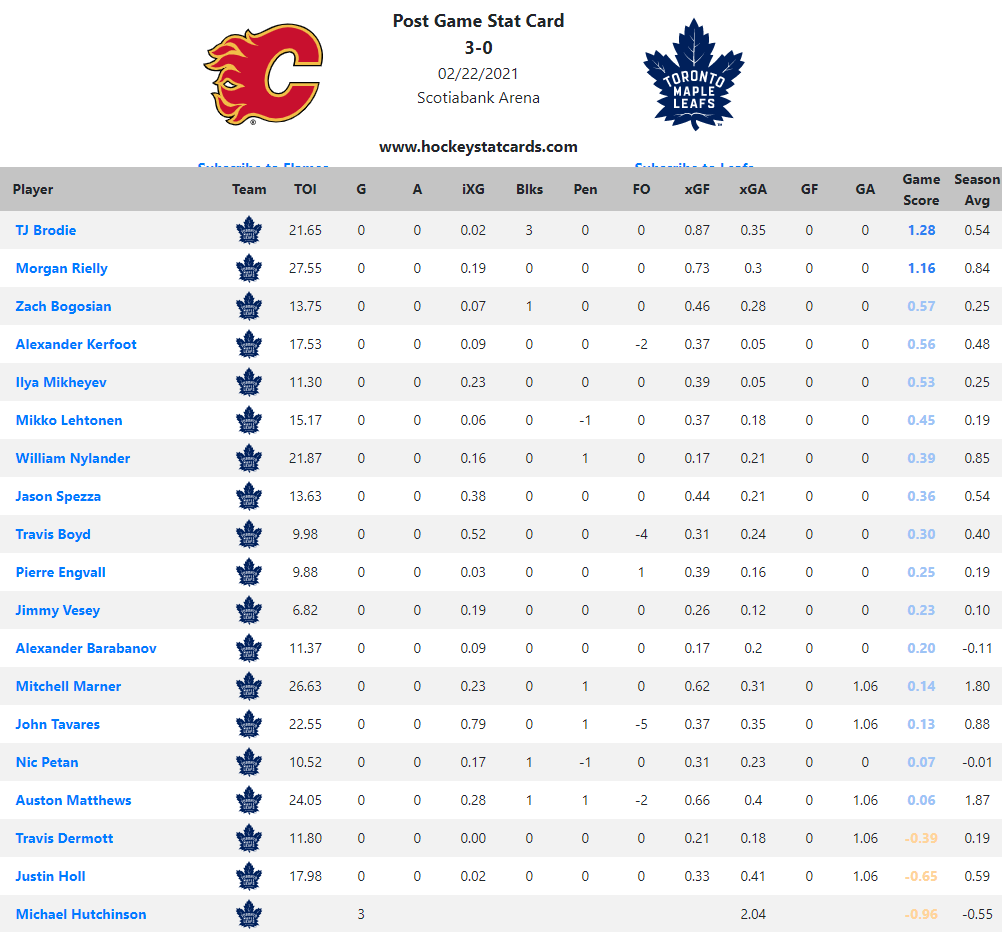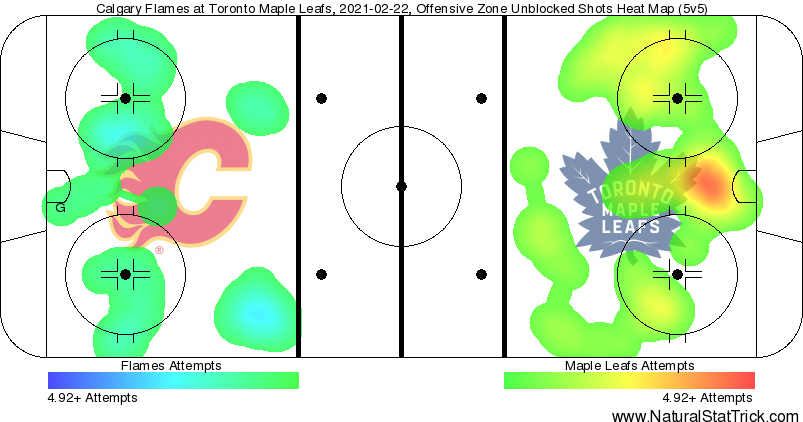 Notes
As mentioned in the title, Auston Matthews' point streak ended at 16 games. In that time, he picked up 18 goals, 10 assists, and 28 points – one of the hottest streaks in modern Leafs history. When asked about it ending, two short of the Leafs' all-time record, his answer was pretty simple: "I couldn't care less". Clearly team success was the bigger priority tonight and they didn't get that. To his credit, the result wasn't for a lack of effort: He took three shots on goal and played a whopping 24:12 tonight, trailing only Mitch Marner in ice time among forwards.
Speaking of crazy streaks hitting the wall: 0 for 7 on the powerplay tonight. You knew a game like this was bound to happen, but that didn't make it any less agonizing to watch.
How did those two rack up so much time? The lines were stacked to start the game – they played with John Tavares on their wing for much of the first half of the game, though Keefe switched away from that as the contest progressed in hopes of finding new energy.
Making injury issues worse, Jimmy Vesey was sent to the quiet room after his first shift of the game upon being elbowed by an accidental Sam Bennett follow-through. As a result, he played the least of anyone on the team, though he looked respectable upon returning.
Alexander Barabanov had his best game as a Leaf tonight, though that's still not saying a ton. He got to see some top six time with William Nylander and Alex Kerfoot in the opening stages of the game and that seemed to light a spark under him – you actually noticed him taking shots and participating in the play. It wasn't enough to say he was great, but he was present and decent, which is better than his average performance this year.
One has to feel a little bad for Michael Hutchinson. He wasn't expecting to draw in tonight, and the team was clearly at a wall. All the same, he once again put up a respectable overall night, stopping 30 of 33. He'd probably ask for the first tally back, but besides that, it was a decent night at the office. Sheldon Keefe said after the game that Andersen remains day-to-day and that he's not certain on what's going to happen next. Jack Campbell's return, thankfully, seems to be coming sooner than later.
Toronto's next game will come once again against the Flames, in just two days. Wednesday night at 7PM is the date and time you seek – they'll be playing on Sportsnet.