Those waiting for the Auston Matthews hot streak to end all hot streaks to come to its conclusion will have to wait a little while longer. Tonight was another case of Maple Leafs vs. Canadiens on Hockey Night in Canada, Canada's favourite Saturday Night tradition, and Toronto's superstar was not in any way interested in having this one go the same way as their rendition of this the week before. Rather than let a small lead slip away, the Leafs once again filled the net en route to a 5-2 win.
Highlights
After a pretty dull opening 20 minutes, this game got real chaotic real fast in the second period. Thanks to two late-first penalties taken by the Canadiens, Toronto got to start the period with a 5-on-3 powerplay, and made the most out of the opportunity. Auston Matthews let off a one-timer to pick up his 17th of the season about a minute into the period, and a great pass from Joe Thornton set up Travis Boyd just seventeen seconds later to finish off the rest of the man advantage. That two goal lead was gained quickly, but lost nearly as fast – Jesperi Kotkaniemi found himself all alone on a rush two minutes later and made no mistake with his shot, and Paul Byron was able to use his afterburners to equalize only 33 seconds later.
Even still, the goal rush wasn't over – Mitch Marner was quick to bury his nith of the season just three and a half minutes after the prior flurry, giving the second period a whopping five goals in 6:28. Things did settle down a bit from here, but another Leafs powerplay led to another Matthews goal with five minutes remaining in the frame, and the Habs almost pulled the game within one following a scramble in front of the Toronto net. The goal was initially reviewed for sticks pushing Frederik Andersen's pad into the net – and found to be a good goal – before being challenged for goaltender inteference, meaning the same officials watched the same clip – and now found it was not a good goal. It was peak NHL rulebook nonsense, but in the end, the right call was made.
Similar to last Saturday, Montreal continued to put on the pressure in hopes of a comeback in the third, throwing the body where they could, crashing the net when possible, and skirmishing when the moment warranted it. But none of it seemed to have the same pull, which might be a credit to the Leafs for rolling with the pressure better, or a knock on Montreal's lack of extra gear. Whatever the case, the Leafs took advantage of it – Alex Kerfoot added a fifth goal in the final frame, and while Tyler Toffoli was able to bury a slot chance as a result of a deflection and an in-pain Jake Muzzin, two goals was as far as the Habs were able to push it.
Numbers Game
This season, I'm going to showcase the stellar work of Hockey Stats Cards for post-game data, as Cole Palmer has done a fantastic job presenting a combination of data from Natural Stat Trick and Dom Lusczczysyn's Game Score model. Be sure to check out the site, which does cards for all games automatically and lets you subscribe to email pushes for your favourite teams.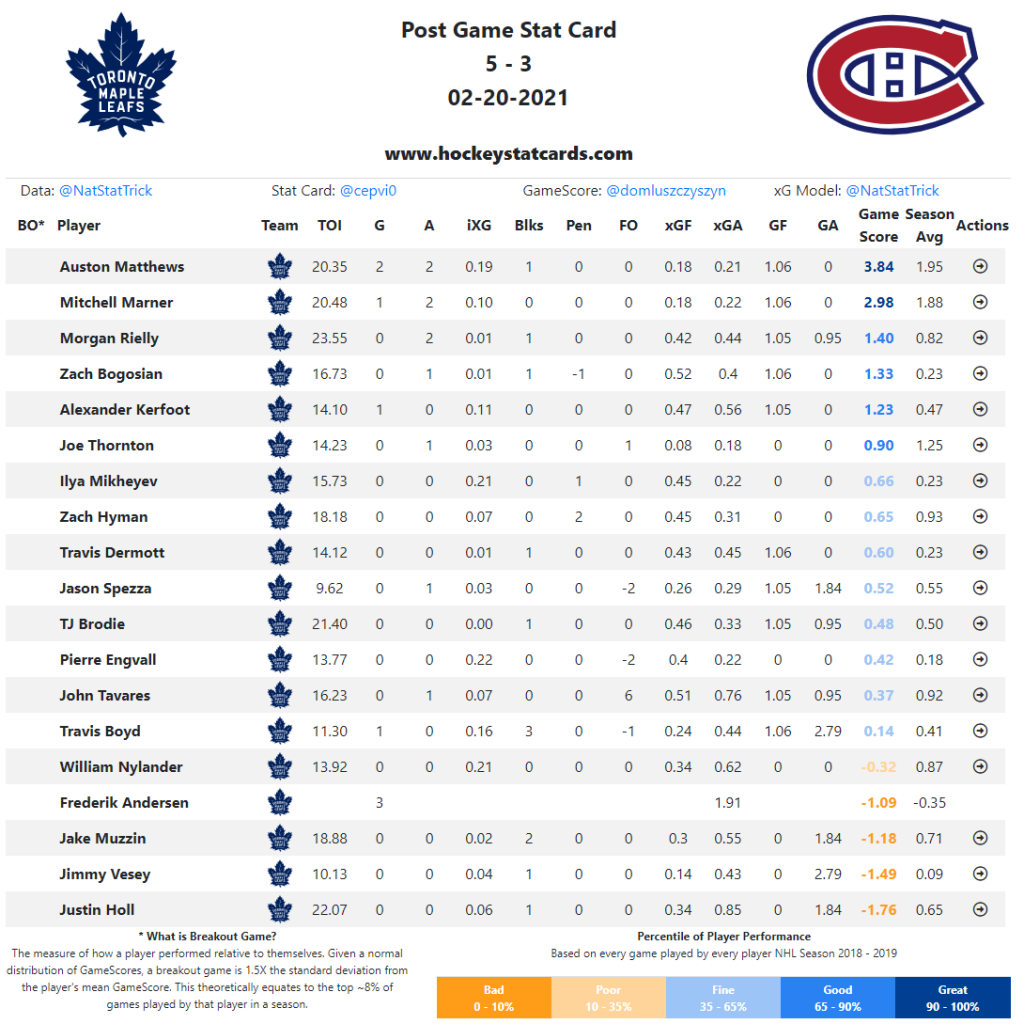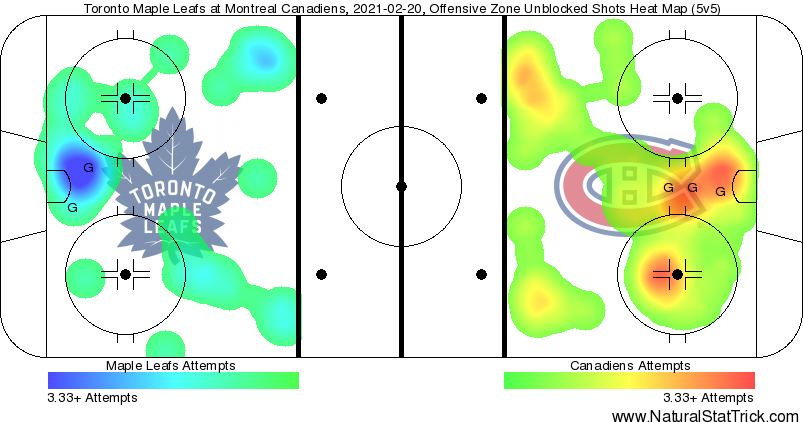 Notes
As mentioned in the opening, the Auston Matthews show is on another level right now. Another two goals and two assists puts him at a goal per game place at the eighteen game mark, which hasn't happened since Simon Gagne and Daniel Alfredsson kicked off the 2005/06 season at a similar pace. It also extends his point streak to 16 games.
Mitch Marner's production also continues to dazzle – with an extra game played, he also has an extra point, putting him at 30 in 19 to Matthews' 29 in 18. Toronto's other point-per-game forward? That would be Joe Thornton, who is now at 9 in 9 with tonight's assist.
As the game score shows above, it wasn't a great night for the Muzzin-Holl pair. Generally their most consistent this year, they were outshot, outscored, and outchanced – though Jake Muzzin did make Josh Anderson look silly in the third period.
Frederik Andersen was very good tonight. All three goals conceded were high-quality chances, and he was able to push the other 30 aside.
Zach Bogosian had an awesome rush in the third period that made him almost look like one of the puck movers. Unfortunately, he was also slashed, hooked, and hauled for almost every step of it, as the game was pretty much in the "nothing is illegal" stage at this point. Amazingly, it still wasn't worse than Joel Armia's uncalled elbow on Travis Dermott.
Toronto's next game will come on Monday, against the Calgary Flames. You can catch it on TSN.