If Wednesday night was the redemption night, tonight was the confirmation night for the Toronto Maple Leafs. After slugging out a win the hard way to prove their Monday night defeat wasn't going to be a pattern, the team went back to goal happy on Thursday and didn't just re-establish a 5-1 lead, but padded it with an additional pair to secure a 7-3 final.
Highlights
I'm sure the first statement here will be pleasantly familiar at this point – Auston Matthews put opened the scoring in the Leafs' favour midway through the first period, with his 15th goal of the season. Yet another lightning-quick snapper went by, and seemingly through, Marcus Hogberg and gave Toronto the early lead, while also ending the night for Ottawa's typical backup goalie.
Matt Murray came in to replace him, and the Leafs kept rolling, reminiscent of the start of Monday's game. Joe Thornton got a goal that actually counted to put them up by two, and while a great snipe by Tim Stutzle seemed to utterly paralyze Michael Hutchinson a minute later, Matthews was quick to push the tide back in Toronto's favour with his second of the game, via a nifty no-look pass by Mitch Marner behind the net.
The goals kept coming in the second, as Ilya Mikheyev potted his second of the year, and Marner dazzled with a creative move and a pinpoint shot to put the Leafs up by a score of – wait for it – 5-1. Nervous laughter ensued, and got a lot less laughy when Connor Brown brought the Senators back within three a few minutes later. However, the slump busters put this game beyond doubt, with William Nylander making it 6-2 and, following another Ottawa goal, John Tavares putting things away once and for all with three minutes to go with a bullet from distance.
Numbers Game
This season, I'm going to showcase the stellar work of Hockey Stats Cards for post-game data, as Cole Palmer has done a fantastic job presenting a combination of data from Natural Stat Trick and Dom Lusczczysyn's Game Score model. Be sure to check out the site, which does cards for all games automatically and lets you subscribe to email pushes for your favourite teams.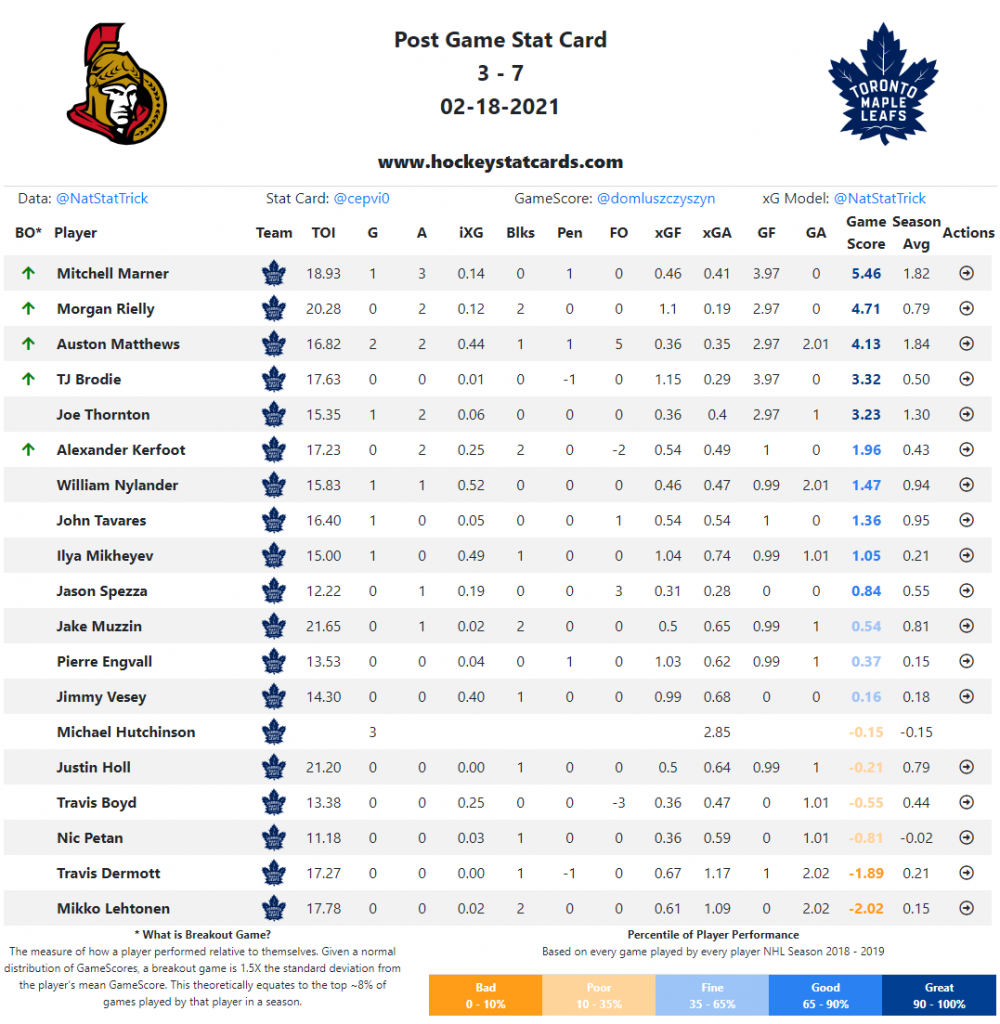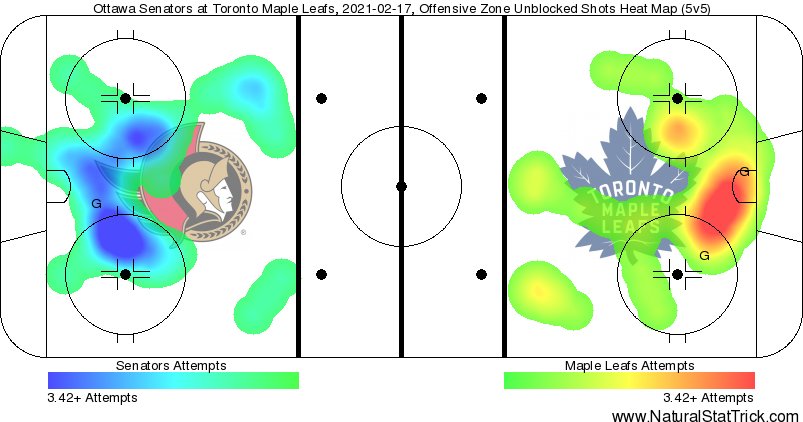 Notes
Auston Matthews is just getting silly at this point. He's now up to 16 goals in 17 games, and his point streak has extended to 15 games; three short of the all-time Leafs record. He picked up four points in this one, pushing him closer and closer to the MVP conversation at the early onsets of this year.
Joe Thornton was tonight's somewhat obscure record breaker, becoming the oldest player in Leafs history to have a three-point game, surpassing Carl Brewer. His contributions since coming back from injury have been nothing short of extremely impressive.
Michael Hutchinson looked absolutely dreadful tonight if you go by the tape of the goals he allowed, and totally fine if you look at the bigger picture. It was nice to see him pick up a 34 save in 37 shot performance to kick this season off after how things went for him here last year, and really, goals 1 (an amazing shot) and 3 (a fortune deflection) aren't really his to blame. You just kind of wish he looked less frozen.
Hopefully Nylander, Tavares, and even Mikheyev's goals get them back to a groove that they haven't had in recent weeks. The play has been there in a lot of these games, especially off the puck, but matching it with production matters and those should all act as sparkplug moments.
Zach Bogosian took the night out, leaving Mikko Lehtonen to take his place. The result could've been a lot better, though I'll give him and Travis Dermott the benefit of the doubt that this was their first game paired together.
Toronto's next game will come on Saturday night when they take on the Montreal Canadiens. The Leafs will be looking for that game to end a little bit better than their last Hockey Night in Canada appearance against the Bleu, Blanc, et Rouge. See you then!