After Monday's catastrophic fall from 5-1 to an overtime loss against the Ottawa Senators, the pressure was on for the Toronto Maple Leafs to put up a better effort. Or, more importantly – to come out with two points. In a weird way, one could argue that tonight was the worse overall night at the office, with less offensive pop and relatively equivalent play in their own end. But this time, it was good enough. Good enough to keep control, and good enough to get the two points.
Highlights
The Leafs were pretty clearly outplayed in the first half of this game, including a 21-6 shot attempt differential in favour of Ottawa in the first period. So, it would probably surprise you to find out that they picked up the game's first goal – and surprise you even more so that they did so three times until one counted.
Lastly, what might surprise you the most is the fact that both disallowed goals came from everyone's favourite playmaking papa in Joe Thornton. The first attempt fell short late in the first period, as his attempt to jam home an in-tight rebound involved pushing Matt Murray's pad into the net, while his second came early in the second via a high-stick deflection. Thornton said after the game that he felt more upset about the first than the second, which is probably fair – the first goal is technically against the rules, and you can't dismiss a correct call, but it's not one we haven't seen allowed in the past.
Whatever the case, Auston Matthews set the goal record straight four minutes into the second period. Many were quick to point out that the situation looked similar to last game's overtime sequence; a defenceman with the puck at the point, Matthews with his stick in the air waiting for the one timer on the right-hand side. Morgan Rielly shot on Monday, but Justin Holl found Matthews for a hammered home one-timer, which gave him his 14th goal in just 16 games. Toronto almost got out of the period with the lead, slowly gaining momentum along the way, but with a minute remaining, Brady Tkachuk found himself open in the slot to equalize.
Toronto slowed down the pace of the game in the third period, hoping not to have the goals start bleeding like the previous performance. Even with two powerplays conceded, the Leafs held Ottawa to just six shots in the frame, taking firm control of the play. With ten minutes remaining, an unlikely hero came in Alex Kerfoot, who cleaned up a Jake Muzzin point shot to create what ended up being the game winner.
Numbers Game
This season, I'm going to showcase the stellar work of Hockey Stats Cards for post-game data, as Cole Palmer has done a fantastic job presenting a combination of data from Natural Stat Trick and Dom Lusczczysyn's Game Score model. Be sure to check out the site, which does cards for all games automatically and lets you subscribe to email pushes for your favourite teams.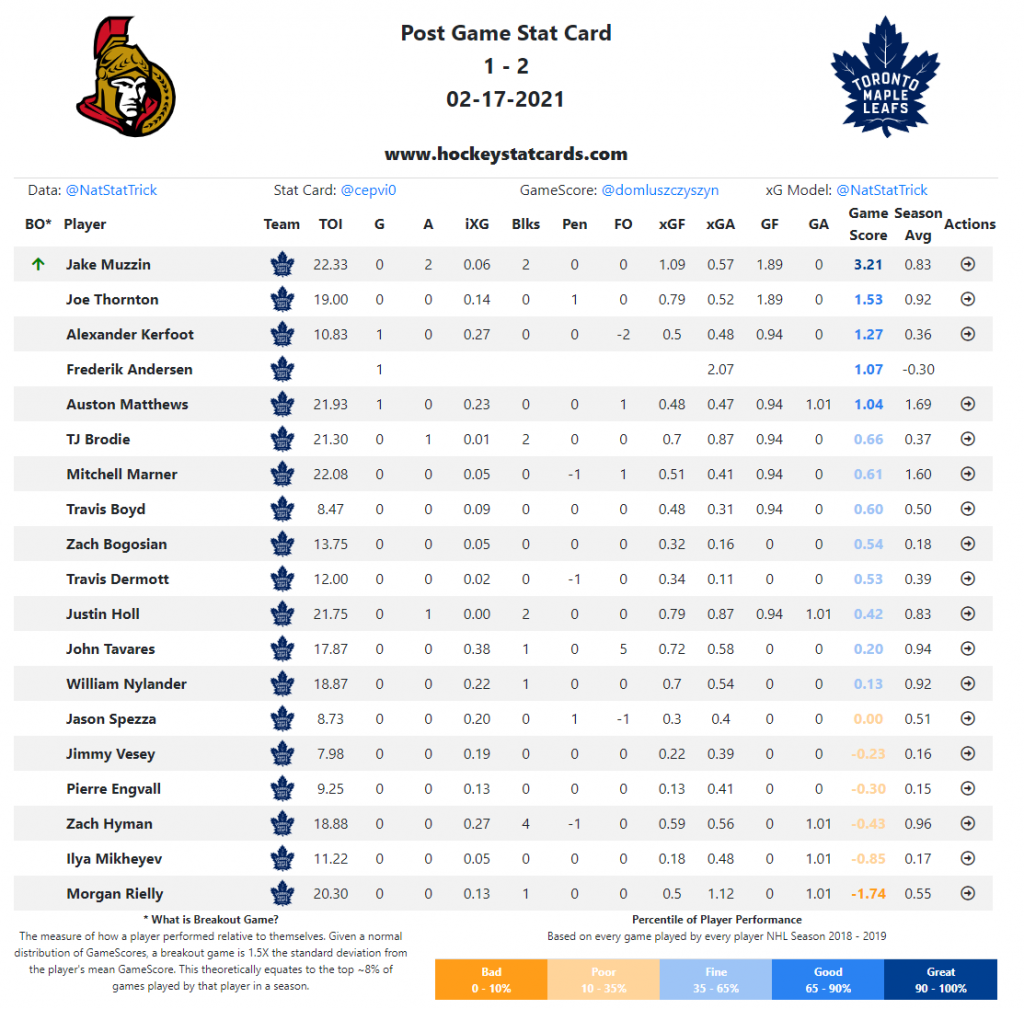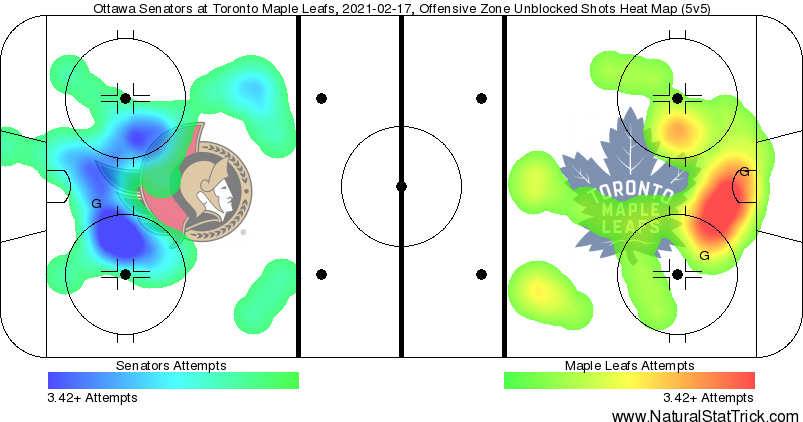 Notes
Joe Thornton was a monster tonight. Nineteen minutes of ice time, good control of the zones, and was just barely removed from two goals. I think we forget that he's not just a token veteran sometimes – he's still, to some degree, Joe freaking Thornton, a player not long removed from superstardom that will waltz into the Hall of Fame.
Auston Matthews showed more excitement in one of his own goals than we've seen from him all season. I think part of that is the do-over from yesterday, and another part the redemption for Jumbo. Either way, the streak is hot – he's now up to 14 consecutive games with a point, four away from the Leafs record and… still a while away from the NHL record.
I thought John Tavares was better than given credit for by people tonight. People want him and William Nylander to have a statement game in the midst of their scoring slumps, but their line controlled the ice, Tavares was dominant at the dot, he took a ton of shots, and created good chances. Willy wasn't special, but fine. I'll take a game like that tonight – most would be happy with that performance if they had been productive in the games prior.
Frederik Andersen had the response game that he needed to have after Monday. It wasn't an effort entirely on him, but he didn't do the Leafs any favours in that game. Tonight, he didn't have to dominate, but he did give them most of what they needed to cross the finish line.
Travis Boyd played on the powerplay tonight, which was interesting. He didn't feel like he was driving anything there, but didn't look out of place – I think the bigger thing there is that he's picked himself up a reward after starting the season out of the lineup.
Sheldon Keefe hasn't committed to a goaltending decision for tomorrow. I have to imagine confidence is low in Michael Hutchinson, but you also don't want to run Andersen into the ground, and you got your redemption game tonight. It'll be interesting to see where they go.
Toronto's next game will come near immediately – they'll take the Sens on again at 7PM tomorrow.