What just happened?
I know that's the thought of a lot of people right now. The Toronto Maple Leafs have a habit for comically bad losses in their history, but whenever a new one happens, that history doesn't make it any less stunning.
Tonight was one of them. The blue and white seemed very much in control of their own destiny for most of this game, but still managed to turn a 5-1 lead into a 6-5 overtime loss to the Ottawa Senators. Yes. The 31st place, 0.265 Ottawa Senators. Yes, we have to talk about this game.
Highlights
There were no highlights.
Highlights
Okay, that's a lie. Anyone who tells you this wasn't a legitimate hockey game on both sides of the ice is doing so out of anger, not out of rationality. In fact, if you were a neutral fan, you'd probably really enjoy this game.
Toronto opened this game up with total control, including on the scoresheet. It took only six and a half minutes for Toronto to pull ahead, courtesy of Joe Thornton's sweet feed to Auston Matthews, who extended his point streak and his NHL goal scoring lead to make it 1-0. Four minutes later, the fourth line got themselves on the board, as Travis Boyd pulled a wide drag and powered up a wrister that beat Marcus Hogberg once again. Ottawa was quick to respond to this one, though – two minutes later, a defensive zone turnover by Zach Bogosian turned into a pass from Tim Stutzle to Drake Batherson, who beat Frederik Andersen with a nasty backhand.
Toronto began its true reign of false hope in the second period. A fantastic stretch pass from TJ Brodie found itself on Alex Kerfoot's stick two zones over, and Kerfoot found Pierre Engvall in the slot to give Toronto a return to insurance a minute and 49 seconds into the period. At the midway point, Thornton added a goal to his injury-return night, crashing the net to put home an Auston Matthews feed. As the period wore on, Toronto found themselves in a position to pick up a 5-on-3 powerplay, and some quick thinking after a zone entry led Morgan Rielly to find Matthews in the slot ofr his second of the game.
5-1, all good, right? This is where it starts to get weird.
With nine seconds remaining in the period, John Tavares loses his footing trying to battle for the puck. He comes back up with it, but immediately coughs it up to Austin Watson, who rebounds the puck off Frederik Andersen, leaving Nick Paul with an easy shorthanded goal. No worries, it's still 5-2.
Intermission goes by, and the teams return to the ice. Forty seconds in, Toronto's powerplay wraps up, and Morgan Rielly doesn't seem prepared for Artem Zub to spring out of the box. After all, he's a defenceman who isn't really known for his offensive ability. But he gets the pass, gets the breakaway, and dangles out Andersen for his first NHL goal. 5-3.
The Leafs dig themselves into further trouble not long after. Zach Hyman high sticks Thomas Chabot in an attempt to dodge a hit, and draws blood, causing a four-minute double minor. Oddly enough, they do an excellent job on this penalty kill, keeping Ottawa from setting up for long, and creating multiple shorthanded rushes. But as soon as the penalty ends, Colin White and Connor Brown are left open in a high-percentage area to play give and go, and the former Leaf blasts home a one timer. 5-4. At this point, it's no longer funny.
But it gets wackier. Or, in this case, whackier, as with a little over two minutes remaining, a scramble in front of the Toronto net leads to an freak airborne rebound, which veteran Evgeni Dadonov bats into the back of the net on his backhand to tie the game. Toronto manages to push it to overtime, and they even take control of the final frame, and have a few opportunities to end it. With a little under three minutes remaining, Mitch Marner makes an unbelieveable move to cut in towards the net, almost scores, finds a streaking Morgan Rielly, and Rielly takes a slapshot. Hogberg isn't prepared, but it hits Dadonov, who is standing in the crease. Nick Paul retrieves it, the Senators move up on the counter, Dadonov beats Rielly in the foot race, and goes shelf on Andersen to put the game away.
Numbers Game
(Hockey Stat Cards did not have this game up at the time of publish – it must be in disbelief as well. Tonight we'll use NST and NHL dot com)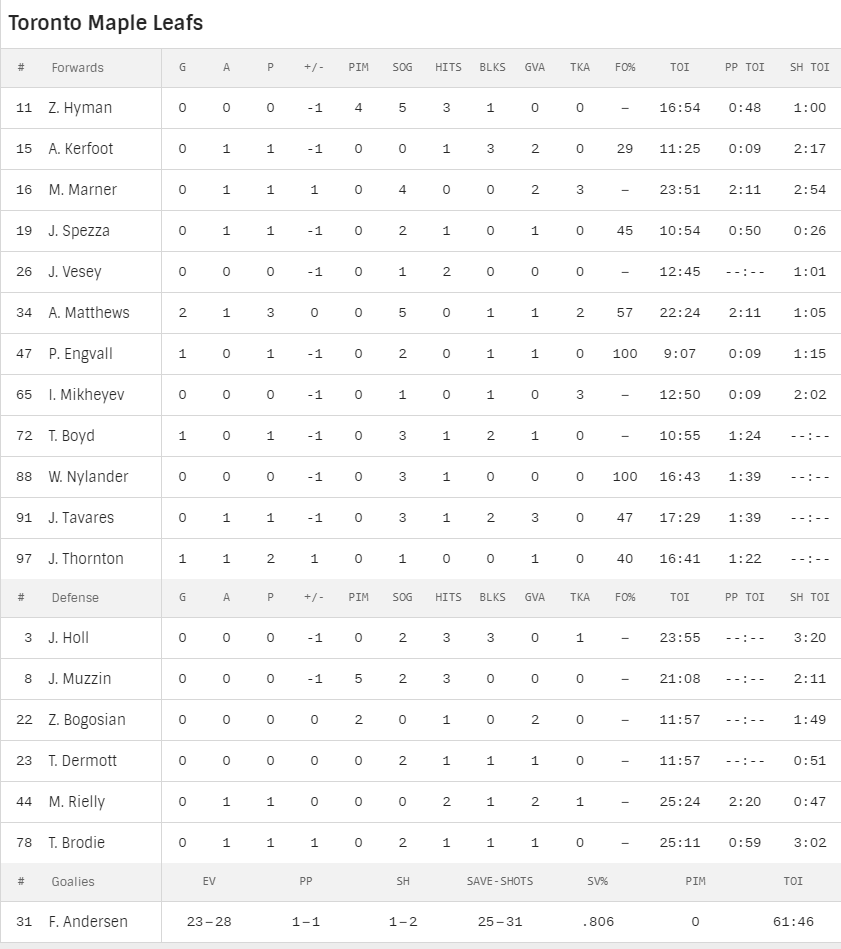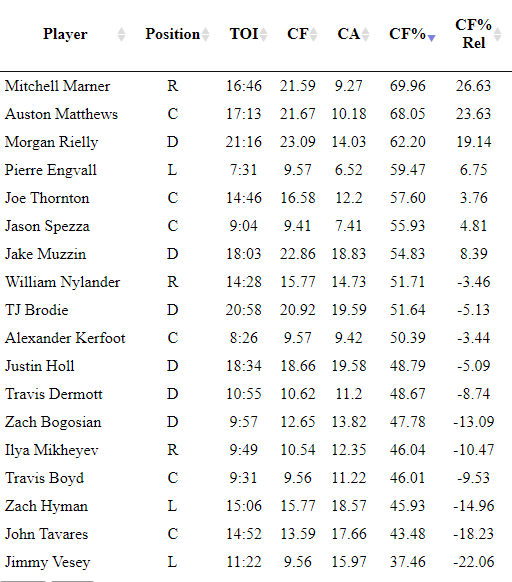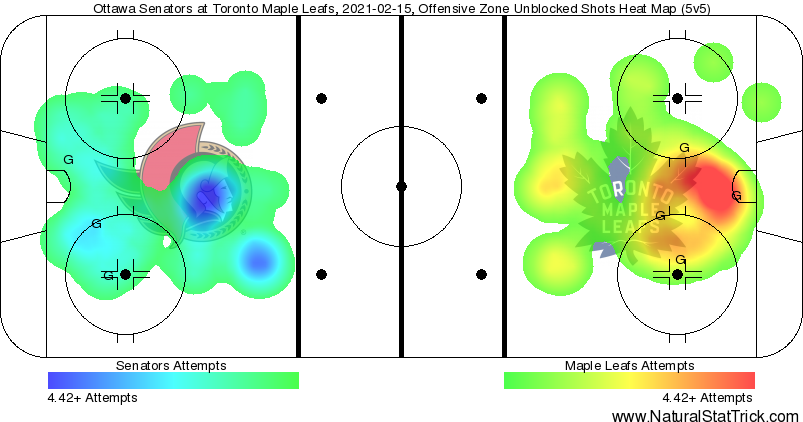 Notes
We're not going to do notes the normal way tonight. This wasn't a normal game. Most won't want to talk about Auston Matthews extending his Rocket Richard lead and pushing closer to the Art Ross race, or Jumbo coming back with a strong two-point effort, or a lot of the really good offensive opportunities the team had.
They won't want to talk about how the Leafs dominated the slot game, out chancing Ottawa 31-27 and 14-6 in high danger areas. Why? Because none of it matters when you blow a four goal lead, and that's fair.
More might be willing to talk about John Tavares having one of his worst nights of the season, with several key turnovers. Or William Nylander having another quiet night in what looks like a slump on his end. Or Morgan Rielly making several big mistakes, including what seemed like a lack of preparation for a "what if this doesn't work" moment on the game winner. Or Frederik Andersen having his worst game since the opening week. Or Toronto coughing up a third period lead for the second consecutive game (though those are the only two of the season thus far).
Those are all fair points, especially when you blow a four goal lead.
These are the types of losses you are right to feel angry about. The ones where the existential dread starts to kick in right from the start of the comeback – I know that a lot of you had the thought in the back of your minds as early as the 5-2 Paul shorthanded goal. There's no denying that the team's efforts got sloppier, and a little lazier as the night went along, as players and coaches alike admitted in post-game scrums.
It's frustrating, it's tough, its what you hope you never see before it happens, and hope is the low point of the year once it happens.
The only thing I'd say to the contrary right now is to sleep on the emotions a little bit. There will no doubt be a lot of reactionary discourse about job security, trades, signings, scratches, and other radical changes. There will be a lot of demands that a solution be found to what happened, at least until the next consensus win (which could very well come in 48 hours).
These aren't the sorts of games that you necessarily "solve", though, especially when they come against a marginal opponent on a weekday night. They're the sorts where you look at the tape and figure out where things went wrong, where you go around the room and talk about the standards they should be holding themselves to, but they can't be sticking points. We like to talk about "leafy" moments a lot, and in a sense this team has a flair for the dramatic collapse, but even the best teams have stumbles like these. You don't necessarily notice them in your opponents because you aren't watching them inside and out, but they happen to everyone. There is no adversity-free journey in this game, in this sport.
This is all to say – it's a garbage loss. It's a frustrating loss. Nearly every fan who watches a game like that is going to be angry at how it fell apart, and while they'll give a cliche answer to the cameras, the team is probably feeling the same. But it's also a game where the Leafs did have control a lot, where the biggest responses were quick counters to failed opportunity, and where a lot of fortune went against them. It's the type of loss you remember for a while and bookmark into the team folklore, but if you're trying to find a solution to it at any point beyond tonight, you're chasing a losing battle.
Truthfully, the only response to a game like this is to go out there and play again, and shake it the blemishes off. The Leafs will get that opportunity on Wednesday night against these very same Senators – will they make the most out of it?