As we all wish to get closer to "back to normal" in our lives, it's nice to have one of hockey's most normal traditions available to us. The Toronto Maple Leafs and Montreal Canadiens, on Hockey Night (and Hockey Day!) in Canada, on a Saturday night. It doesn't get much better than that, especially as both teams sit at or near the top of the North Division standings.
The Leafs came into tonight looking to defend their undefeated record against their rivals on the season. The Habs, looking for revenge. The result? After holding the lead for about three-quarters of the game, the Toronto dropped the ball in the third and fell 2-1 in regulation.
Highlights
Toronto took an early lead in this game, making their mark on the box score just three and a half minutes in. This time, that first blood came courtesy of the first line, and with a bit of role reversal. It wasn't Zach Hyman playing retriever, but Auston Matthews, and with him unavailable to play finisher, it was Mitch Marner who recieved the pass and buried his seventh goal of the season.
After that, though, the game sort of stagnated for a while. A lot of time was spent trading unsuccessful pushes up and down the ice, breaking up looks and missing on opportunities. Toronto had much of the control throughout, with Montreal doing much of the chasing, but it still meant little for the rest of the first period. Or even the entire second. Shots were few, penalties were basically non-existent save for a single call against Tyler Toffoli in the opening 20.
Come the third, Montreal's desperation kicked in and they began to take advantage of a lackadasial Leafs group, who got too accustomed to the slow, steady beat of the game. The Canadiens took the majority of the third period's first half shots, and Toffoli made the most out of one of his, taking advantage of his linemates pulling the blue and white over to one side of the ice while releasing his tenth of the year from the other.
Ten minutes later, Montreal's continued pressure led to another tally, this time from Brendan Gallagher batting down a point shot from Jeff Petry and sending it back upward and past Frederik Andersen. Toronto now found themselves trailing with about as much time remaining as they had taken to score the opener, but couldn't make the most of it.
Numbers Game
This season, I'm going to showcase the stellar work of Hockey Stats Cards for post-game data, as Cole Palmer has done a fantastic job presenting a combination of data from Natural Stat Trick and Dom Lusczczysyn's Game Score model. Be sure to check out the site, which does cards for all games automatically and lets you subscribe to email pushes for your favourite teams.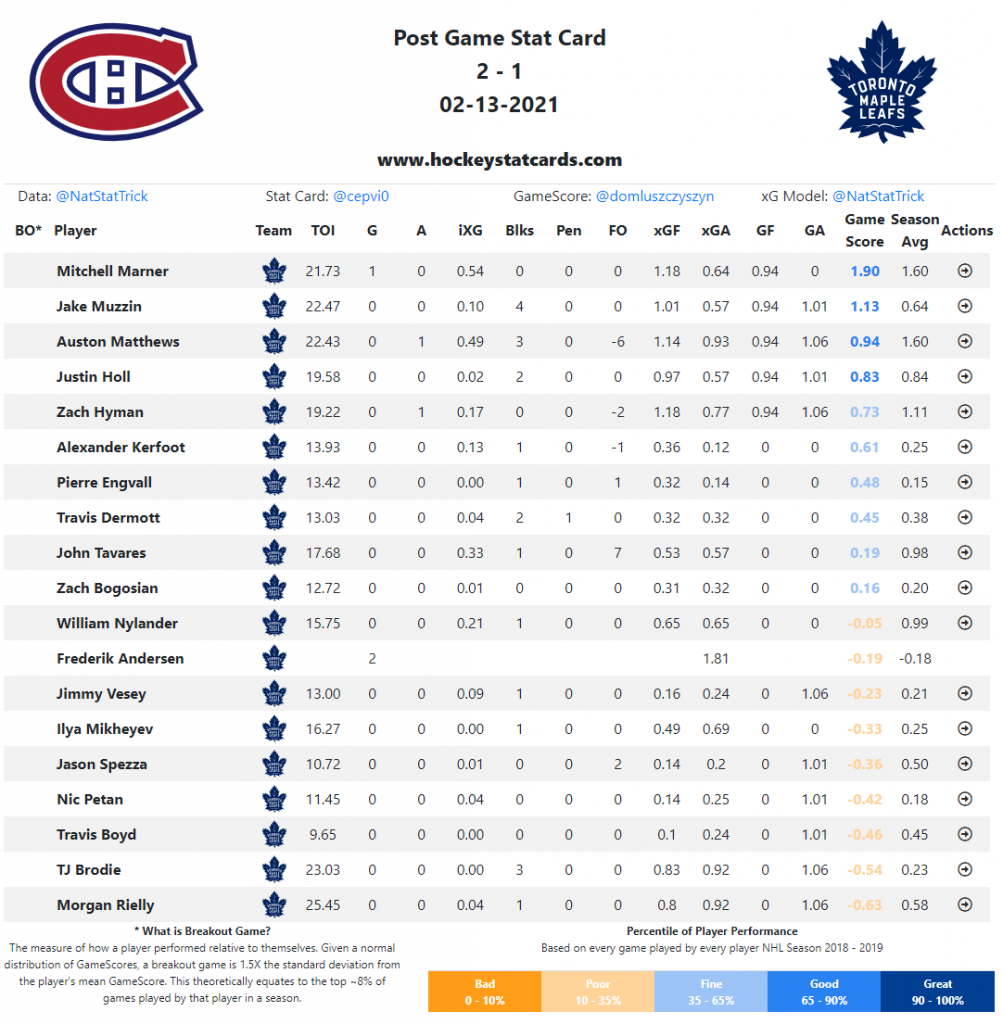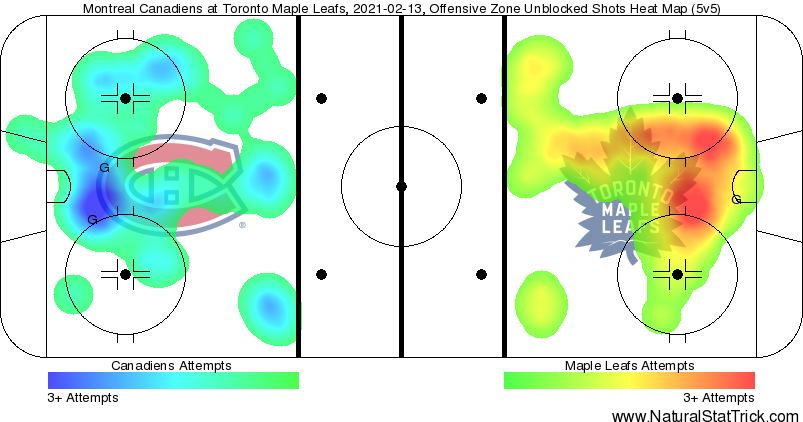 Notes
Frederik Andersen should get no blame for this result. He stopped 23 of 25 shots, and the two he conceded were both great opportunities from good goal scorers. He gave the Leafs skaters a winnable result, and they didn't give him one back.
Auston Matthews and Mitch Marner looked fantastic for much of tonight, combining for 9 of Toronto's 22 shots on goal. Matthews in particular looked excellent in all three zones, making several strong defensive plays to go with his offensive opportunities. Matthews kept his point streak alive with another assist, and Marner's goal was his ever-sought-after first against the Canadiens, which took longer than one might think given his career to date.
It feels like TJ Brodie has a couple of odd-man rush breakups in every single game now. The bad news is that the Leafs still haven't fully eliminated odd-man rushes against from their toolset – the good news is that Morgan Rielly is no longer the only one on his pair who can handle them.
On the other side, I was really surprised by the pre-game decision of Montreal to make Tomas Tatar a healthy scratch. He's one of the team's best forwards by the eye test, his production is fine, his possession numbers are good, and nothing in his last game screams bad. It worked out for them in the end, but it still seems like an unforced risk – even if you want to shake things up, why not shuffle the lines instead of taking him out entirely?
A really interesting number pointed in the first intermission? In the opening twenty minutes, Montreal outhit Toronto by a whopping 18-1. Kevin Bieksa made the correct observation that a lopsided hit count means that one team is chasing the puck. An additional observation I made – most of us wouldn't have even thought about the hit count if the number hadn't been told to us. There was no physicality that mattered enough to remember. It's was a good example of why one shouldn't get too stressed about the raw physical numbers. The final count after the full game was 46-16.
Penalties didn't exist in this game. In the end, just one call was made over 60 minutes, which is par for the course for a National broadcast where the game never escaped a one goal differential. It shouldn't be that way, but that's the system the league has and you have to play through it.
Overall, this was a rare case of Toronto letting a game slip through their hands this season. They had control for so long, even when things weren't totally going their way, and seemed to be caught sleeping for much of the third. Those are tough points to drop to the team most directly trailing you in the standings, and I'm sure that's something they'll be feeling tonight.
Toronto's next game will come on Monday night, against the Ottawa Senators. You can catch that game on TSN in both markets at 7:00 PM – see you then!