The American Hockey League has announced a block of games for the Canadian division, confirming that we will, indeed, see these NHL affiliates play some games this season. This includes the Toronto Marlies, who play eight games in this span.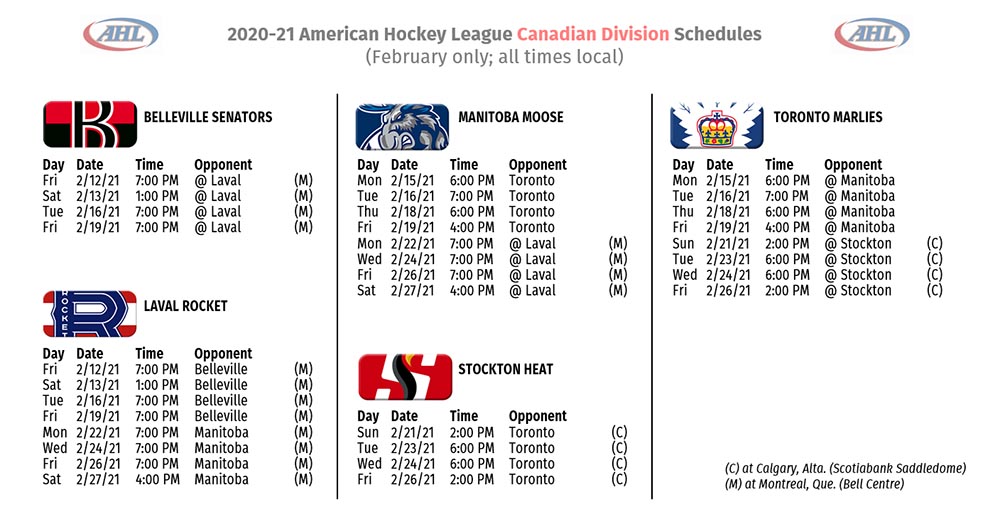 The Canadian division includes five of the four Canadian teams in the league – which is to say, the Stockton Heat will join into the fun, moving to their NHL parent's home of Calgary for the season. Utica (Vancouver) and Bakersfield (Edmonton) did not opt for similar arragements.
While the Ontario government figures out their plan for hosting non-NHL hockey, if any, both the Marlies and the Belleville Senators will start their seasons on the road. For the Marlies, this means that they'll start their year in Winnipeg to play four games against the Manitoba Moose in a five day span, followed by a day off and a four game in seven day run against Stockton in Calgary. The Belleville Senators find themselves in a similar situation, but will play just four games against Laval in Montreal while they settle it.
This will give fans an opportunity to get some more Canada-on-Canada action into their hockey diets, as if the NHL hasn't given us enough. On The Faceoff Circle's end, this will include wall-to-wall coverage of the Marlies season beginning as things get closer to Monday's opening night, including a full-time return for the Marlies Data Tracking project! I'm looking forward to it, and hope you are as well.