One of the marks of a great hockey team is consistency – the ability to bring a full, total effort every night of the season. Ultimately, though, that doesn't happen every night, even for the very best. So another thing that those teams need to have in their back pocket is the ability to flip the switch and pull an undeserved night or two out of their behinds.
Tonight landed in the latter category for the Toronto Maple Leafs, who were looking to sweep a three-game mini series against the Vancouver Canucks with a bang. Despite mostly landing whimpers, all it took was a few shifts to keep up the 3-to-1 goal ratio that they had built up over the previous two nights, finishing with that exact score.
Highlights
The Maple Leafs looked really, really out of place for the first forty minutes of this game, getting outshot 27-7 in that span. It wasn't all bad, for them though, as they somehow got the first goal of the game through all this, about seven minutes into the contest on just their second real scoring opportunity. Mitch Marner took two attempts at putting a puck on net, and while neither work, Zach Hyman's attempt to fish out the puck ended up landing in the grasp of Morgan Rielly, who flew in from the point, dropped a knee, and gave the Leafs the lead. After that, it was a whole lot of nothing for a while, as the team strugged to get much together for the next half hour or so. At about the midway point of the second period, the Canucks showed signs of capitalizing, as their big two put them back on the board. Quinn Hughes found Elias Pettersson with a pass off the wall, and the Swedish superstar made no mistake in beating Frederik Andersen.
Toronto picked up steam in the early goings of the third period, and with nine and a half minutes to go, the Maple Leafs pulled back ahead. Following an offensive zone faceoff win, Rasmus Sandin found Mitch Marner along the wall, who saw Auston Matthews hanging out between the hashmarks and the star sniper was ready to turn a one-timer into a go ahead tally, extending his goal streak to eight games Just twelve seconds later, the team struck again, this time with Alex Kerfoot getting to the front of the net almost immediately after the faceoff and tapping home an Ilya Mikheyev retrieval, giving the team insurance. It was a shellshock to the Canucks, and it didn't take much more for the Leafs to carry the game home from there.
Numbers Game
This season, I'm going to showcase the stellar work of Hockey Stats Cards for post-game data, as Cole Palmer has done a fantastic job presenting a combination of data from Natural Stat Trick and Dom Lusczczysyn's Game Score model. Be sure to check out the site, which does cards for all games automatically and lets you subscribe to email pushes for your favourite teams.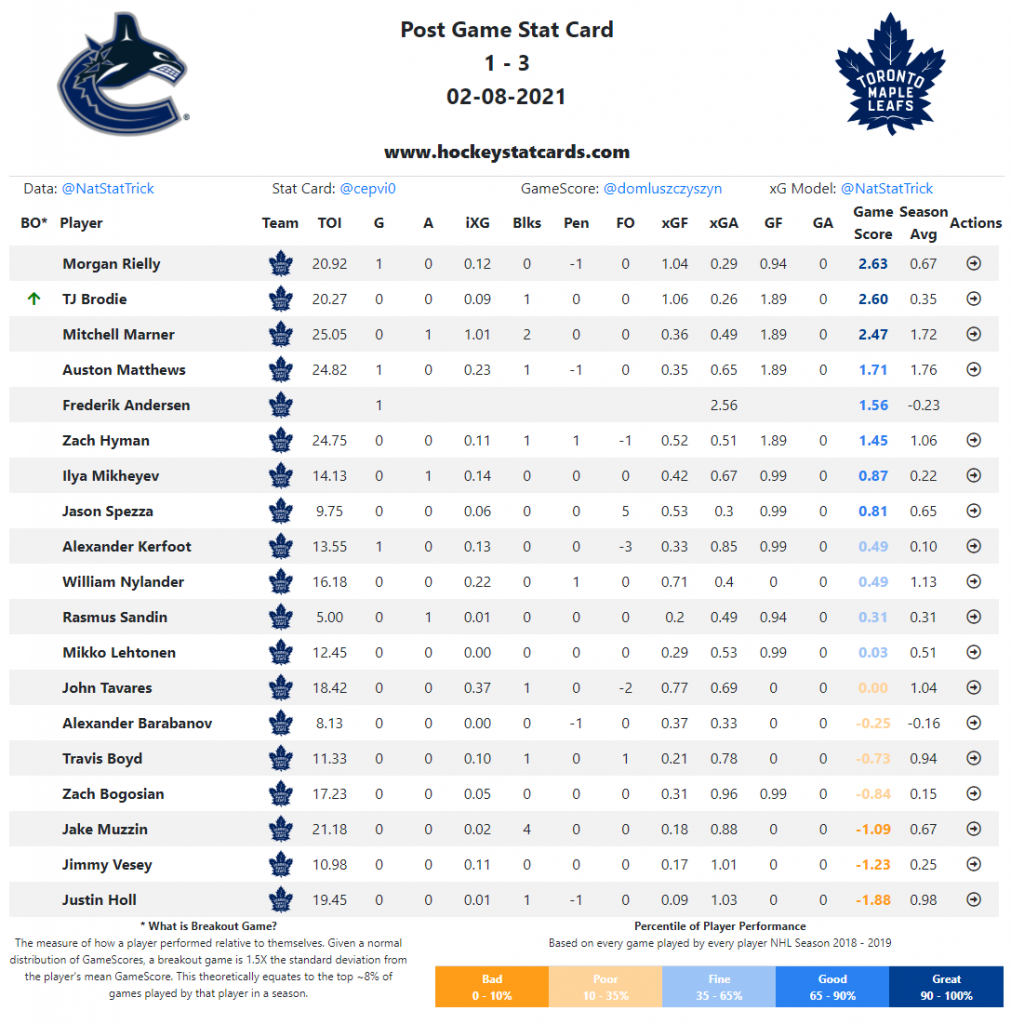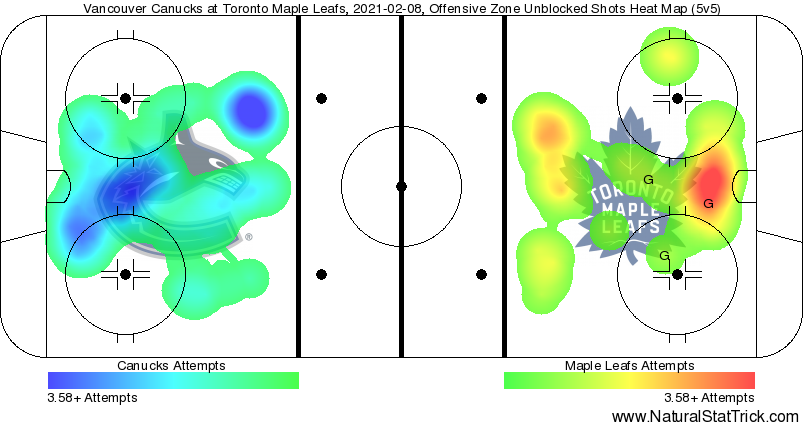 Notes
Frederik Andersen firmly saved their bacon, stopping 31 of 32 shots against. This includes the 26 of 27 he faced in the first two periods, which were necessary to keep any semblance of momentum or optimism in hand. This was, without doubt, his most important appearance of the season.
Auston Matthews picked up his 300th career point, putting him at the second-fastest in Leafs history to hit that mark, trailing only Syl Apps and matching Charlie Conacher. This docks Mitch Marner to fourth just weeks after claiming third, but historically good is historically good. The more important thing here is that Matthews is continuing his push for 50 in 55, and that, just frankly, is stupid in the best way.
The Rielly-Brodie pairing had a great night, picking up about an 80% share of the expected goals, a positive share of the actual goals, and in Morgan Rielly's case, an actual goal. The Holl-Muzzin pair, as much as I love to boost them, were not as hot, having one of their worst showings of the season.
Rasmus Sandin came in to replace Wayne Simmonds, but as a seventh defenceman rather than a twelfth forward. Toronto probably could've better used the twelfth forward, as Sheldon Keefe admitted after the game, but for Sandin individually, he got to play a game for the first time in nearly a year and pick up an assist on the game winner.
Alexander Barabanov came in to replace Nic Petan, and I think that was also a mistake. Barabanov finally did something noticable for the first time since blocking a shot in the opening series, but it was taking a needless penalty with four minutes remaining. I'm struggling to find a pathway to contribution for him at this point.
Toronto's next game will come against a team that isn't the Canucks! Shocking, right? They'll head a province east and take on the Montreal Canadiens, in a 7:30 PM event that you can catch on Sportsnet.