It was going to be hard to top Thursday night, right? At least for the Toronto Maple Leafs and hat trick hero Jason Spezza – not so much the Vancouver Canucks, who desperately wanted to move on from the 7-3 final score. Both lineups slightly tweaked and somewhat rested returned to the ice at Scotiabank Arena, and a similar result came to be – strong individual efforts from a couple of Leafs, no real effort from the Canucks, and a 5-1 final score.
Highlights
The Leafs came out of this game roaring, maybe even louder and more in charge than on Thursday. Taking 18 of the game's first 19 shot attempts, they also took the first two that counted. After Alex Edler was sent to the box for slashing John Tavares, Wayne Simmonds continued his run of powerplay success with a fantastic goalmouth shot, taking advantage of what seemed like far too much free time to find just the right corner to pick on Braden Holtby. Ten minutes later, it was Auston Matthews' turn to dazzle, danging Jaden Chatfield into a new dimension before dropping his own well-placed snipe.
The second was a much closer period on the shot charts, and the teams even exchanged goals – sort of. The Leafs widened their gap to 3-0 at the seven and a half minute mark, with Zach Hyman powering past Alex Edler to tap a pass into the slot by Mikko Lehtonen into the gaping cage. The Canucks attempted to strike back in the latter half, turning a dump and chase into a bullet from JT Miller, but the Leafs challenged for offside and found that Nils Hoglander was ahead by not just a little, but a lot, buying him the space to force Alex Kerfoot into the failed clear that kickstarted the goal.
Early in the third, the first period finishers came each came back for a double dip. It took Matthews just 90 seconds to pick up his tenth of the season, stepping ahead of Miller to cut off a clear from Holtby and set it back to him through the five hole. Two minutes after that, Simmonds deflected a Lehtonen point shot to put Toronto up by a whopping five goals. Vancouver was however, able to break the shutout and bring the deficit back to the previous night's four before the game ended. An iffy but not-worth-arguing penalty against Jake Muzzin put the Canucks on the powerplay, and Brock Boeser matched Simmonds' tip with one of his own. At this stage of the game, though, it obviously wasn't enough.
Numbers Game
This season, I'm going to showcase the stellar work of Hockey Stats Cards for post-game data, as Cole Palmer has done a fantastic job presenting a combination of data from Natural Stat Trick and Dom Lusczczysyn's Game Score model. Be sure to check out the site, which does cards for all games automatically and lets you subscribe to email pushes for your favourite teams.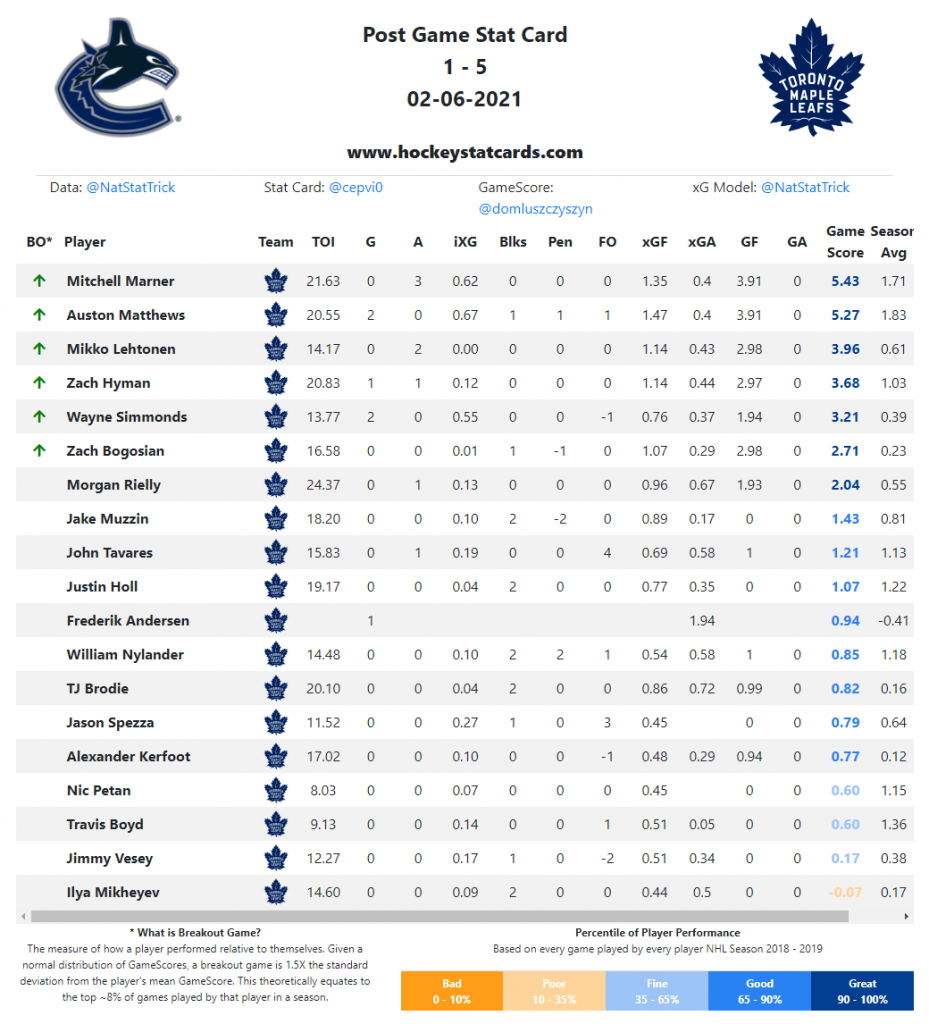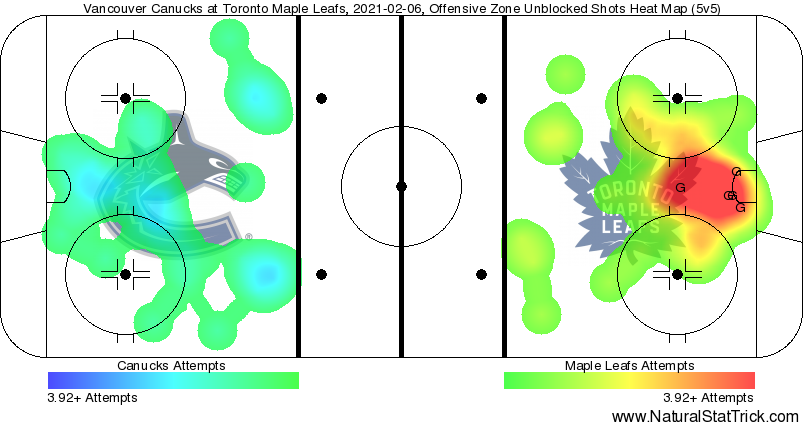 Notes
Mikko Lehtonen came in for Travis Dermott, as the latter suffered a "charley horse" type short-term injury early in the Thursday game. He made the most of the opportunity, picking up two primary assists while controlling the ice in his little over 14 minutes of ice time. That was probably his most comfortable looking game of the year, and while I know quality of competition matters here, it's still good for his confidence and comfort.
Frederik Andersen had an excellent night, stopping 27 of 28 Vancouver shots, or 29 if you want to hold the disallowed goal against him. Toronto didn't need his efforts to lead them to victory, but steadiness and comfort matter in a mini-series like this and he brought both.
The Wayne Train keeps rolling. Expectations seemed pretty low for the Scarborough native coming into this year, but he's been doing a lot of the right things when it counts – suddenly 15+ goals don't seem out of the question, even with the shortened season. The one thing that might get in the way of that, though, is an injury suffered blocking a shot in the third period – Sheldon Keefe says the team doesn't have results from examining him yet, which is a little worrisome, but it's hard to speculate until more details come out.
A friend and I were talking tonight and we both made the same point in reaction to the first Matthews goal. The fact that he isn't the best player in the world, and isn't necessarily a lock for second or third either, and is this routinely dazzling is a great sign for the skill level in the NHL today. We really should appreciate this moment in the game, as it's probably the most skilled we've ever seen it.
Ilya Mikheyev losing his stick entirely on a late game rush has me convinced that he will never score again. It's between him and the "Red Wings can't win without Jonathan Bernier" streak for the most absurd in this league right now.
Toronto's next game will come on Monday night against the Canucks once more, to wrap up the series. Will we seen more of the same, or will Vancouver finally show up? Tune in on and find out! This one will be on Sportsnet.