One of the best parts of the Shanaplan era has been seeing the aspirational goals of this fanbase, from an acquisition perspective, come to light. Not just the idea of having multiple young stars, which they got in Auston Matthews, Mitch Marner, and William Nylander. Not just the surprising late-stage plot twist to finally land previous promised-man John Tavares, which to date has been a move that's exceeded expectation. But even the prodigal sons of past generations, players who were dreamed about more than a decade ago, have signed on to accentuate this group. Patrick Marleau was the first of the wave, and while his big contract and his then-coach's overuse of him soured things towards the end, having him was a ton of fun for the majority of the process. Joe Thornton and Wayne Simmonds were the big ones this fall, and while injuries have stunted the start of Jumbo's reign, having them both has been welcome.
In the middle, though, comes perhaps the best story, the best fit of them all. Now 68 games into his tenure in Toronto, no fit of nostalgia has been more admirable and more enjoyable than Jason Spezza's journey, which hit a zenith of sorts last night.
In just twelve minutes of ice time last night – actually a season-high for the 37-year-old – Spezza turned back the clock with a hat trick on five shots, along with a hit and 70% win rate at the faceoff dot. The underlying numbers looked great too, with his line out-attempting their Vancouver opponents 12-5 at 5-on-5, outshooting them 8-2, and earning an 82.3% share of the expect goals. His tallies weren't just lucky bounces. The first was a rocket from above the faceoff circle, his second was the culmination of a team effort passing play, and his third turned the clock all the way back to 2008, as he burned Alex Edler with a rush and used his reach to slide across the crease and slip the puck past Thatcher Demko.
It was the type of game that exceeded even the most optimistic Spezza booster's expectations. I had vouched for his acquisition at the 2019 trade deadline, when his cap hit was literally 10 times larger than it currently was, and this was above mine. It was the sort of game that you wish the fans were there for, one where you just know that a normally tempered Scotiabank Arena would have been rocking for their hometown boy. But even in absence of that, you couldn't help but appreciate it.
A lot of that comes from knowing the journey he's taken to get here, and stay here.
For one, Prime Spezza is probably one of the most under-appreciated players of the previous era, so any moment he gets, for any team, will always warm the heart. From the end of the 2005 lockout to the start of the 2013 lockout, only 11 players had more points, and only seven had more assists than him. Change it to a per-game clip, and he moves up to fifth in points-per game in that era. Everyone surrounding him in the Top 10, above (Crosby, Ovechkin, Malkin, Thornton) and below (Datsyuk, Jagr, Sakic, Hernik Sedin, St. Louis) will get their day in the Hall of Fame, while Spezza will likely need to be a part of a curse-breaking Leafs championship team to get a serious look. Part of this is due to a lack of big market exposure, part of it is the limits that injuries placed on his prime, and part of it is the Dallas Stars giving up on him in his final two years there, and it's a real shame.
For a hot minute, it seemed like Toronto would mess it up too, or at least that one person would. With all respect to Marleau, who had every right to get his money when he committed to a 3-year deal with a $6.25 million cap hit to be Toronto's legend-veteran, Spezza made a sacrifice to come home that made it clear that his intentions were bigger than hockey. Coming off eleven consecutive seasons of accruing a $7 to $7.5 million cap hit, Spezza signed on July 1st, 2019 for just $700,000, a moment that Mitch Marner made reference to in Chris Johnston's piece from last night:
"He's been amazing," said Mitch Marner. "He's still a big-name player in this league. He still gets a lot of respect around the league for everything he does. I remember the first day when we did sign him [in 2019], and then obviously coming back this year, just the excitement in our team and just the excitement in our group chat of having him back."
It was a great moment in the city, seeing someone so committed to the goal of winning and playing for the home team that he'd go from one of the highest paid to making league minimum; while the former wasn't going to repeat itself, he was still well above the talents of the latter. What was not anticipated was that then-Head Coach Mike Babcock would be extremely abrasive to the idea of playing him, even as Spezza made clear that he was willing to do whatever asked of him to suit up. He tried to convert the skilled offensive playmaker into a penalty kill specialist, and from the start of the training camp, began to openly critique him, as if to distance himself from the player.
"There's a role here for him, but he's got to be able to do it", was the line before preseason game one. "I'm definitely going to figure it out, right? I tried lots of spots. He's trying to figure it out if he's interested, we're doing the same." was the line after just one preseason game, suggesting that the local boy who took a 92% pay cut didn't have his heart in it. He scratched him during the last of the exhibition games, and while those games normally reflect the opening night roster pretty well, no one thought he actually had the guts to make that stand when the stage became big.
He did. On opening night, Mississauga native, with his family eager to see him finally don the Blue and White in a real game, against the Ottawa Senators team that drafted him, Jason Spezza sat in the press box. Babcock went back to the well in response, claiming he wasn't prepared enough to kill penalties, losing him the opportunity. "We are giving (Spezza) a little more time on the penalty kill," Babcock said. "Because he wants to penalty kill for us, we need him to do that, he will be in the next game."
More people defended the move at the time than will admit today, though as the team began to lose in frustrating fashion, more and more realized that Babcock was at the root of a lot of problems within the team, and with time, many began to see the Spezza situation as a microcosm of the struggle, a case of a coach trying to assert power in the direction of his management, screwing over a beloved, skilled player who was doing everything he could to help the team just because he could. Spezza would end up playing just 13 of Toronto's 23 games before Babcock was fired on November 20th.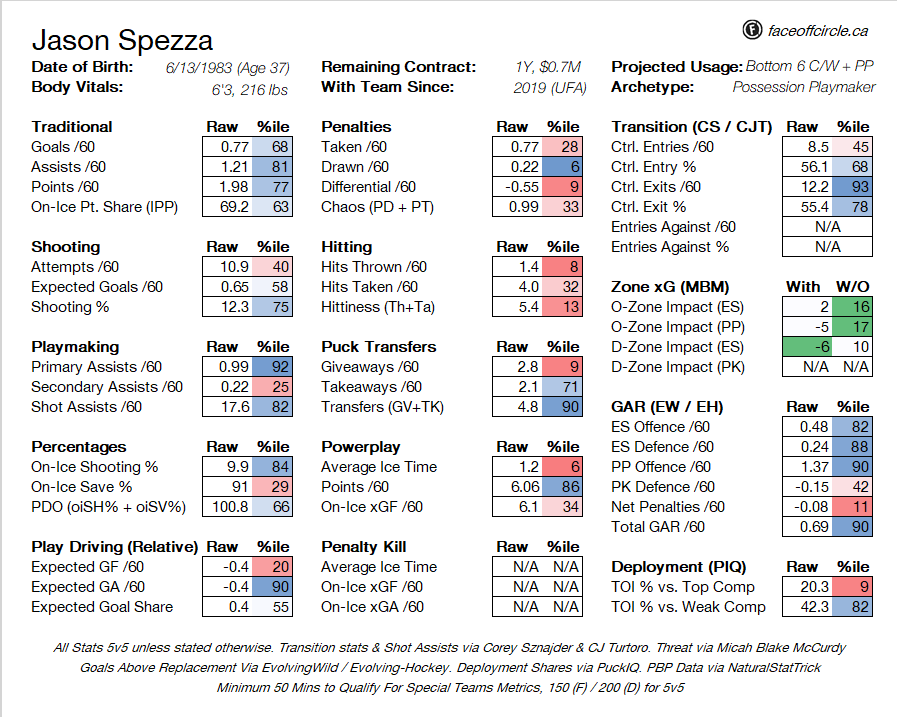 From that point on, everything changed. Sheldon Keefe played Spezza in 50 of the remaining 52 regular season and postseason games, and while his average ice time stayed low, even declining by a few seconds in that span, his role became more defined and suited his actual strengths. His special teams time shifted from the penalty kill, which favours forwards with foot speed, to the powerplay, which favours puck movement.
He was still tasked with using his Hockey IQ in a more defensive way, but this was to be done to control the pace of the bottom line at 5-on-5, allowing the Top 9 to push opponents with speed before throwing them a knuckleball for a few seconds. The results were fantastic, and by the end of the year, Spezza's production, defensive possession, and overall impacts on the game were some of his best in years. His whipping boy month only endeared him more to fans who wanted to root for him, and his patience only strengthened the bond to him in the dressing room.
Just to put these numbers into context, 380 forwards have played 500 or more minutes since the start of last season. Of them, Evolving-Hockey's Goals Above Replacement model ranks Spezza 37th in GAR per hour played, 25th in offensive GAR, 23rd in Powerplay GAR, and 87th in defensive GAR. His penalty stats hurts his numbers a little bit (the Leafs don't earn a lot of penalty GAR – I wonder why), but on a rate-driven basis, Spezza is producing like a Top-Line forward in his limited role. Obviously, this doesn't translate into "put him on the top line" with a player in the twilight of his career that doesn't have the mobility of today's young stars, but getting that type of impact from someone in the bottom six, making league minimum, is remarkable value.
If you prefer more traditional numbers? In this same span, Spezza ranks 62nd in his forward pool in points per hour, ahead of players like Mikko Rantanen, Ryan O'Reilly, Patrik Laine, Patrice Bergeron, Pierre-Luc Dubois, Matthew Takchuk, and even Jack Eichel. On the powerplay, he ranks 5th in points per hour among forwards who have played 60+ minutes in that time span, trailing only Connor McDavid, Leon Draisaitl, David Pastrnak, and, uhh, good for Roope Hintz. Oh, and let's not forget the time he dropped the gloves in Game 4 against Columbus, shocking many and sparkplugging the biggest comeback of the current era:
The key here seems to be managing and optimizing minutes – there's no doubt the four days off gave him the boost he needed to make last night, and it's likely why he was willing to go through wink-wink-nudge-nudge waivers a few weeks back to allow for occasional, pre-arranged healthy scratches to recharge. It's likely why he's been willing to play these limited minutes despite producing within them, especially now that they're tailored too him.
But at the end of the day, there's something very clear about this arrangement. Spezza, who has gone through his share of ups and downs in his career, sacrificed a lot for the opportunity to join his childhood team and attempt to make a difference. He put himself through initial adversity to find a reward, eventually got his balance, and we're really beginning to see the value of it. He's given the bottom of the the lineup a legitimate scoring option, he's given the room a fun, laid back presence, he's transferred his skill onto his surroundings and once in a while, he reminds you of just how great he once was. Last night was a spectacle that we might not see much of again from him, but my goodness, was it ever fun to see, and it couldn't have happened to a more fitting person.