Maybe there is something to the idea of a few days rest after all. The Toronto Maple Leafs had looked a little bit sluggish in the back half of games last week, in the midst of a 10-game start where there was no longer than a single day gap between games. A four day reprieve gave them the opportunity to recharge their batteries and put that theory to the test, and the results were exactly as they hoped for. Veteran forward Jason Spezza picked up his eighth career hat trick, and the whole group backed him up in a dominant 7-3 win over the Vancouver Canucks.
Highlights
It took only three minutes for this game to provide it's first goal. After a few solid chances, Auston Matthews went into full "i'll do it myself" mode, going end-to-end, burning JT Miller in his final push, and tucking the puck past Thatcher Demko to give Toronto first blood. The lead only lasted three minutes, however, and the "how" was more than a bit concerning, as the Leafs' third line and second pair didn't do much of anything to break up a group of three Canucks in front of the net, hacking at the puck until Tanner Pearson was able to bury the equalizer.
All is forgiven if you can rewrite the scoresheet, however, and that was the bet the Leafs made. On their first powerplay of the game, Jason Spezza brought Toronto back ahead with a cannon of a slapshot from above the circle. This closed off the period's list of tallies, but the blue and white kept the momentum going into the second, getting their first two-goal lead of the game via Mitch Marner's nifty behind the back pass to Matthews to give him his second of the game. Once again, Vancouver had a quick response, bringing the game back to within one via a Bo Horvat goal just thirty seconds later.
From this point on, though, the Maple Leafs began to pull away. A four-man play saw TJ Brodie find Travis Boyd on the breakout, who found Nic Petan on the wing, who dropped a picture-perfect saucer pass to Spezza to get him his second of the game. Not to be outdone, another four-man unit created similar theatrics – this time started by Wayne Simmonds, connected by Morgan Rielly, threaded by William Nylander and finished by John Tavares. The goals continued in the third period. With fifteen minutes to go, Spezza turned back the clock by burning Alex Edler and swooping around Demko to complete his eighth career hat trick. A string of bad penalty luck led to a JT Miller response on a 4v3 Vancouver powerplay, but Mitch Marner added one last bit of insurance after another strong fourth line shift to cap off the game.
Okay, not totally cap off the game. Wayne Simmonds also fought Jordie Benn in a lengthy tilt, where he threw the bulk of the punches. After that brass-knuckled exclamation point, the game wound down to a close.
Numbers Game
This season, I'm going to showcase the stellar work of Hockey Stats Cards for post-game data, as Cole Palmer has done a fantastic job presenting a combination of data from Natural Stat Trick and Dom Lusczczysyn's Game Score model. Be sure to check out the site, which does cards for all games automatically and lets you subscribe to email pushes for your favourite teams.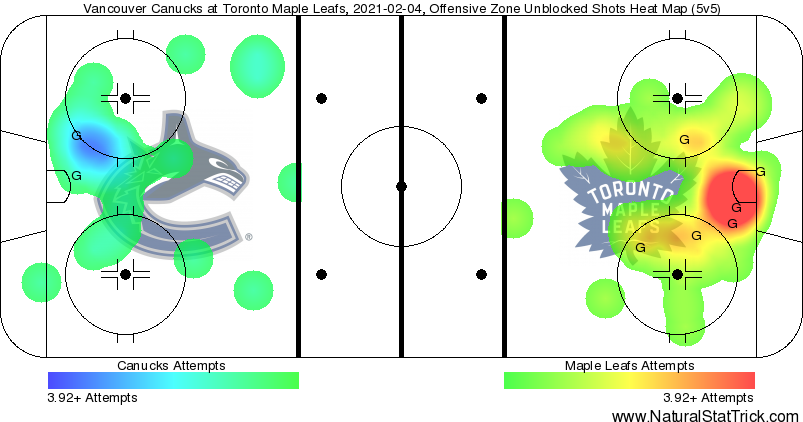 Notes
Jason Spezza, man. 37 years old, but give him a few days rest and he turns back into his 23-year-old form. Tonight's performance boosts him up to 8 points in 10 games, which is pretty good for a guy playing 4th line and powerplay. Even better is the fact that all three goals were pretty, with the final tally looking straight out of a time machine.
As a result of the above, this game will likely be looked back on as the least noteworthy multi-goal game of Auston Matthews' career. But he still finished off a couple of nice plays with the help of Mitch Marner. Really, neither were super loud on the ice tonight, but when they showed up, they didn't take long to make an impact.
Back to Spezza, his whole line was fantastic tonight. Probably the best night any combination of the fourth line has had this season. Travis Boyd is continuing to impress and Nic Petan, drawing into his first NHL game in a year and a half, looked like he was shot out of a cannon, making all sorts of smart plays and unleasing some nasty sauce on the second Spezza goal.
The defensive corps really stepped up after Travis Dermott disappeared; not a single one of the five was below a 62% expected goal share, which is insanely impressive, even with quality of opponent factored in. Dermott, for what it's worth, appears to be fine – head coach Sheldon Keefe suggested the injury was more of a charley horse and that he'll be good to go before long.
I'm very content with the gradual disappearance of fisticuffs from the modern game, but man, I'll always have time for Wayne Simmonds dropping the gloves. The hit that instigated it? I'd prefer that not get repeated again – there's plenty of case for charging there, and he probably should've received the extra minor as a result. But the scrap showed his pound-for-pound strength and dexterity.
Penalties in this game were a mess again. Whether you're Alex Kerfoot after getting hit from behind and having the whistle blow for a hand pass instead, or Alex Kerfoot getting a holding the stick penalty or Nic Petan paying the makeup tax with a light slash, you're probably pretty confused by tonight's events. Unless you read my article from yesterday, that is – if you did, you know exactly what's up.
Toronto's next game will come on Saturday night at 7 PM, against the Canucks once again. Hockey Night in Canada for Game 2 of a 3 game mini-series: hard to beat that! See you then.