This is a very late, no-frills recap of Saturday's Maple Leafs loss to the Edmonton Oilers in overtime. My apologies for not getting this out sooner; as I've mentioned on social media, I've been under the weather for the past few weeks and particularly needed the R&R over the weekend. Enough about me, though, let's take a look back to this game!
Highlights
While the stars would eventually shine in this game, it was the depth players who made the first moves. Four minutes in, Mikko Lehtonen conceded what one could call a necessary penalty shot by covering up a puck that was rolling towards the goal line with his hand, and looked like a genius as Tyler Ennis missed the ensuing opportunity. The Oilers were still first to strike, though, as Dominik Kahun picked up his first of the season by putting in his own rebound off a Leon Draisaitl setup. The Leafs responded with William Nylander taking advantage of an impressive puck strip by John Tavares to tie the game, but a stupendous behind-the-net pass by Connor McDavid to find Josh Archibald restored Edmonton's lead with seconds remaining in the opening frame.
With Nylander in the penalty box, the Oilers extended their lead in the second period via one of Connor McDavid's nicest goals of his career, going coast to coast and slicing through Toronto's penalty killing unit. It was one of those goals where you can assign blame, but given the greatness that created it, it was best just to brush it off and try to respond accordingly. That's exactly what the Leafs did: Auston Matthews and Zach Hyman each put home goals of their own within three minutes of the McDavid goal, tying the game.
The third period was ultimately the least exciting of the bunch – no goals, just one penalty, and the fewest shots taken. This led the game to overtime, and while Toronto were able to get the first chance via a William Nylander break, they didn't succeed in converting, which led to Draisaitl and McDavid repeating their usual magic, with the latter sealing the game via his second goal of the night.
Numbers Game
This season, I'm going to showcase the stellar work of Hockey Stats Cards for post-game data, as Cole Palmer has done a fantastic job presenting a combination of data from Natural Stat Trick and Dom Lusczczysyn's Game Score model. Be sure to check out the site, which does cards for all games automatically and lets you subscribe to email pushes for your favourite teams. Shot heatmaps below the individual player data come directly from Natural Stat Trick.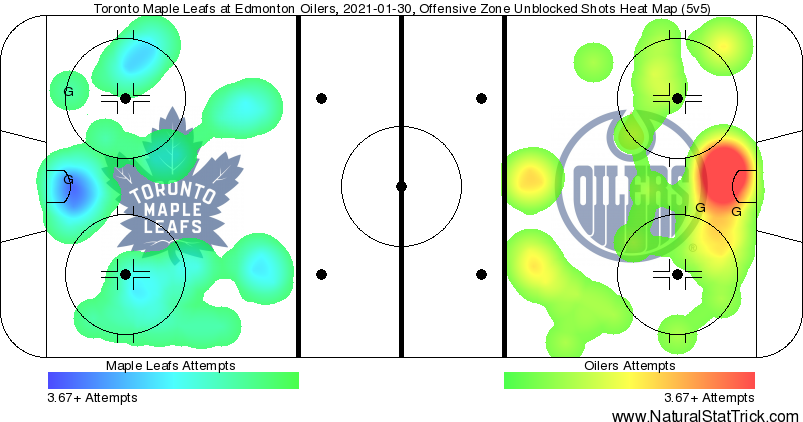 Notes
Penalties were less common in this one, probably due to all the criticism the officials recieved on Thursday. That doesn't necessarily mean things were better, as makeups still existed and a lot of stuff that would've been called two days prior was allowed, which simply proved the point about inconsistency to the very people who were complaining about it.
Frederik Andersen was fine, once again. Numerically not the best with 27 saves on 31 shots, but nothing you could entirely square on him.
On the other side, Connor McDavid reminded everyone that superstars are superstars, but there is only one him – and that's before accounting for Edmonton's follow-up game against Ottawa the night after.
This Ilya Mikheyev cold stick streak will eventually sort itself out, but it definitely makes you grateful that the team didn't buy high on his second contract after his injury.
I'm still waiting for Alexander Barabanov to do… something of consequence. Maybe one day. Or maybe it's time to give someone else a more extended look in that spot.
I don't have issue with Sheldon Keefe's decision to start overtime with Tavares and Nylander. The two are still incredibly high-end players, and as he's since reminded people, Matthews had played in the bulk of the final three minutes of regulation, so energy was an issue too. If Nylander scores on that first greak, no one is complaining.
Toronto's next game will come on Thursday night, against the Canucks. This four-day break is Toronto's first break of more than a day since the season started, so it'll be interesting to see how they do with some rest.