Hot off the heels of a pair of wins against the Calgary Fl- whistling noise
Sorry. Against the Calgary Flames, the Toronto Maple Leafs moved slightly up the province of Alberta to take on the E- whistling noise
Twice now? I don't think I said anything wrong. Anyway, the Edmonton Oilers. It was a hard fought ba- whistling noise
Wait, that was on the other person? There is no other person, this isn't even a gam… forget it. The Leafs won this game 4-3. We'll break it down below.
Highlights
Despite being outshot, Toronto opened game this up with what I felt was one of their best periods of the season so far. They were fast, they were cycling, and they were opportunistic. One such example came nine and a half minutes in, when the Leafs opened up the scoring via Travis Boyd tracking a poor puck-playing decision by Mikko Koskinen and feeding the ensuing recovered puck to Jason Spezza. The Leafs then extended the lead with a little under two minutes to go in the period, being rewarded for a delayed penalty cycle that lasted for what felt like forever, and an overwhelming powerplay with a goal that came a second into going back to 5-on-5. After a couple of solo cracks by John Tavares, he instead found William Nylander who made the most of the opportunity.
The second period was a little bit different, and a little more in Edmonton's control, thanks in no small part to their overwhelming time on the powerplay that understandably had a lot of people irate. Justin Holl was sent to the box about five and a half minutes in for interfering with Leon Draisaitl a moment after moving the puck; a pick that technically can be called interference, but rarely is. Toronto held Edmonton to just one shot on the powerplay, their second of the game with a first period effort ending shotless.
Six minutes later, Jason Spezza went to the box for a trip on Caleb Jones, and held them shotless again. Toronto's PK looked stellar and Edmonton's powerplay looked lost, which meant that two and a half minutes later, it was time for Alex Kerfoot to go to the box for what honestly, with no exaggeration, might be one of the worst phantom slashing calls I've seen in my entire life. To make matters worse, 30 seconds later, Zach Hyman was sent to the box for tripping Connor McDavid which, like the Holl call – technically correct, but really sketchy given the imbalance . This was enough to get Edmonton's powerplay going, and 40 seconds later, Leon Draisaitl scored on the 5-on-3, the period's only goal.
In the third, things weren't quite as bad, but they weren't really what one could call "better" either. The period started with an Edmonton puck-over-glass penalty for a puck that landed in the Edmonton bench, which according to black and white language of the NHL rulebook, makes it not a penalty. We'll call it a Toronto makeup call, which they didn't capitalize on. Four minutes later, Kerfoot took his third penalty of the game, an interference call which, like the Holl one, is technically correct but rarely ever enforced in a similar circumstance. About a minute later, Draisaitl scored to tie the game. This was followed by a Josh Archibald penalty on William Nylander which… again, felt a little off, but hey, makeup call to the makeup call, to the makeup call, to the I'm not entirely sure anymore. Seconds later, Wayne Simmonds redirected a Mitch Marner shot for his third goal in as many games, restoring Toronto's lead.
That lead didn't last long either, but thankfully for all of our sanity, this was an honest-to-goodness case of a defensive breakdown in Toronto's end; multiple failed clears, spotty coverage by Kerfoot and Jake Muzzin, and a good push to the net by Zack Kassian restored the tug of war. It wouldn't be long until another penalty tug-of-war, though: Ethan Bear took a slashing call against Auston Matthews, which he turned into his fifth goal of the season midway through the powerplay, and five minutes later, Bear drew a call off of William Nylander, setting Toronto up for an end-of-game PK for yet another game this season. The unit was as successful as they started the game, though, and with a couple of dying-second icings to follow it, rode the score home to the buzzer.
Numbers Game
This season, I'm going to showcase the stellar work of Hockey Stats Cards for post-game data, as Cole Palmer has done a fantastic job presenting a combination of data from Natural Stat Trick and Dom Lusczczysyn's Game Score model. Be sure to check out the site, which does cards for all games automatically and lets you subscribe to email pushes for your favourite teams. Shot heatmaps below the individual player data come directly from Natural Stat Trick.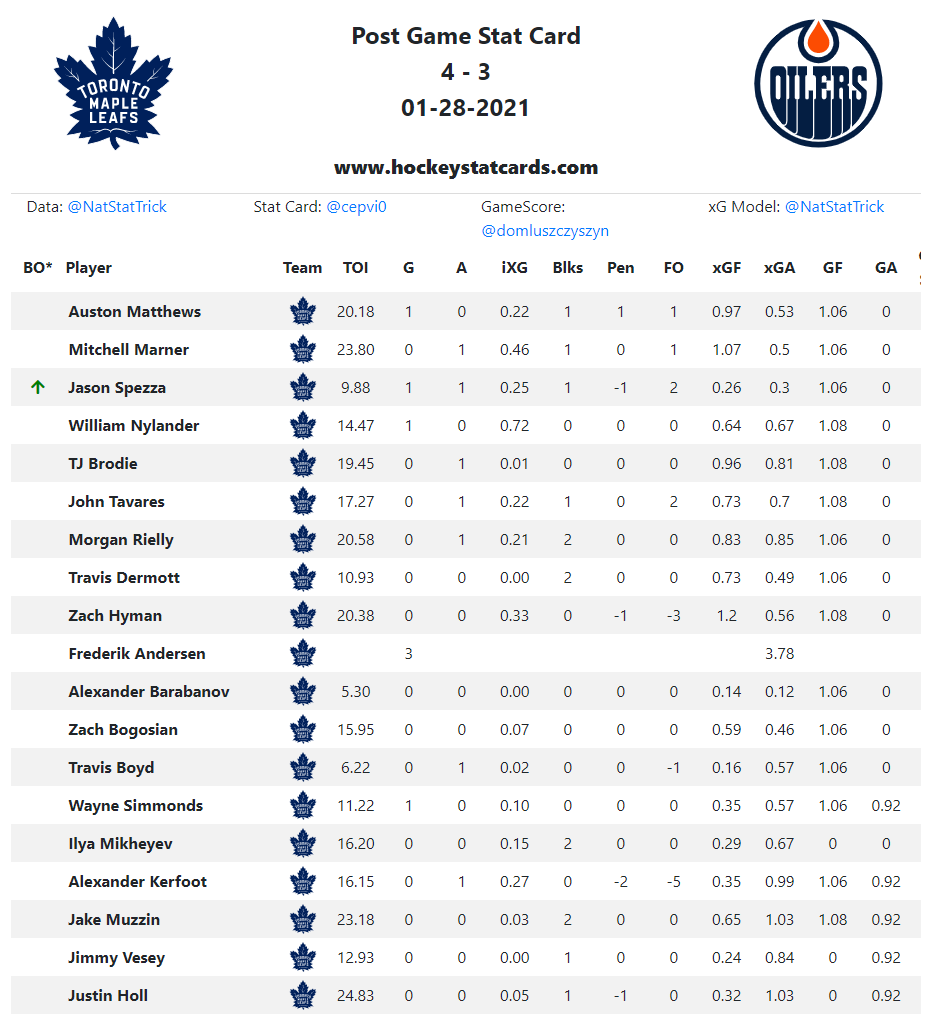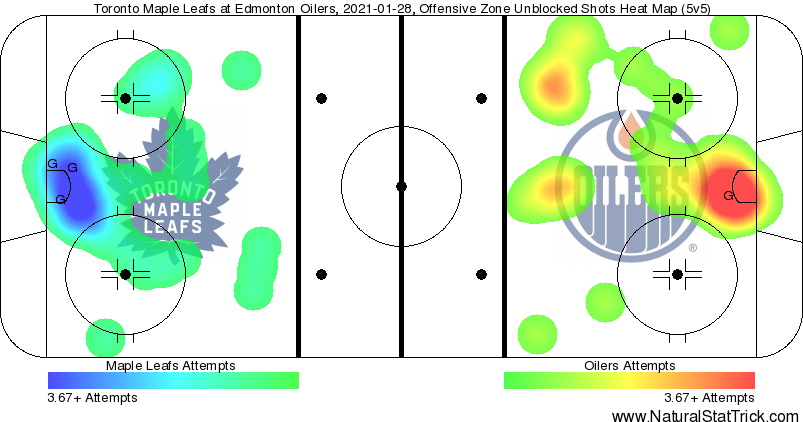 Notes
This was one of the most utterly confounding games I've ever seen from an officiating standpoint, at any level of hockey. I don't think there was an intentional bias towards any team, though some will point out that the PP count went 7-4 Edmonton. This just felt like a game that, like so many, was attempted to be managed, and instead became the opposite – something where balance was chased and the flow was completely pulled out of control. It's not worth getting angry at the individuals, it's a systemic problem, but man, it was on display tonight.
Now, with that said – as much as Alex Kerfoot kind of got stiffed by that chain of events, he still kept putting himself in those positions to get stiffed, he still bled shots, he still got outclassed at the faceoff dot and he still whiffed on multiple offensive opportunities. I've been very happy with his start of the year but this is a night for him to forget.
Jason Spezza returned to the lineup tonight and picked up two points in less than ten minutes of ice time. It's honestly remarkable how his production seems to be defying age, and how willing he is to slot into this role.
Alexander Barabanov only played a little over five minutes tonight. Now, a lot of that is rooted in the unusually low amount of 5-on-5 time available tonight, and the fact that he doesn't play specials, but it was another game where he just didn't seem to bring a lot to the table. I like his tempo but I've yet to really find a feel for where he should be in this lineup.
TJ Brodie had another very solid night tonight, and you could tell the value in having his presence next to Morgan Rielly, as it allowed the latter to roam even more than his usual self in the offensive zone, really activating as a fourth forward. Brodie still has his moments where he could be doing better in his own end, but he's the latter's best defensive partner ever and the freedom really shows.
This is another game that doesn't really help Frederik Andersen's save percentage all that much, but certainly fits the bill of a solid game on his end. Two powerplay goals from the Art Ross winner set up by the best player in the world, and a high-danger slot chance are a fine list of concessions if you're going to have a three-goals-allowed night at the office.
Toronto's next game will come against the Oilers once again – this time on Saturday at 7:00 PM. It'll be the first night for the Leafs' reverse retro jerseys, and you can catch it on Sportsnet.