After Sunday's season-series opener against the Calgary Flames got a little out of favour in it's dying seconds, a lot was made about what would happen in the Toronto Maple Leafs' rematch against the team on Tuesday night. Would they try to get their revenge on Matthew Tkachuk on the scoreboard, or would they get distracted by chasing him around the ice?
As it turns out, the answer was both; but it happened in a sloppy fashion.
Highlights
Where do you start with this one? In Calgary's case, the answer is probably "some time in the second period", which was much to Toronto's gain. It's not so much that the Leafs were even all that dominant in the first period, which a 10-1 shot count would imply, but more so that they were able to take advantage of a Flames team that looked, frankly, lost. Shot quality was weak, they had very little zone presence, and they seemed generally un-coordinated with each other. To Toronto's credit, they did capitalize on that; first with Wayne Simmonds picking up his second goal of the year off his own rebound (made possible by Justin Holl's initial rebound), and with Elias Lindholm in the box, Auston Matthews doubled up that lead with a powerplay goal ten minutes later.
The Flames, of course, looked much different for the rest of the game, turning the shot tables on the Leafs to the tune of a 25-11 gap in the back two-thirds, starting with a Johnny Gaudreau effort fewer than 70 seconds into the second period. TJ Brodie left his star ex-teammate far too open in front of the Toronto net, allowing Calgary to regain some oxygen. Travis Boyd responded with his first goal of the season a minute later, which proved useful for the sake of the final score. But at that point, the momentum had already tilted, and it showed as Toronto become the chasers instead of the chased. With six minutes to go in the middle frame, Milan Lucic (!!) put the Flames within one, and a little before the midway mark of the third, Gaudreau returned to the scoresheet during a controversial powerplay with a wicked top-shelf shot that beat Frederik Andersen.
Toronto's top line ultimately bailed them out of bigger troubles three minutes later. While they weren't particularly dominant over the course of the night, star talent has a habit of exploding when you need it to, and this time it was Matthews setting up Marner for a shockingly deadly one-timer past Jacob Markstrom. Joey Andersen added a bit of nerves to the final minutes of the game by flipping a puck over the glass with 2:19 to go in regulation, but the Leafs successfully killed the penalty off and secured the win.
Of course, most of you know what happened after the buzzer, but for those who haven't seen yet, Jake Muzzin celebrated the effort by flipping the game puck to a prone Matthew Tkachuk, who had crawled under their skin in the game previous. Tkachuk didn't like this at all, charged at Muzzin, a skirmish ensued, and it eventually ended with the superpest/star hybrid throwing a tantrum on the Flames bench. Needless to say, the bad blood between him and the blue and white likely isn't over yet.
For a good breakdown of the incident, I recommend Jomboy's video:
Numbers Game
This season, I'm going to showcase the stellar work of Hockey Stats Cards for post-game data, as Cole Palmer has done a fantastic job presenting a combination of data from Natural Stat Trick and Dom Lusczczysyn's Game Score model. Be sure to check out the site, which does cards for all games automatically and lets you subscribe to email pushes for your favourite teams.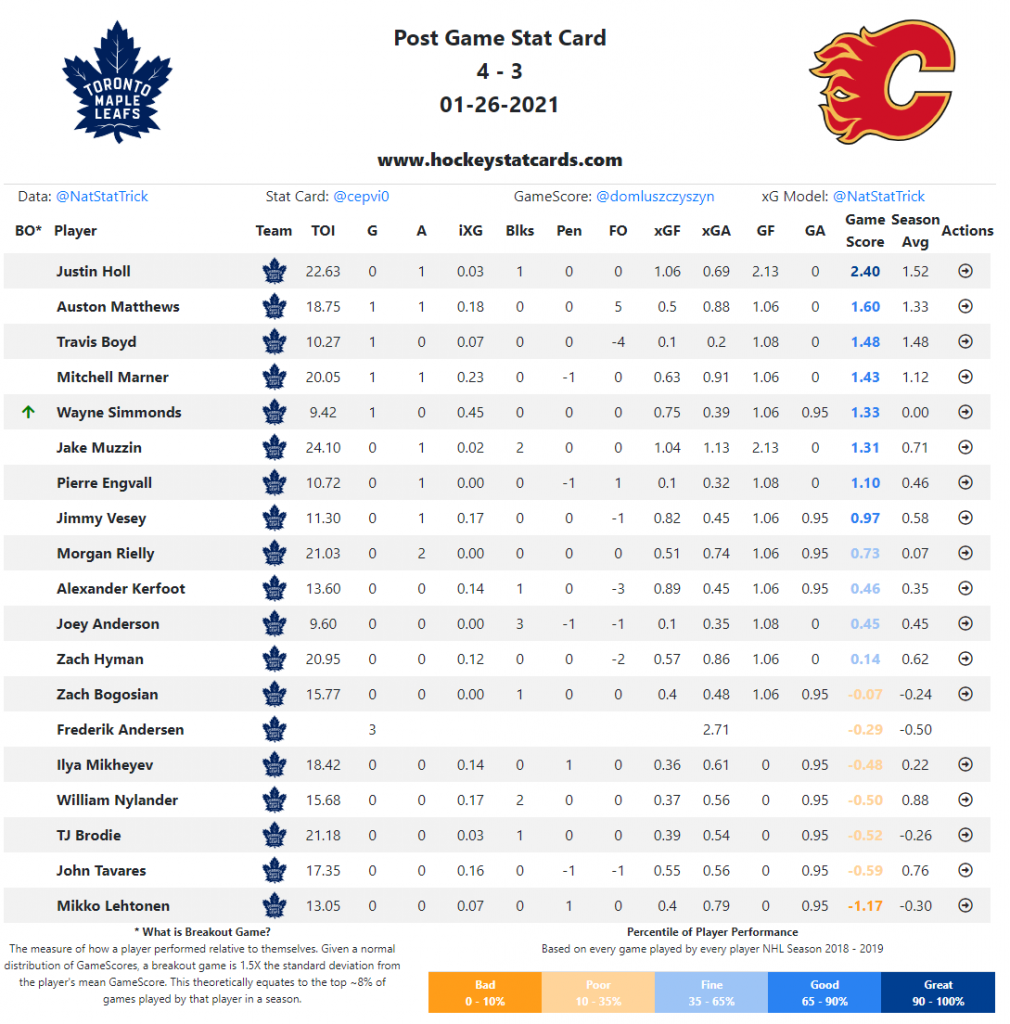 Notes
Frederik Andersen did what he needed to do once again last night. Not a dominant, game-saving performance, but good enough to put the team over the top and get the two points. He stopped 23 of 26 shots; not an overwhelmingly dominant statistical performance, but enough. He's now posted a 0.925 save percentage over the past four games, pulling himself out of his initially concerning opening pair.
Travis Boyd got his first opportunity with the team yesterday, and certainly made his presence known with a goal on the board. The finish was nice, the saucer pass from Pierre Engvall was just as good. Neither did great on the shot count, but showing that they can make big plays matters for their lineup longevity and they did that.
Joey Anderson, on the other hand, did not fare as well. He led the team in blocked shots, which is a plus on the tenacity end, but wasn't quite as nice on the puck – nearly pushing the game to overtime with a late game puck-over-glass penalty. He's the youngest of the incomers, though, so he gets a pass for now, though likely not enough of one to keep him in the lineup for long.
Speaking of passes, it was nice to see Mitch Marner and Auston Matthews throw the pitch and catch to each other. Especially so on the Marner goal; I still don't know if this increased shooting experiment of his is going to work long-term, but better in the net than out of it.
There's a certain point to be made about officiating consistency. I don't think this hold by Noah Hanifin or this one by John Tavares were egregious enough to be considered penalties, but they're both similar. Ultimately, Hanifin escaped the box and Tavares took two minutes, which led to Calgary's last goal that was, at that point, an equalizer. I really don't like the idea of game management coming into play, and it seems like powerplay goal differential was the key to the latter leading to an infraction. Just keep the rules consistent and call accordingly and there will be a lot less arguing out there, you know?
Toronto's next game comes on Thursday night, against Edmonton. If you felt 9PM was late, just wait until you get your hands on this 10PM start! You'll be able to catch it on TSN.