There is nothing that Leafs Nation loves more than getting into intense arguments about depth players on the waiver wire. Most of the time it leads to nothing, as the player either clears or is claimed by a team further up in the process, and heaven forbid that player actually gets claimed and becomes part of a bigger fight about usage. But today, we actually have a case of a familiar face coming into sight at an opportune, time, so let's talk about it.
Ennis (EDM) on waivers

— Elliotte Friedman (@FriedgeHNIC) January 25, 2021
Tyler Ennis was waived by the Edmonton Oilers this morning, just four games into the season and 13 games into his tenure with the team. After years of higher profile were derailed by injury, Ennis has remodeled his career into one of a servicable depth; someone who can give you some scoring touch while playing a bottom six role that isn't inherently grindy, but still involves tenacity and physicality when the moment warrants it.
Ennis started this journey, in fact, as a member of the Leafs. Signing a 1-year deal in 2018/19, he quickly became a fan favourite by putting together 18 points in 51 games despite playing just 9:56 per night, playing largely 5-on-5 but occasionally making himself available for powerplay time. Following that, he had a very respectable 37 point season last year, playing 61 games in Ottawa and 9 in Edmonton, while also putting up respectable shot differential numbers.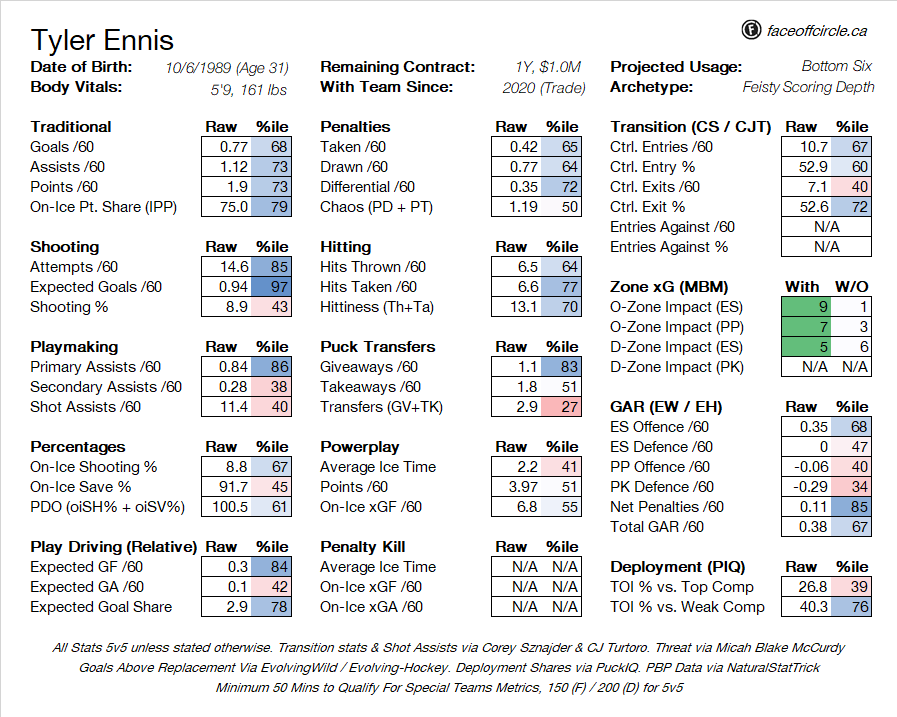 The fact that Ennis' contract isn't strictly at the league minimum makes things a little tricky for a team like the Maple Leafs, who are riding the cap ceiling like a ferocious wave at the moment. However, there is flexibility to be had should they be interested in a claim like this; the difference between dressing him and Alexander Barabanov, for example, is only about $100,000 in full-season hit, which would be pro-rated on a daily basis, and he would be marginally cheaper to dress than Pierre Engvall.
Elliotte Friedman mentioned in the most recent rendition of Headlines that Toronto is canvassing the forward market to some extent given the medium-term injuries of Joe Thornton and Nick Robertson, so the idea of them claiming a forward if the fit is there isn't out of the ordinary. Ennis brings them a polished version of what they were likely expecting out of Robertson to start, he comes with familiarity, and he's someone that is both liked by the fans and, from what I've been told over the years, is well-liked by a lot of the players who are still with the team.
All of this is to say that, in this case, I would probably make the claim. He's a useful player that you know the ins-and-outs of already, the cost is non-existent, and the fact that he's coming from a Canadian team speeds up the quarantine process, meaning you can have him in your lineup pretty quickly (in fact, given that the Leafs are about to face the Oilers in Edmonton tomorrow, it could be extremely quickly). If it doesn't work out, you can just as easily drop him again. My biggest concern would be that a team ahead of them in the process – particularly the Senators, given similar factors and better order in the wire – might swoop in, but that shouldn't prevent them from trying.