After splitting a pair of games against the Edmonton Oilers earlier this week, it was time for the Toronto Maple Leafs to join them in the Province of Alberta. Sort of. They'll have to wait a few days to actually face the Oilers themselves again, so in the meantime, the Blue and White headed to Calgary to take on the Flames in the first of a pair of games. The result was a tight contest, but one where Toronto would ultimately come out ahead, wining 3-2 to improve to a 5-2-0 record.
Highlights
Toronto kicked off the scoring in this one eight minutes into the first period, as a carry-in by Mitch Marner gave the team ample time to set up. He then passed up to Jake Muzzin at the point, and his wrist shot took advantage of both a deflection off Dominik Simon and a solid screen by Jimmy Vesey in front of the net to give Toronto the lead. It was one that they would hold into the second, though not in the most controlled matter, as early game pressure began to dissipate and shift towards Calgary's favour as the period closed.
The Leafs regained some of that control early in the second period, but it was the Flames who ended up scoring next. In an shift where the team looked overwhelmed and had already nearly conceded a Johnny Gaudreau wraparound, Sean Monahan was given far too much opportunity to work next to the crease and after Jack Campbell pulled back his stretch, he had a mostly-open net to put the equalizer into. With less than a minute remaining in the period, an opportunity came from a Nikita Nesterov penalty to reverse the frame's results back to even, and Wayne Simmonds did just that seven seconds into the man-advantage. Actually trying to pass the puck through his legs to Auston Matthews, he instead clipped his own skate, which worked out to beat Jacob Markstrom for his 500th career point, 100th career powerplay goal, and the first goal as a Leaf.
Less than three minutes into the third period, skates proved to be good fortune for Toronto once again. This time, a chuck towards the net deflected off of Auston Matthews' skate, off of Rasmus Andersson's, and into the back of the net for Matthews' third goal of the season. It almost felt like a re-balancing of mojo after the Edmonton game on the 20th, and it was necessary to get these two points, as four minutes later, with Zach Hyman in the penalty box for holding, Elias Lindholm scored to close the gap. The Flames kept pressing, outshooting Toronto 13-8 in the final period, and shaking up Jack Campbell a couple of times in the process as the game came close to completion, but a few well-timed icings kept them at bay and gave the Leafs the clean two points they were seeking.
Numbers Game
This season, I'm going to showcase the stellar work of Hockey Stats Cards for post-game data, as Cole Palmer has done a fantastic job presenting a combination of data from Natural Stat Trick and Dom Lusczczysyn's Game Score model. Be sure to check out the site, which does cards for all games automatically and lets you subscribe to email pushes for your favourite teams.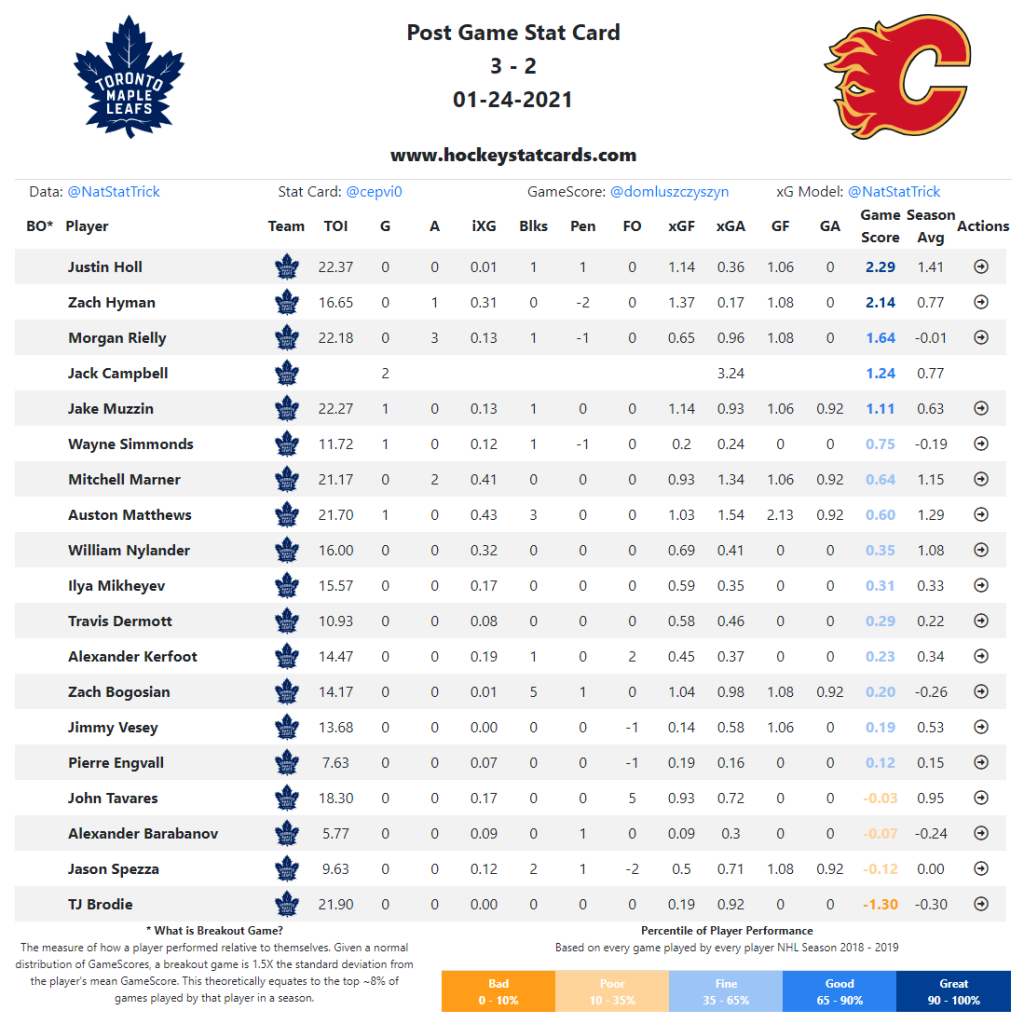 Notes
Jack Campbell gets a ton of credit for a fantastic game, and as many said – a gutsy game. I think he could handled the first goal conceded a little better, but it wasn't entirely on him, and at the end of the night he still skated out of the night with 31 saves on 33 shots, so you have to give credit where it's due. He also played through the last couple of minutes of the game in visible pain, knowing it was that or throw a cold Frederik Andersen into a hot situation, and he still powered through. Without a doubt the player of the game for me.
The Muzzin-Holl pair keeps rolling, to less and less surprise by the game. They've remained insanely dependable and versatile in just about every game to start this season, after already exceeding expectations in the second half of last year.
Mitch Marner picked up his 300th career point tonight, the third fastest to the mark in Leafs history, trailing only Syl Apps and Charlie Conacher. This stat will likely come up again with Auston Matthews leap-frogging him, as he now sits at 291 with 19 games in hand, but that still doesn't change how insanely impressive that company is for Marner.
Wayne Simmonds finally picked up his first goal as a Leaf, and it was an extremely fortuante one that he didn't even appear to be trying to score. You take them when you get them!
I liked Pierre Engvall tonight, even if the numbers looked inconsequential. He made a few really sharp passing plays and separated with his speed on a couple of occasions. He also muscled off Milan Lucic in the opening minutes of the game, which was pretty hilarious.
Auston Matthews returned to the team after missing a game, and bagged the game winning goal. He didn't look 100%, particularly in terms of strength with the puck, so I wonder if this was a bit of his own urgency to return.
Morgan Rielly's final numbers are a little more flattering than his overall result in the game – he wasn't fantastic on the shot count and the assists he picked up were all secondary. At the same time, it's hard to scoff off a three-assist performance in a game where the team only scored three goals.
Toronto's next game will come on Tuesday when they take on the Flames once again. That one will be a 9:00 PM start that you can catch on Sportsnet once again.