A very minor piece of transaction news this afternoon, as the Toronto Maple Leafs announce that they'll be adding Travis Boyd to their NHL roster ahead of their four-game road trip.
Forward Travis Boyd has been added to the Maple Leafs' roster and will travel with the club to Alberta for its four-game Western road trip. #LeafsForever

— Leafs PR (@LeafsPR) January 23, 2021
Boyd has yet to draw into a regular season game for the Maple Leafs, having been placed on waivers in the January 11th crush-load and assigned to the Taxi Squad shortly thereafter. Prior to this season, Boyd played 77 games over the past two seasons with the Washington Capitals, and got credit as a hard-working bottom line option with the club.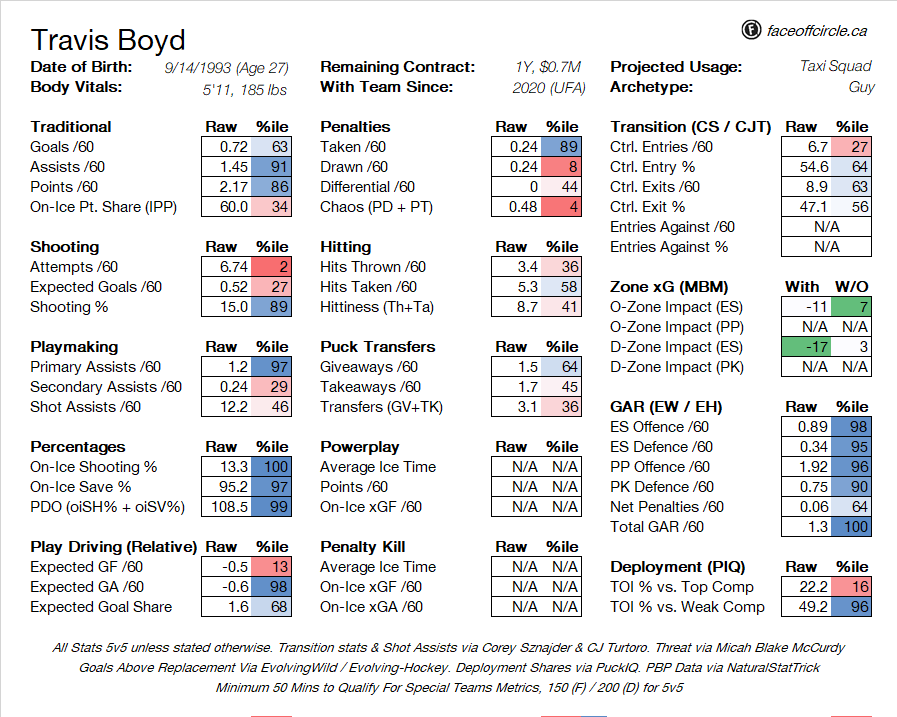 Don't let the above numbers get you too too excited – particularly the GAR ones, where small samples and great fortune on the percentage front makes him look somewhere between Connor McDavid and Mario Lemieux. It does look like he's at least capable of keeping up, however, and that fleshes with what we saw from him in training camp. We'll see if he plays (I'd guess that if he does, it may be as a swap with Alexander Barabanov), but if nothing else, he gives the team a lineup option should anyone get sick or hurt between now and the road trip's conclusion on the 28th.