After a Wednesday night event that could be best described as "about as boring as a Leafs/Oilers game could possibly be", especially one that ended in a slew of bad luck that led to unfortunate injuries and unfortunate losses, the hope was that tonight's rematch against Edmonton would be a little more pleasing to the eyes. They'd have to do it without Auston Matthews and Joe Thornton, but hey, that's what depth is for, right?
Sure enough, the depth agreed, the regulars agreed, and the hockey gods agreed, culminating in a victory on Friday night that put the Maple Leafs back on the right track.
Highlights
This game started with another scoreless first period, though thankfully it was played at a brisker pace than Wednesday's rendition. Toronto thought they were going to get the opportunity to break the ice when they were awarded a powerplay about four minutes into the second period, but disaster struck half way into the man advantage when an Edmonton clear went in every way wrong for the Leafs. First Frederik Andersen came out of the net and did a terrible job playing the puck. Then Morgan Rielly put insufficient pressure on Kailer Yamamoto, who sought a counter-attack to go with his forecheck. William Nylander went to where Yamamoto was putting his pass, but his poor effort in corralling it quickly became Leon Drasiaitl's gain. All of this is to say, the Oilers scored shorthanded and took the first lead instead.
Thankfully for the Leafs, they'd still get a tally on the powerplay, evening out the damage. This one was even one for celebration, as Adam "Prairie Jesus" Brooks deflected Jason Spezza's shot for his first career NHL goal. Six minutes later, Toronto got the lead they were looking for – Alex Kerfoot's work behind the net allowed for him to find Nylander at the Hashmarks, who made a fantastic pass to Jimmy Vesey, who used a long and winding motion to roof the puck past Mikko Koskinen. The lead held up for the remainder of the period.
It did not, however, remain for much longer for that. Just 50 seconds into the third, a point shot from Ethan Bear was met by Connor McDavid's stick. One can fairly point out that Morgan Rielly didn't put up a great effort in stopping the best player in the world from getting in on the action, but the deflection that ensued was also a thing of beauty. This game of tip-ins wasn't over yet, though; eleven minutes later, on their second and final powerplay of the game, John Tavares scored what would end up being the game winning goal, redirecting Mitch Marner's point shot home to give Toronto a 3-2 lead. For good measure, Marner added another empty-net goal to the mix in the last second of the game.
Numbers Game
This season, I'm going to showcase the stellar work of Hockey Stats Cards for post-game data, as Cole Palmer has done a fantastic job presenting a combination of data from Natural Stat Trick and Dom Lusczczysyn's Game Score model. Be sure to check out the site, which does cards for all games automatically and lets you subscribe to email pushes for your favourite teams.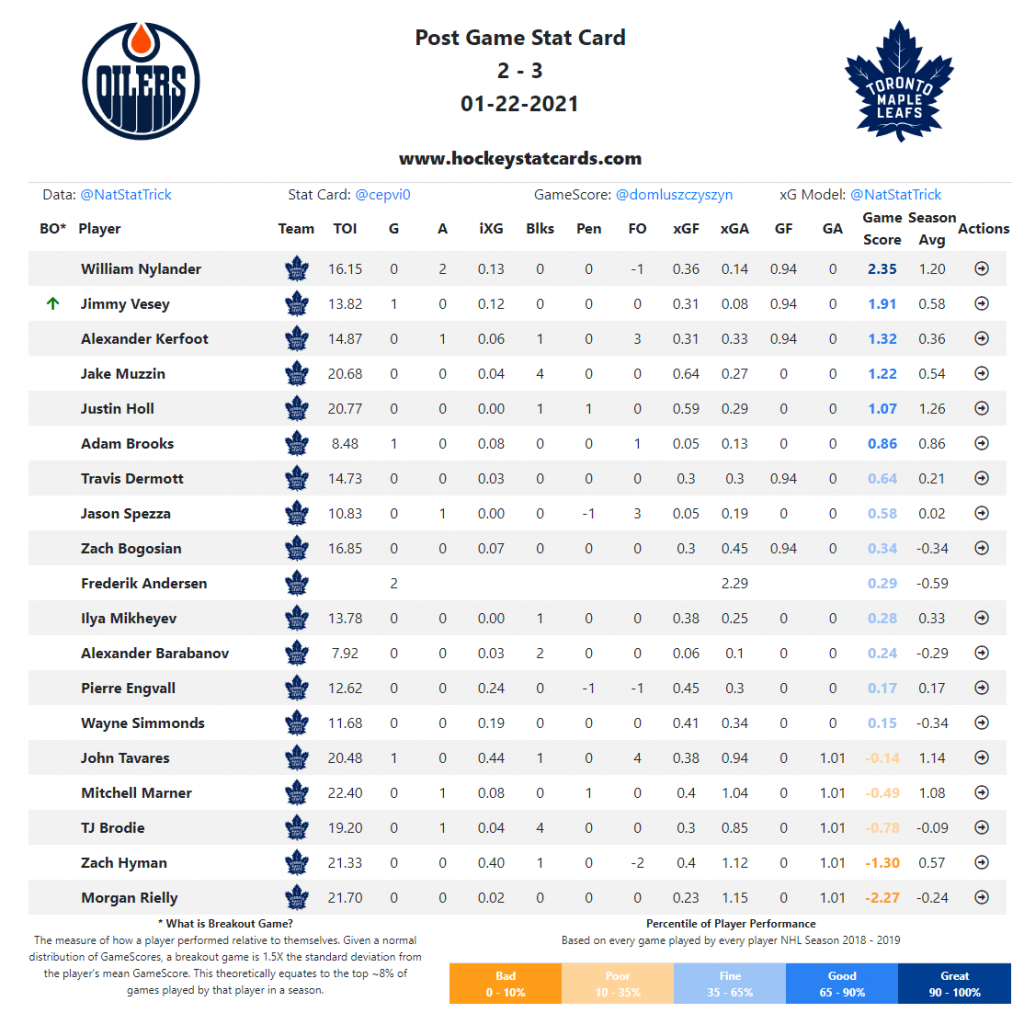 Notes
I don't know that there's a true standout player tonight. I kind of look at the Game Score chart above, for example, and while it says that it should be William Nylander, he was also one of the three players of cause in the shorthanded goal against (which the model wouldn't see as anything). He definitely made up for it, but I don't know if the aggregate is dominance. I think as a whole, the group did just enough, with a few of the bigger names swinging up and down, but I wouldn't anoint too many crown-bearers.
If I were to heap praise upon someone though, I'll do so for Adam Brooks. I'm really happy for Prairie Jesus tonight, to climb up to NHL minutes as a kid who went undrafted twice is a tough task and that first NHL goal had to be a sweet feeling. Outside of that, he was inconsequential on the night, but no one can take away that tally from him.
Speaking of players who slid in, Pierre Engvall's speed did show a few times. It's nice to have some afterburner out there, particularly on a night where you want to re-open the pace a bit. Alexander Barabanov also returned to the lineup, though he wasn't the most noticeable out there.
Wayne Simmonds coming out positive in the shot shares! That's good to see after some rough nights. If only he finished his first period chance, where he was much too patient to find a spot to beat Koskinen, rather than just going for the one timer.
That's another good Frederik Andersen game in my books. Inches him a little closer to 0.900 territory after a messy first two games, after stopping 30 of 32 tonight. One hopes it's meaningful momentum.
Toronto's next game will come on Sunday afternoon, against the Calgary Flames for their first out-of-province game of the season. It'll be a 4PM start on Sportsnet – see you then!